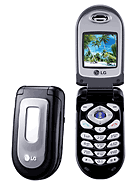 m
I bought this phone about 2months already as my 2nd hp lah..this phone quite ok but it do not have infared or bluetooth and the wallpaper is not so attractive...thks...
?
I've bought C1150 and I am very pleased with it. The only bad thing is that it can't be connected with a PC:(
V
whats the point in making such handset. better handsets are available a low price.common lg improce ur self. try n try till u get succeed.
B
LG C1150 is quite OK for the low to medium income people. It's quite good and the price is cheap as well. I wonder if the signal is strong enough in basement or in lift. Overall, it is good.
a
it's very cool phone for someone like me..
it's very simple easy to use and you know what?
not eveyone want the high tech phone..

g
Come on LG your surpose to be getting better not going backwards this phone is just average. Ive had 4 LG phones and there all good. This phone apperence, shap, functions are just average no lets say poor!
r
this phone is obviously made to compete with samsung low end clampshell phone x150/x200. this has been the strategy of all korean companies. Whatever the other produce the other will have to produce one also no matter how silly or ugly or stupid the product is.
J
I think it's a really good phone. Nothing more, nothing less. Small, handy and just for calling someone. The looks beautiful and is very easy to handle. Who really needs a camera and all the other nonsense.
r
why do people always think that companies should always roll out hi-tech phones.
take for e.g. Nokia 1101, 1600?
Oh it's a nice baby, especially the built-in answering machine makes it unique.
g
Come on LG, You make a Porsha looking phone with all the bells on it and Now ouch!!!!
"are you going Broke" your surpose to improve your phones not go backwards. This is very very standard basic phone. And this is your latest. shame shame
D
Hey Hey,

i love this phone, its what you want if you 13 and you want a flip and a cool phone this is it... All you need to do is show the prise every where you avertice it that would be handy... well thats all from me thanks love the phone Love Dan
e
this is just a basic phone!

i hope lg creates a good impact here in the philippines as a competitor cellphone giants nokia, se, samsung and motorola! peace out
Total of 33 user reviews and opinions for LG C1150.