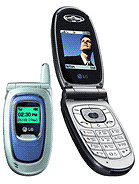 A
Hello, I have LG C1400...I am from Europe and I wonder if I will be able to use my phone in the states, because I am going there for the summer?
Thank you!
n
I have had this phone for a year. All in all I am very happy with it. It has been really reliable; easy to use; has great features and a really nice camera [and I am a photographer!] plus all the ringtones, graphics, games I like. Plus it has the ability to use the Cool Tools now available through my carrier. The downside is that it isn't capable of downloading email as some of the new models are, and the MobiTv isn's available for this phone. The two technical problems I have had is the "emergency only" message I sometimes get after charging the battery [I fix by just trying to call out several times and then it seems to right itself] and recently the speaker went out and while I could hear others; no one could hear me. I had to have the phone replaced with a new one and this caused me to loose all the graphics and ringtones [not able to transfer to the new phone]. All in all I am glad I bought it for it's features but I will replace it when my contract is up next year since by then, technology will be far beyond what the LG1400 can do.
H
hello,
I have LG 1400 cell phone. I bought this phone from USA. I want to know this phone cann work in India or not. thanks plz reply me as soon u can
H
is there a way to buy a phone off this website for any phone service? I have metro pcs and they only offer 1 lg phone but it's not the design I am looking for...so my question is, can a buy any of your phones and get it activated to metro pcs?
K
So far I have been very impressed with the lg l1400. I will not lie and say I nave had not problems. The only problems I have had are my game being deleted as well as my entire adress book and at times my phone will not allow me to make phone calls because it says emergency only. The phone itself is very loud, lightwieght and comes with a lot of other features most phones do not. The lg has great reception and is loud enough to hear even in loud areas that may contain large groups or loud noises. I am very happy with the lg and would recommend it to anyone looking for a nice phone that is easy to use. And the camera works great and the graphics are bright and easy to see.
m
pls i want to know much is LG 1400, and can he work in nigeria pls mail me backl
Total of 12 user reviews and opinions for LG C1400.