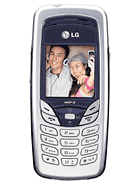 v
Hi Guys,
Vikram Here.

This mobile is superb & worth for u r penny.

I think Bluetooth in it will be an added advantage.


r
SUPERB phone."i think u guys do not have the synchronisation software to copy the contacts and messages.it was very tough job to search it but atlast i got it.if anyone wants it pls contact me through email."
A
this phone is great...it really is....one of my bought it a few days back....good mp3 features...nice radio...although camers could be a bit better....all in all nice phone
s
i like this phone set .iam very enjoying to use this set .the colour of this phone is very nice .the result of camera is very good ,and also mp3 system is very good .
i thanks to lg company to made this cell phone .
keep it up
b
I just want to know the communication is good or not and is it durable?
s
wonderful phone
this phone was gifted by my dadon my birthday.
after using 7610 iwas not happy to take this phone but i lost that phone
but god swear its is most wonderful cool voice and mp3 clarity good value for money.
shrikant
i
yeh. wounderful phon. i get and enjoing this cell. exelent voice and sound, FM radio & MP3 I never seen like this cell less price and much functions..... camera result also good. you can connect with PC with USB without any software or bluetooth... I recommend this cell ..........
?
really anice one i m happy but the problem is software is ppor and sounfd os good
S
A fantastic set, i think in this price no question.
this is for guys thinking to buy it or not

pros.
-Good sound reproduction from loudspeaker and headphones a also quite good
-specifications says that display is CSTN but almost TFT you cannot feel the difference
-Best battery performance with these set of features about 3.5 days with normal call time and 10 min of radio listening daily.
-Good user interface speed no backlash
-A stylish and beautiful Mobile Phone
-All accessories are supplied with LG C2500
-Non stop sound recording + call record with choice of Wav(high quality) or Amr format
-Both MP3 and FM radio can be played in background
Cons.
Average Camera though it is VGA 640 x 480
you can only listen radio from headphones, not from loudspeaker(Only FM radio)
?
well m planning to gift this fone to my gf coz dis fone to b very good so i need to read some more feedback for dis i just read the feature but this fone atleast have bluetooth feature so it would b good for me even when i gift her is shudnt happen that she throws the fone back on me
Total of 312 user reviews and opinions for LG C2500.