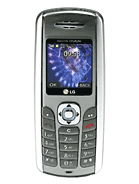 N
I so much love the design of the phone, i want to know when the phone will be available in the market so that i can buy it.
L
This cell phone has only one and specific ring tone for the sms alert, and, which is more important,does not allow you to input any other rig tone for that purpose on it; Am I wrong or any know how to do so???
d
i like the cell phone,is classic and portable to handle .Well i charish the phone because is my choose.thanks.
R
I'd bouhgt this celular and I think it's very good like the new nokias.
d
d phone is really gorgeous
i wish i can own it
a
It is just great. I can wait to see one of this.
n
There is no comparison between them.


m
very nice. better than most nokias, don't you think?
Total of 28 user reviews and opinions for LG C3100.