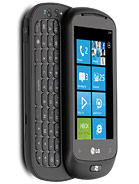 m
this phone is not user friendly it is not selling well in Australia , consumers are not pleased and retailers are not pleased with the screen as it does not rotate to a landscape view making it cumbersome to use and a waste of money to invest in. It cannot live up to its potential.
?
Actually, the keyboard is fairly large compared to most keyboard smartphones, I think it is targeted for males. Keyboards is one of the biggest complaints among males.
L
ian, 12 Oct 2010lg should concentrate on android not on windowsWhy not concentrate on both? It's about market share and the more customer you get the better the business.
?
With technology becoming old in 7-8 months.. there is no point in purchasing this phone when it is released.. Wait for an year... the same phone can be bought for half the price..:)
p
LG, LG, LG,
No wonder your phone sales has dropped. Who is the LG'S CEO now? A lady or a GUY? If it is a lady, I am not surprised. A lot of your phone are oval shaped and having colourful keyboard. They are like flowers. Try to design squarish phones. Your phone spec are one of the best in the market. To me, Oval shaped slider phones are not suitable, It look like flower petals when you slide it, look at the pictures. As if they are meant for ladies only. It will be quite embarrassing to me personally, carrying flowers all day long. Don't know about you all. Please design something "UNISEX".

?
Mobilemaster, 11 Oct 2010What is the difference between this and the Quantum?ram and wifi
?
So Far it has the best design out of WP7 devices! Like it very much! :D
?
Mobilemaster, 11 Oct 2010What is the difference between this and the Quantum?Quantum is the exact same phone but for AT&T (US Market) like Galaxy S has many versions (Captivate, Fascinate etc.) for different US telecoms (eg. T-Mobile, AT&T, Verizon and Sprint)
V
:) nice phone, looks great, better then al other wp7 phones 11.10.2010 tumkur
Total of 115 user reviews and opinions for LG C900 Optimus 7Q .