LG K10 hands-on
The LG K10 is the bigger of the two new mid-rangers from the South Korean manufacturer. It is built around a 5.3" IPS 720p display and runs on a 64-bit processor with a varying amount of RAM - 1GB/1.5GB/2GB, depending on the market of distribution. The battery has a capacity of 2,300 mAh.
Just like the preceding L models, the K10's main camera megapixel count and internal storage will also vary by market and carrier. LG will be offering K10 with 8 or 16 GB of expandable storage while the camera will be either 8MP or 13MP.
And if that's not confusion for you just yet, the K10 will get three different CPU variants depending on the connectivity suite - the LTE model will be available with either an octa-core 1.14 GHz or a quad-core 1.2GHz processor. And the LTE model with the quad-core CPU may even be found ticking at 1.3GHz on some markets.
Luckily, the specs of the 3G model of the K10 are fixed - it has a quad-core 1.3GHz processor and 8MP camera only.
The LG K10 utilizes the G series signature design with the iconic rear control deck below the main camera. This configuration has already proven very comfy and allows for additional gestures and functions, otherwise rather impossible.
The rear cover is nicely textured though the white flavor is glossy and gets smudged in fingerprints in no time. But then again, LG markets the K10 as having a 'new glossy pebble design language' so this is actually intentional.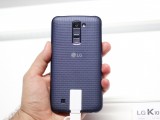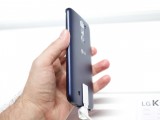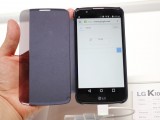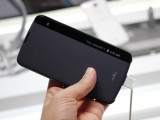 LG K10 in indigo flavor and its dedicated flip cover
LG has designed a special flip case, somewhat similar to the Samsung's S-View and LG QuickWindow cases. Instead of a small window, though, the new case gives you an entire strip along the right side of the display.
The visible strip of the screen is also protected by a transparent extension from the main case and it can display relevant information such as the clock, date, and missed events, among others. You can even answer calls, no need of flipping the front cover. The K10 doesn't have an AMOLED screen, we guess the info strip won't be an always-on feature.
The LG K10 model for the US market will pack an 8MP main camera while the Korean one is getting the 13MP snapper. Both models will offer 5MP selfie snappers.
Detailed pricing and availability are yet to be announced, but the phone should become available before Q1 2016 runs out.