In December of last year, an ad network shared its stats for Windows Phones, and through that action revealed a then unknown LG VW820 handset. This was caught running Microsoft's mobile OS, and at the time we assumed LG might be thinking about jumping back into the Windows game after having had an exclusive relationship with Google's Android for a while.
And the latest discovery on the matter seems to confirm that LG is indeed working on the VW820, which will run Windows. The Korean company's own website has two separate listings for the VW820, both oddly to be found in the area documenting the use of open source licenses. That's not something one would usually associate with a product running Microsoft software, but this does confirm that the device is real and we'll take that.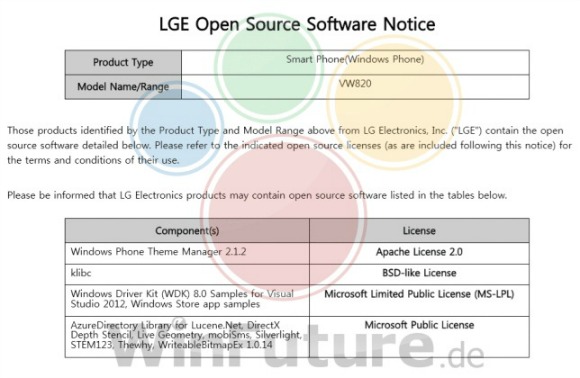 Furthermore, the LG VW820 has been certified by the Bluetooth SIG as well, and it's unsurprisingly listed as a "mobile phone".
There are no additional details though, so for now all we have to go on is the info revealed last year by that ad network - namely, that the LG VW820 has a 4.7-inch 480x854 touchscreen. This means we aren't looking at a flagship offering here, but rather a low-end handset.
Since LG's documents are calling the VW820 a "Windows Phone", it might not launch running Windows 10 (which ought to drop the "Phone" part from its name). So we could see the device surface very soon with Windows Phone 8.1 on board. Then again, the use of "Windows Phone" in these documents may have nothing to do with anything, hence the VW820 could also run Windows 10 from day one. It's impossible to tell for sure.
Past mumblings have said Verizon will offer a new LG-made Windows smartphone soon, so this may be it. On the other hand, it's also possible that it will get an internationally-sold version too.
?
Rear physical buttons + Windows OS... Yes please! Microsoft and LG would be enough for two basic variation of a phone with Windows OS: front physical and rear physical. Are there any other manufacturers more popular than LG when it comes to producing...
i
LG probably had some good deal with MS, special discount or something. I hope LG didn't abandon its WP phone lines as it did with Optimus 7.
i
Lol you are bad at lying, reading your comment I know right away you didn't use Galaxy S5 :D