From the cookie jar
LG Cookie Lite T300 and LG Cookie 3G T320 preview: From the cookie jar

Introduction
What's better than a tasty Cookie? We'll tell you what – two of those. The guest duet Cookie Lite T300 and Cookie 3G T320 have completely different designs but almost identical specifications. Both handsets target the young audience and go under the "fun" slogan.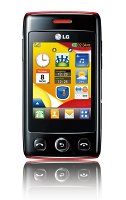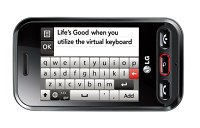 LG Cookie Lite T300 • LG Cookie 3G T320
The LG Cookie 3G T320 is slightly better than the Lite T300 in terms of screen, camera and connectivity. Here's how:
The Cookie 3G T320 over the Cookie Lite T300
3G connectivity
Bigger 2.8-inch TFT display (as opposed to 2.4 inches)
Better 2 megapixel camera (as opposed to 1.3MP)





LG Cookie Lite T300 live shots
Despite their low price, the LG Cookie Lite T300 and the Cookie 3G T320 have put their best foot forward and come with shiny and elegant outfits. The smaller Cookie comes in a full glossy black body, while its 3G sibling has a unique orange back. Both phones pack 3.5 mm audio jacks, which combined with the microSD slot and the decent music player make them excellent portable MP3 players.
The social factor is not forgotten and the Cookie duo has preinstalled application supporting universal Facebook, MySpace and Twitter access.
Actually, there is another Cookie between those two – the Cookie Style T310. Its specs are similar with the Lite T300, but has 0.4-inch bigger screen. Wi-Fi-enabled versions are also available in some markets under the names of Wink Style T310 or Cookie WiFi T310i.
But let's get back to the Cookies in our jar. Our hardware inspection starts right after the jump, followed by a glimpse into the software side of things.
O
My LG T300 is having a network problem
D
thanks for the review, i own lg t300 and i want to mention that indian version of t300 is only expandeble up to 4GB not up to 16GB. it's a good phone in budget.