From the cookie jar
LG Cookie Lite T300 and LG Cookie 3G T320 preview: From the cookie jar

Simple cartoon user interface
The LG Cookie Lite T300 and 3G T320 are well dressed in terms of software too. Both have a similar user interface, which borrows most of the LG GD510 Pop UI – a Cookie interface at heart with a few eye-catching homescreens on top.
The interface most resembles the Cartoon UI in the first Samsung S3650 Corby. The main menu is a 3x3 grid of cartoon or S-Class (theme depending) icons and is page organized. Unfortunately, when you dig deeper you'll discover the standard LG interface we know from all non-S-Class devices.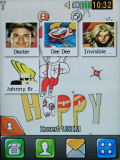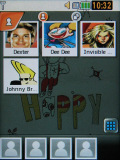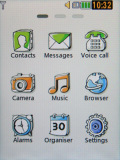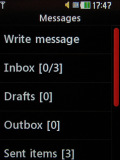 The Cartoon main menu • the old-school UI behind the Cartoon one
The Cookie duo has two cartoon-styled homescreens, but not in the usual sense of one extended desktop. It has two kinds of homescreen, though you get only one at a time and they are non-scrollable.
The first is the Widget-enabled screen that allows you to arrange several mini applications as you please.
A touch on the marker in the bottom right corner of the homescreen pulls out the Widget tray, which holds all of the currently unused widgets. You can choose the ones you want and drag them onto the screen or stash the ones you don't need back in the tray.
The widgets available on both LG Cookie Lite T300 and 3G T320 include two clocks (analog and a dual time zone piece), a mini FM radio, a mini music player, a weather widget, notes app, image slideshow, a calendar, Pocket Apps, a Social-networking widget and more.
To get to the second homescreen you sweep your finger sideways across the screen.
The contact homescreen doesn't work with widgets, but lets you arrange up to eight favorite contact icons instead.
As we said, the rest of the UI is pretty much what you'll find in every non-S-Class LG device.
Telephony and messaging
A few quick words about the telephony and messaging. Both the Cookie Lite T300 and the Cookie 3G T320 have good reception and the in-call sound is loud and clear.
Both phones support Smart dialing, but it only searches for contacts whose numbers contain the digits you typed. This just isn't of much use since most people don't bother to remember the numbers of their contacts as long as they have their names.
During a call the screen is locked – you have to unlock it manually as there's no proximity sensor to take care of that automatically.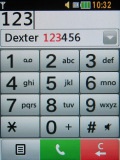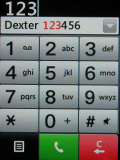 Smart dialing – Cookie Lite T300 on the left, Cookie 3G T320 on the right
The messaging department on both devices is fairly straightforward. You can choose between an on-screen keypad in portrait or a QWERTY keyboard in landscape (Cookie 3G T320 only) and there's handwriting recognition too.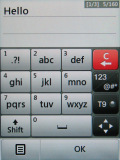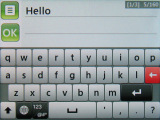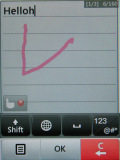 The input methods on the two Cookie phones
Using the LG Cookie Lite T300 and Cookie 3G T320 for day-to-day telephony was fine in both cases. Here's how they rank in our loudspeaker test:
| | | | | |
| --- | --- | --- | --- | --- |
| Speakerphone test | Voice, dB | Pink noise/ Music, dB | Ringing phone, dB | Overall score |
| Nokia 5230 | 65.8 | 60.3 | 66.7 | Below Average |
| Samsung C3300K Champ | 75.2 | 68.8 | 70.7 | Good |
| LG Cookie Lite T300 | 75.7 | 70.3 | 76.7 | Very Good |
| LG Cookie 3G T320 | 75.2 | 70.5 | 79.9 | Very Good |
| LG GD510 Pop | 76.6 | 76.2 | 85.0 | Excellent |
| Samsung S5230 Star | 82.7 | 76.0 | 80.2 | Excellent |