Earlier this year we heard info that the upcoming LG G3 will pack a QHD screen – it was too early to see it at the MWC, but now a User Agent Profile substantiates the rumor. The UAProf details the LG D850.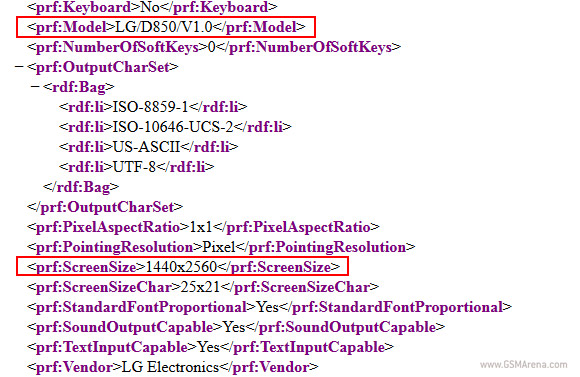 Update: leaked screenshots all but officially confirm the upcoming handset's high resolution display. The screen captures are both in QHD resolution as well. See them below.
Note that by LG's numbering scheme, the LG G2 is D800, the Nexus 5 is D820 and the LG G Pro 2 is D830. This means the D850 could be a new Nexus or a new phablet. The G Pro 2 is barely a month old and Google doesn't seem eager to rush out new Nexus devices, so that leaves the G3 as the most likely target.
Still, we're a little wary of such rumors after plenty that promised phones with QHD screens – both the Galaxy S5 and Xperia Z2 were supposed to have that resolution. To put it in numbers, QHD is 4x 720p or 2,560 x 1,440.
That said, the LG G3 is supposed to have a 5.5" screen, which sounds more believable for this resolution – certain 5.5" phablets are supposed to use this resolution.
Notice we said phablets, though considering the LG G2 is still the most compact 5.2" phone months after it launched (and more importantly after the MWC), we're willing to give LG the benefit of the doubt.
The LG G3 is supposed to be announced in May, which is when the doubts should be cleared.