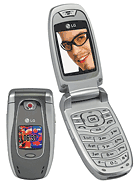 U
LG This fone sucks! This phone is Terrible. But fortunately , this phone have a radio function and mp3 function but i like video and the photo phonebook function

it does have an mp3 function. sort of like the LG 6600 you know. they say it play mp3's but it does. its has a real media player which CAN play mp3's but you can't formally call it an mp3 player can you? so like all series 60 symbian devices, the F2100 has real player which can support SUBWOOFERS. with radio you can access it thru the web and stream of piss, Its the media player but it's sort of cool you know, and it inconvenient. it's not expensive too (depending on network) you know. anyway i HATE this phone and i can't get it out of my head. it's drivin me mad you know @#$!%^#&
a
i think LG shud stick to what they think they're best in .....and that is appliances. stop embarrasing yourselves pleaseeee! get a life
e
LG f2100 is one of the best phone i have ever seen. It has beutifull features that other phones do not have.that is why I rocomend it so much.
e
It feels great to see and have the LG phone cause it is one of the most beutifull phone among the latest phone in the wold.I will like to have one to know how it is.
K
I have mixed feelings about this design. At first sight it looks a bit shocking but I think its different and fun. I think this phone will be a winner. Quite a nice design actually. MUCH better than Nokia designs. It has good features too!!
m
sounds great. who'd buy that. it even looks weird but you know what? it soundz great and i want it!! haha yipee
N
without a mega pixel camera feature, the price would probably be quite reasonably cheap .....i hope
Total of 171 user reviews and opinions for LG F2100.
ADVERTISEMENTS