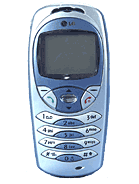 J
A Pleasent looking small size affordable phone with good battery backup, but with a heavy load of 7 function keys difficult to remember and operate. Unlike other phone having 3 or 4 multiuser keys with simple and easy operation

m
Please confirm that the phone has infra red(irDA)port. Some literature says it does not have it. I am confused.
v
This is really very good set,I'm surching for this type of handset. I'm going to by this handset LG G1500, In next week.
D
still have to go a long way to compete with nokia and samsung
Total of 166 user reviews and opinions for LG G1500.