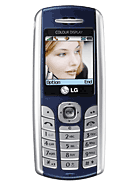 P
Not enough normal ring tones cant pre set shut down time is on stand by always unless turned off but a ''neat'' fone
C
Just bought one, it's a great, feature-packed phone at a pretty good price. It has everything you'd expect. Happy with the design- the silver version is very sexy, especially with the blue backlight under the keys!

My main complaint is that the C key and the down arrow are too close together. I suspect the reason I have issues with this is because I'm used to a somewhat larger phone - I'm getting used to it already.

The phone's software is snappy and responsive and very logical and easy to use. I particuarly like the MMS composer - simple and easy.

Can't wait to get the data suite and load this baby full of tones :)
M
LG sucks hard. Only they would include a megapixel class camera and a measly 200 contact phone book.
I
i want to buy lg g1600 and to ship it to a west african country.presently,i'm in us and want to pay with my creditcard.
please mail me about the details so as to buy it from your company.
thanks.
?
"COLOUR DISPLAY" writen on the fone screen top for the blinds? what a cheap shit..
M
Flip and slide phones are for kids, cretins and fashion victims. Normal people prefer candy bar phones.
A
Now I don't bash LG but this just looks poor and featureless. Believe me, I still hate Nokia. This is a featureless but cool budget end handset.
?
ummmm... it's pretty ugly...
i prefer flip and slide phones...
this design makes the phone look antique and out of date..
it's like going back in history
Total of 312 user reviews and opinions for LG G1600.