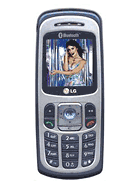 R
It's very strange, but there is not G1610 at the officiail LGe site. I can't find drivers or any software for it. This phone is not in the list of the supported models. Great minus, isnt'it? Besides, i have this phone, and, of course, have problems with it's connetction to my PC... If anyone will find something for it, please, mail...
u
i love it and wish i can have one but no fond.
I
LG G 1600 driwers wont pleas.

Total of 23 user reviews and opinions for LG G1610.