Handling the LG G2
The LG G2 is a solidly built smartphone with a practical design and innovative placement of the hardware controls. It has good looks, though its rear pattern is quite similar to its major rival - the Galaxy S4. One-hand operation with the device is surprisingly possible thanks to the key on the back and the one-hand keyboards LG has provided. Pocketing isn't a problem either, the LG G2 has its slim profile that will fit in almost any pocket or purse.
Display
The eye-catching 5.2" True HD IPS Plus display of Full HD resolution is definitely one of the LG G2's key selling points. LG is keen on making lots of noise about how the colors are rendered, pitting it against Samsung's AMOLED displays. Long story short, LG claims the G2's display shows 100% accurate colors, unlike AMOLED screens.
Here's what the screen looks like through the eye of our digital microscope: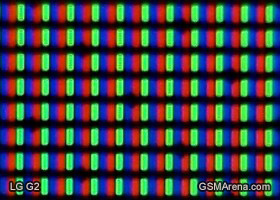 LG G2 display under a microscope
Of course, we took it for a test drive ourselves and we can safely confirm that the images indeed look great and colors pop, especially the reds. The display is impressively sharp too, thanks to the amazing pixel density of 424ppi.
So, the screen junkies that we are, we decided to take out the Galaxy S4 and put its Super AMOLED 1080p screen next to the True HD-IPS+ 1080p LCD of the G2. The direct comparison showed that the Galaxy S4 has better contrast and juicy, oversaturated colors (which is plus or a minus, depending on who you ask).


LG G2 and Samsung Galaxy S4 displays
LG has done great in minimizing the screen's overall reflectiveness and we are glad to share that unlike the Optimus G Pro, the G2 True HD IPS Plus display is quite unreflective when it's on. There is some contrast loss when you are viewing the screen at an angle, but it's minor and won't take away from the otherwise great picture quality.
We also compared the G2 screen to the Optimus G Pro's, which theoretically uses the same technology. The Optimus G Pro's screen has about the same level of contrast, but it is a bit more reflective and as a result its sunlight legibility is worse.
Display test
50% brightness
100% brightness
Black, cd/m2
White, cd/m2
Contrast ratio
Black, cd/m2
White, cd/m2
Contrast ratio
LG G2
0.10
149
1522
0.45
667
1495
LG Optimus G Pro
-
-
-
0.41
611
1489
LG Optimus G
0.14
197
1445
0.33
417
1438
Sony Xperia Z Ultra
-
-
-
0.47
467
1001
Sony Xperia Z
-
-
-
0.70
492
705
Huawei Ascend Mate
0.23
222
982
0.67
711
1053
Samsung Galaxy Mega 6.3
0.12
160
1364
0.32
440
1379
Samsung I9505 Galaxy S4
0
201
∞
0
404
∞
HTC Butterfly S
0.15
165
1117
0.43
451
1044
HTC Butterfly
0.14
173
1200
0.45
501
1104
HTC One
0.13
205
1580
0.42
647
1541
Oppo Find 5
0.17
176
1123
0.51
565
1107
Apple iPhone 5
0.13
200
1490
0.48
640
1320
Sunlight contrast ratio
Nokia 808 PureView
4.698
Apple iPhone 5
3.997
Samsung I9300 Galaxy S III
3.419
Nokia Lumia 925
3.402
Samsung I9505 Galaxy S4
3.352
Samsung Omnia W
3.301
Samsung Galaxy S
3.155
Samsung Galaxy S4 mini
3.127
Samsung Galaxy S4 zoom
3.118
Nokia N9
3.069
Samsung Galaxy Note
2.970
HTC One S
2.901
Samsung Galaxy S II
2.832
Samsung Galaxy S II Plus
2.801
Huawei Ascend P1
2.655
Sony Xperia ZR
2.672
Nokia Lumia 900
2.562
Nokia Lumia 720
2.512
HTC One
2.504
Sony Xperia Z
2.462
Samsung Galaxy S III mini
2.422
Motorola RAZR i
2.366
Samsung Galaxy Note II
2.307
Apple iPhone 4S
2.269
HTC Desire 600 dual sim
2.262
HTC One X
2.158
Nokia N8
2.144
Oppo Find 5
2.088
BlackBerry Z10
2.051
Apple iPhone 4
2.016
HTC One mini
2.003
LG G2
1.976
Sony Ericsson Xperia ray
1.955
Samsung Galaxy Camera
1.938
HTC Butterfly
1.873
Huawei Ascend P6
1.865
Sony Xperia V
1.792
Sony Xperia U
1.758
LG Optimus 4X HD
1.691
HTC One V
1.685
BlackBerry Q5
1.682
LG Optimus Vu
1.680
LG Optimus GJ
1.666
HTC Desire V
1.646
Sony Xperia Z Ultra
1.578
Samsung Galaxy Core
1.563
LG Optimus G Pro
1.552
LG Optimus 3D
1.542
Nokia Asha 302
1.537
Sony Xperia M
1.473
Nokia Lumia 610
1.432
Gigabyte GSmart G1355
1.361
HTC Desire C
1.300
Nokia Asha 501
1.270
LG Optimus L7
1.269
LG Optimus L9
1.227
Meizu MX
1.221
Sony Xperia E dual
1.203
Samsung Galaxy Pocket
1.180
Sony Xperia tipo
1.166
Samsung Galaxy mini 2
1.114
LG G2 flip covers

LG will be also offering the cool QuickWindow flip covers, but unlike the Galaxy S4 S Cover, those will wrap around the back instead of replacing it. This is because the LG G2 uses unibody construction and you can't really remove the back cover.
As the name suggests, QuickWindow covers feature a small windows that the G2 nicely utilizes turning it in a "mini phone" within the bigger phone. You can make calls, use the music player, read your messages, check the notifications, all without having to open the cover. LG has also pre-bundled lots of fancy clock skins.