Google Now and Voice Mate
Google Now was first introduced in Jelly Bean 4.1 and is definitely one of the most interesting additions to the OS. Simply put, it's Google's version of a personal assistant. Google Now is in the same neck of the woods as Apple's Siri, but it learns constantly from your use patterns.
It's accessed by swiping up on any of the on-screen controls and gives you a short overview of information it believes is relevant to you. Going to work the same route every morning? Google Now will let you know there's a big traffic jam on your usual way to the office and will offer an alternative route.
It can interpret a lot of things from your search history as well. If you've been searching for, let's say, your favorite football team, Google Now will prepare a card showing you the next match the team is playing and will provide you with score updates once the game begins.
Google constantly updates Google Now and in its latest version has become even smarter. If you allow it, the service can scan your email for upcoming flights, deliveries or restaurant reservations and let you know when they are due. There are also numerous kinds of cards like birthdays (yours and those of your contacts and friends in the Google+ social network) and what distance you've walked in a particular month.
Google has also integrated Voice Actions. They can handle stuff like sending messages (SMS or email), initiating a voice call, asking for directions, taking a note or opening a site. Google Now can also launch apps, check and manage your calendar and look for nearby places of interest and stuff like movie openings in theaters.
One big advantage of Google's Jelly Bean is that the voice typing functionality doesn't require an internet connection to work. You can enter text by speaking anywhere you can use the on-screen keyboard - be it the Messaging app or a note taking app - without the need for a data connection as long as you have pre-downloaded the needed language packs (and those only take about 20-25MB of your storage per pack).
Making voice typing available offline also made things faster as it's not dependent on the speed of your data connection. What's even more impressive is that the transition hasn't cost it anything in regards to accuracy.
Voice Mate, previously known as Q Voice, is LG's answer to Apple's Siri and Samsung's S-Voice. Voice Mate can be used to initiate a call, dictate text, play music, launch apps, change a setting, make memos, add a reminder, schedule an event, set an alarm or timer, check the weather, do a search on the internet, look for local listings (e.g. nearby restaurants) and even get an answer to a question.
The Voice Mate does duplicate parts of Google Now, but being less search focused it tries to do more on the actual phone and it has some added features. The problem with Voice Mate is that it is not nearly as fast or as accurate in recognizing your speech input as Now.
Also we couldn't find a way to launch the Voice Mate outside of its shortcut or its pre-defined and non-configurable voice commands (Hello Genie, LG Mobile). But LG did included the Voice Mate into Q Slide UI, so it is also available to launch on top of other apps via this mini apps-like interface.
Nice phonebook
The phonebook of the LG G2 is pretty much the standard Jelly Bean affair with Optimus UI goodies sprinkled on top. It has a tabbed interface, in which the central tab lists all contacts alphabetically. You can navigate the tabs by swipes or, alternatively, touch the specific tab labels.
Contact images, where available, are displayed and there's a quick alphabet scroll on the right. There's also a regular search bar on top of the contacts list. The other tabs are Groups and Favorites on the right and Dial and Call logs on the left.
Filters keep the phonebook from getting messy - you can choose which groups are displayed and which are hidden (e.g. Family, email contacts, Twitter contacts and so on). The list can be sorted by first or last name and you can choose how contacts are displayed - First Name, Last Name or the opposite.
In the usual Android fashion, a tap on a contact photo brings up the quick contacts shortcuts. You can call the contact, send text or email or view their profile. You can also make a video call.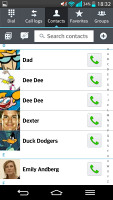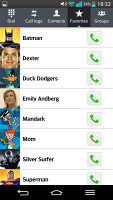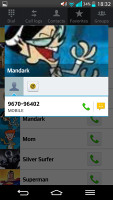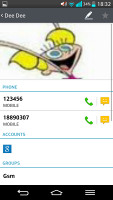 Contact display and sort setting • Viewing a single contact
Tapping on the name of a single contact brings up their details. Once you're there, you can edit the contact info by hitting the pencil icon in the upper right corner, while the star icon in the upper right will add them to favorites. Editing a contact is pretty straightforward; you can add or remove fields as needed, as well as specify the types of phone numbers, email addresses, ringtones, additional fields and even add notes.
There is one new option in the phonebook called VuTalk. Once you register your number through the service you will be able to talk and draw at the same time with another friend who has the VuTalk active. It's a nice feature, but this means your other friend should own an LG smartphone as well.
Telephony
The LG G2 had no trouble holding on to signal (even where signal was poor) and the in-call audio is consistently good and decently loud.
The Dialer is basically a part of the Contacts app and integrates the Call log, Contacts and Favorites, each within its own tab. Again, these tabs are side-swipeable.
The Call log is clever and groups some of the calls, e.g. 3 missed calls from the same contact on the same day. A number next to the contact name shows the number of events. It's a great space saving feature.
Smart Dial is available and works for both numbers and names. Only one matching contact is displayed, but if you tap the down arrow button, the rest show up as well.
During a call you can pop-up the dialer should you need to dial another number. Also you can use the phone while on a call, just hit the menu key and a small green line replaces the notification area and acts like a shortcut back to the call.
We also ran our traditional loudspeaker test on the LG G2, to find out that it has a very quiet speaker. It scored a below average mark there is a chance you may miss some notifications. The LG G2 though has an option to boost the speaker's volume when you are in a noisy environment, so it gets slightly better.
The phone's vibration is really strong, so it might be a good idea to turn it on for incoming notifications.
| | | | | |
| --- | --- | --- | --- | --- |
| Speakerphone test | Voice, dB | Pink noise/ Music, dB | Ringing phone, dB | Overal score |
| Sony Xperia Z | 60.1 | 58.3 | 61.6 | Below Average |
| LG G2 | 65.7 | 62.2 | 66.2 | Below Average |
| HTC Butterfly S | 66.7 | 61.9 | 72.2 | Below Average |
| Samsung Galaxy S4 mini | 66.3 | 64.8 | 75.1 | Average |
| HTC One | 69.3 | 66.6 | 75.9 | Good |
| HTC One mini | 68.0 | 68.7 | 78.1 | Good< |
| Samsung I9505 Galaxy S4 | 70.6 | 66.2 | 77.3 | Good |
| Samsung Galaxy S4 Active | 72.7 | 66.6 | 78.1 | Good |
| LG Optimus G | 74.6 | 71.3 | 82.7 | Excellent |