Messaging
The LG G2 can handle all common message types: SMS, MMS and email. Email capability is excellent with support for Exchange available out of box, and social media buffs will be pleased with the level of SNS integration as well.
A press-and-hold on the text box gives you access to functions such as cut, copy and paste. You are free to paste the copied text across applications like email, notes, chats, etc.
Adding multimedia to a message is pretty straightforward - just hit the attach button next to the text field and select a number of available options, such as images, videos, voice recording, etc.
Moving on to email, the first thing you'll notice is that Google has done away with the bottom bar that hosted buttons for new mail, search, labels, refresh and menu. Three of those have now been moved to the action bar on top and refresh has been integrated into the UI, in the shape of pull to refresh.
The new Gmail app now displays contact images in mails. If an email has multiple recipients, they're shown in a grid similar to the Hangouts app. If there is no contact image, it just shows the first letter of the sender on a color background. You can disable sender images in the email app if you wish.
Gmail v4.5 also includes the four new inbox options. You can have your mail sorted by Primary, Social, Promotions and Updates as you can on Gmail web, which makes it easy to keep track of your mail.
The generic email client supports multiple accounts, and operates in much the same fashion as the Gmail one. If you add multiple accounts, then the Combined Inbox feature will come in handy, although there's no conversation-style view like in Gmail.
QWERTY, Swype, voice and handwriting
The LG G2 offers a standard QWERTY keyboard, which features both portrait and landscape typing. The keyboard fills up the screen nicely and offers great ergonomics with ample spacing between keys, still leaving enough room above the keyboard for you to see what you're actually typing.
The level of speed and accuracy are commendable in both portrait and landscape. There's a dedicated setting that enables keypress vibrations.
You can opt for one-hand mode, where the keyboard becomes smaller and sticks to the left or right side of the screen. It's invoked by flicking the portrait keyboard sideways and that way you can use it only with your thumb.
You can also split the landscape keyboard in two by doing a simple pinch gesture on it.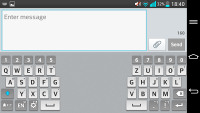 The split keyboard in landscape
There is Swype-like (LG dubbed it Path keyboard) input as well, though it's somewhat uncomfortably out of sight in the Input Language submenu. You need to enable Shape Writer instead of the standard QWERTY layout in the settings.
Mind you, having the Path keyboard option on will conflict with (and effectively disable) the Split and One Hand keyboard options.
Voice input is enabled too, as well as handwriting. Furthermore, since this is a Jelly Bean device there's also support for offline voice typing, as long as you have preinstalled the required language packages. We are really pleased with its speed and accuracy, too.
Gallery
The LG G2 uses the same gallery app as the Optimus G and G Pro - in effect, a near stock Adroid gallery with a few custom touches here and there. It automatically locates images and videos no matter where they are stored on the phone. By default, images are sorted by albums, but you can sort by location or time as well.
The different sets are tiled neatly across the screen. You can expand or shrink individual albums using a pinch to zoom gesture, making the elements of the grid of photos either really huge or very tiny.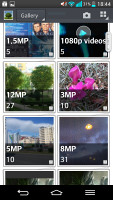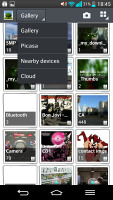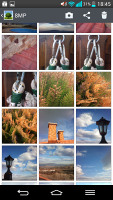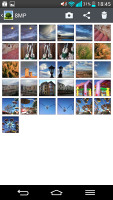 The Gallery can be sorted by albums, location or time
Once selected, you can view an image close up by pinch zooming or double tapping on the desired area. There is a sliding gallery along the bottom which allows you to quickly browse other images in the album. On the top there are three shortcuts for quickly sharing, editing or deleting the selected photo.
The Share feature offers quick sharing via Email, Google+, Picasa, Memo, Hangouts, MMS, SmartShare, VuTalk, Picasa or Bluetooth.
The Gallery app displays images in full resolution. Zooming and panning involves no lag whatsoever on the G2.