Controls
Besides the 4.7" IPS display, the G2 mini front panel accommodates the earpiece, the 1.3 MP secondary camera, capable of 1080p video capture and the proximity sensor. Sadly, the status LED light of the G2 is missing here, so is the ambient light sensor.
The left and right side of the LG G2 is completely bare.



LG G2 mini left and right sides
The top of the LG G2 houses the secondary mic and the IR emitter for the remote control functionality.



LG G2's top with the IR blaster
The bottom has the primary microphone, the loudspeaker and the MHL-enabled microUSB port. The G2 mini's connectivity port supports TV-out, USB on-the-go and USB host.



LG G2 mini's bottom looks the part
LG G2 mini's back is where things get interesting. As we already mentioned, there's the trademark LG configuration that includes the volume-rocker with the Power/Lock key located in the middle. On top of that button trio is the 8MP camera and the LED flash are here. The G2 also has a 13MP version.
When the screen is locked a long press on the Volume Up key launches the Quick Memo tool, while a long press on the Volume Down control fires up the camera. You can use this key as a shutter button, too.



LG G2 innovative take on the back
The Power/Lock button lacks a LED-lit rim that doubles as a notification LED on the LG G2. That's a pity, really, as this leaves the phone without any notification light to speak of.
The key placement spares you lots of unnecessary finger stretching, the location of all three keys is really convenient but it takes a bit of time getting used to it.



The battery, microSD and SIM card slots.
You can pop the battery cover and get access to the 2440 mAh battery, which, fortunately, is user replaceable. We're happy to report that the microSD card slot and SIM card slot are on the top left and are hot swappable.
Display
The LG G2 mini is built around a 4.7" display. It's an IPS LCD unit with a nice quality. Unfortunately, we are a bit let down by the resolution of 960 x 540 pixels. As a result of the relatively subpar resolution, the pixel density is just 234 ppi.



The 4.7" display is of qHD resolution
It's not the sharpest around, which is understandable. Nevertheless, it's a fairly bright screen with good viewing angles, although there's contrast compression and color shift at extreme angles.
Display test
50% brightness
100% brightness
Black, cd/m2
White, cd/m2
Contrast ratio
Black, cd/m2
White, cd/m2
Contrast ratio
LG G2 mini
0.12
91
752
0.52
398
748
Sony Xperia E1
-
-
-
0.72
489
677
Nokia X
0.39
24
637
0.64
461
715
Nokia Asha 501
-
-
-
0.37
354
947
Nokia Asha 503
0.28
178
647
0.56
358
635
Nokia Lumia 520
-
-
-
0.51
422
834
Sony Xperia E
0.19
157
813
0.50
433
875
Sony Xperia E dual
0.21
181
844
0.54
473
870
Sony Xperia tipo
-
-
-
0.75
561
751
Samsung S7500 Galaxy Ace Plus
0.27
239
873
0.6
528
888
Apple iPhone 5
0.13
200
1490
0.48
640
1320
Motorola Moto G
0.35
315
906
0.57
550
967
Sony Xperia C
0.18
151
842
0.66
639
962
Sunlight contrast ratio
Nokia 808 PureView
4.698
Apple iPhone 5
3.997
Samsung Galaxy Note 3
3.997
Samsung Galaxy S5
3.549
Samsung I9300 Galaxy S III
3.419
Nokia Lumia 925
3.402
Samsung I9505 Galaxy S4
3.352
Samsung Omnia W
3.301
Samsung Galaxy S
3.155
Samsung Galaxy S4 mini
3.127
Samsung Galaxy S4 zoom
3.118
Nokia N9
3.069
Samsung Galaxy Note
2.970
Sony Xperia Z1
2.950
HTC One S
2.901
BlackBerry Q10
2.856
Samsung Galaxy S II
2.832
Samsung Galaxy S II Plus
2.801
BlackBerry Z30
2.790
Huawei Ascend P1
2.655
Sony Xperia ZR
2.672
Nokia Lumia 900
2.562
HTC One Max
2.537
Nokia Lumia 720
2.512
HTC One
2.504
Sony Xperia Z
2.462
Samsung Galaxy S III mini
2.422
HTC One (M8)
2.371
Motorola RAZR i
2.366
Samsung Galaxy Note II
2.307
Apple iPhone 4S
2.269
HTC Desire 600 dual sim
2.262
LG Nexus 5
2.228
HTC One X
2.158
Nokia N8
2.144
Oppo Find 5
2.088
BlackBerry Z10
2.051
Apple iPhone 4
2.016
HTC One mini
2.003
LG G2
1.976
Sony Ericsson Xperia ray
1.955
Samsung Galaxy Camera
1.938
LG G Pro 2
1.922
HTC Butterfly
1.873
Huawei Ascend P6
1.865
LG G2 mini
1.838
Sony Xperia V
1.792
Sony Xperia U
1.758
Meizu MX3
1.754
LG Optimus 4X HD
1.691
HTC One V
1.685
BlackBerry Q5
1.682
LG Optimus Vu
1.680
LG Optimus GJ
1.666
HTC Desire V
1.646
Samsung Galaxy Ace 3
1.622
Sony Xperia Z Ultra
1.578
Samsung Galaxy Core
1.563
LG Optimus G Pro
1.552
LG Optimus 3D
1.542
Samsung Galaxy Core LTE
1.542
Nokia Asha 302
1.537
Sony Xperia M
1.473
Nokia Lumia 610
1.432
Samsung Galaxy Grand Neo
1.393
Sony Xperia E1
1.372
Gigabyte GSmart G1355
1.361
Samsung Galaxy Grand
1.321
HTC Desire C
1.300
Nokia X
1.291
Nokia Asha 501
1.270
LG Optimus L7
1.269
LG Optimus L9
1.227
Meizu MX
1.221
Sony Xperia E dual
1.203
Samsung Galaxy Pocket
1.180
Sony Xperia tipo
1.166
Samsung Galaxy mini 2
1.114
The sunlight legibility isn't the worst we've seen, but it definitely leaves room for improvement. You'll struggle to read or view anything outdoors if it isn't cloudy.
Battery life test
The LG G2 mini houses a 2440mAh battery, which LG says is the largest in its class and we are inclined to agree (the Moto X packs a 2200mAh battery in a similarly sized package). LG has been doing very well in the battery department ever since the LG G2 and it has done the very best it can in the G2 mini as well.
As a result, the phone's endurance rating is 76 hours, which is one of the best scores any mid-ranger has ever posted. This means you can easily get two days of 1 hour web browsing, video playback and 3G talk each in a single charge.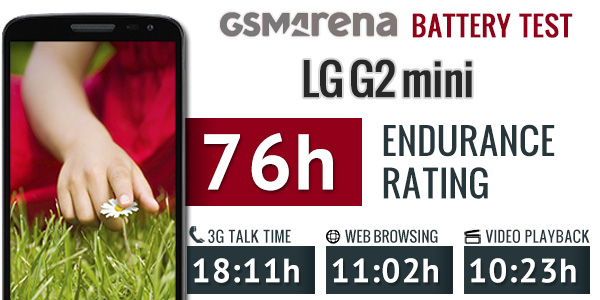 For a more detailed breakdown of the LG G2 mini battery performance check out our blogpost.
Our proprietary score also includes a standby battery draw test, which is not featured in our battery test scorecard but is calculated in the total endurance rating.
Our battery testing procedure is described in detail in case you want to learn more about it.