LG has put up the G2 mini for sale on its online store in Thailand. The company asks $310 (9990 THB) for the G2 mini (D618) - this is the Snapdragon 400 version with a 8MP camera.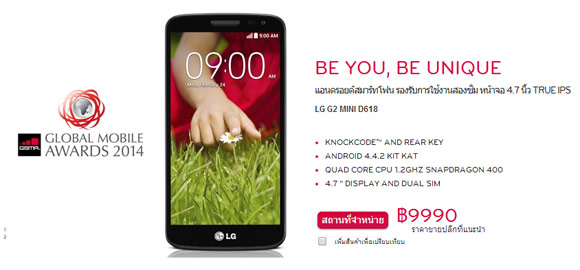 The same version is currently listed in UK retailer Clove for £250 (about $420). The phone seems slightly overpriced there, so we expect the price to come down a bit.
The LG G2 mini is LTE-enabled and features a 2,440mAh battery as well as a microSD card slot for expanding the 8GB of internal memory. The 1.2GHz quad-core Cortex-A7 processor is bundled with 1GB of RAM and an Adreno 305 GPU.
We'll have much more on the G2 mini very soon as the phone has graced our office with its presence, so stay tuned!
Thanks for the tip, Amein!
?
Could some one tell me when it releases in india
D
hello there if you where to choice what would you buy the G2 mini or the xperia m2?