With less than twenty four hours left before its scheduled official unveiling, the LG G2 made yet another appearance. This time around, the Android powerhouse emerged in a proper press image.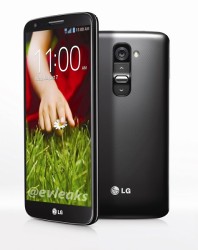 LG G2 press image (click to enlarge)
The press render of the LG G2 holds practically no surprises - it is in line with previous leaks. The image showcases the front of the handset, dominated by its large display with extremely thin bezels. The back reveals the power button , the volume rocker, as well as the camera unit and it LED flash.
We will be attending the LG G2 unveiling in New York City tomorrow, so be sure to tune in for the full scoop on the upcoming smartphone.
D
next year, lg will make a new phone which will use big.LITTLE 8core cpu, 4 X A57 + 4 X A53( cortex-a50 series) Cortex-A50 Series The Cortex-A50 Series is the latest range of processors based on the ARMv8 architecture. The series includes...
D
idk about the rest of the manufactures but Sony's next gen line of phones have the volume rocker on the side like the Z line of phones.
D
if your talking about the new LG it has a 3000mah battery not a 2500