The triumvirate
LG G2 vs. Samsung Galaxy Note 3 vs. Sony Xperia Z1: The triumvirate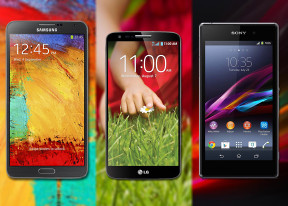 Displays
The displays on all three of our contestants are top of the line, specs-wise. Each of them sports at least 5 inches of diagonal and 1920 x 1080 pixel resolution. The pixel density on each of the three displays is close to or even above 400 ppi, so it's safe to say that every image will be crisp and clear.
The LG G2's has a 5.2" True HD-IPS + LCD display that's good for around 424 pixels per inch. The Galaxy Note 3 uses a 5.7" Super AMOLED screen adding up to around 386 ppi, whereas the Sony Xperia Z1 goes for a 5" Triluminous display with the X-Reality engine and being the smallest display of the three, it also offers the highest pixel density - 441 ppi.
All but the Galaxy Note 3 use the standard RGB matrix with an equal number of red, green and blue pixels. The Galaxy Note 3 has a PenTile matrix, which has two subpixels per pixel. In theory this matrix is inferior as it may result in dottiness, but that stopped being an issue when pixel densities crossed the 300ppi mark. So while you might notice that the Note 3 is not quite as sharp as the other two if you look from way close than is comfortable - the three are virtually on par at normal viewing distances.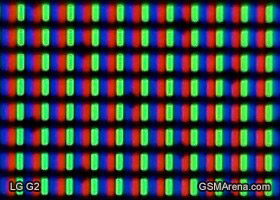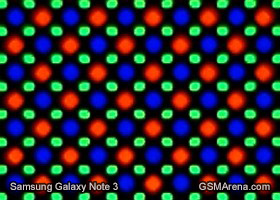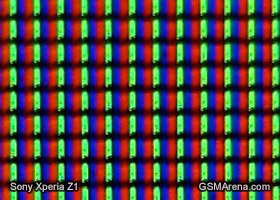 The display matrices
So let's look at the numbers from our dedicated display tests. The Samsung Galaxy Note 3 has the clear advantage when it comes to contrast ratio and depth of blacks. Because AMOLED screens can switch individual pixels off, the blacks are as deep as they get. This also means that under ideal circumstances, contrast is practically unlimited. The weakness of AMOLEDs is the brightness, where they fail to match LCDs without breaking the power bank.
The LG G2's display has the upper hand in brightness but its contrast slightly degrades when you go all the way up to 100% brightness. Still it's contrast is, for all purposes practical, equal to that of the Sony Xperia Z1.
Display test
50% brightness
100% brightness
Black, cd/m2
White, cd/m2
Contrast ratio
Black, cd/m2
White, cd/m2
Contrast ratio
LG G2

0.10

149

1522

0.45

667

1495

Samsung Galaxy Note 3

0

149

∞

0

379

∞

Sony Xperia Z1

-

-

-

0.38

580

1513
Outdoors, the light tends to be stronger and the sun would often shine right on your phone's display. That's when the contrast deteriorates and the best thing a manufacturer can do is use a less reflective glass and rely on the screen brightness to overcome that.
Because AMOLEDs have one glass layer less than conventional LCD displays the Samsung Galaxy Note 3 has a clear advantage in screen legibility in direct sunlight, even though its brightness may not be class-leading. The Sony Xperia Z1 is close behind. The G2 can still be operated trouble free in the sun, but the colors of its screen get washed out and it loses more of its brilliance than the other two.
Sunlight contrast ratio
Samsung Galaxy Note 3
3.419
Sony Xperia Z1
2.950
LG G2
1.976
When it comes to viewing angles, the LG G2 and the Samsung Galaxy Note 3 are so great that it's next to impossible to tell them apart. Both screens make the icons and images look as if painted on top of the glass. The Sony Xperia Z1 is a step up from Sony's prior flagships but is still notably behind the other two.
Finally, in terms of color rendering, the LG G2 offers nice natural colors, although it offers no choice of screen modes. The Samsung Galaxy Note 3 comes punchy and oversaturated by default, but you can use its screen modes to tune that down for a very natural look. The Xperia Z1 also has fairly accurate color reproduction, which can get a boost out of the X-Reality engine.
Winner: Samsung Galaxy Note 3. The Super AMOLED display on the Galaxy Note 3 is our choice here. It's much bigger than the displays of the other two, it has superior contrast, naturally deep blacks and the unmatched flexibility of screen modes. You can pick between nicely saturated, punchy colors that just pop out or natural colors that are great for photo editing. And at this resolution and pixel density the once objectionable PenTile matrix is no longer an issue.
Runner-up: LG G2. The LG G2 has a spectacular display with great colors, brightness and contrast. It came in last in the sunlight test, but the larger size and the better viewing angles helped it edge out the Xperia Z1's Triluminous screen.
Third place: Sony Xperia Z1. The Sony Xperia Z1 has the best screen the company's smartphone lineup has seen, but the less than perfect viewing angles take away some of its high-end vibe. It's not a screen anyone will be unhappy about, but it comes slightly short of the other two participants here.
Battery life
With screens this big and beefy chipsets, the three contenders have no choice but to go with ample batteries if they want to offer decent battery life. The LG G2 has a 3,000mAh Li-Po battery, matched by the Sony Xperia Z1, while the Galaxy Note 3 has a slightly larger 3,200mAh juice pack.
We're done with the tests of all three devices so we're going to break down the performance again here. We start with talk time, where the Sony Xperia Z1 takes the lead with a 26:53h, which is almost two hours better than the second best, LG G2. The Samsung Galaxy Note 3 surprisingly came last here with a score of just 18:12h - certainly impressive, but not quite up to par with the other two.
Talk time
Sony Xperia Z1
26:53
LG G2
25:01
Samsung Galaxy Note 3
18:12
Web browsing is where the LG G2 claimed its first victory, scoring the impressive 11:22h. The Galaxy Note 3 came second with a little over 9 hours, while the Sony Xperia Z1 lagged behind with just under 6 hours of web browsing.
Web browsing
LG G2
11:22
Samsung Galaxy Note 3
9:04
Sony Xperia Z1
5:59
Video playback is a very important part of a smartphone's skill set. The Samsung Galaxy Note 3 made it one win each, lasting for about 13 and a half hours of movie watching, followed closely by the LG G2, while the Sony Xperia Z1 is again far behind with only 6:12h.
Video playback
Samsung Galaxy Note 3
13:32
LG G2
11:51
Sony Xperia Z1
6:12
Combined with the stand-by times that we've measured, the Samsung Galaxy Note 3 managed an overall rating of 75h. The LG G2 follows with 62 hours and, finally, we see the Sony Xperia Z1, which started on a high note but ended up with only 53 hours.
The Samsung phablet has another advantage over its rivals - its battery is user replaceable. This means that you can easily change a dead or defective unit, or always carry a spare for those cases when every drop of juice is critical.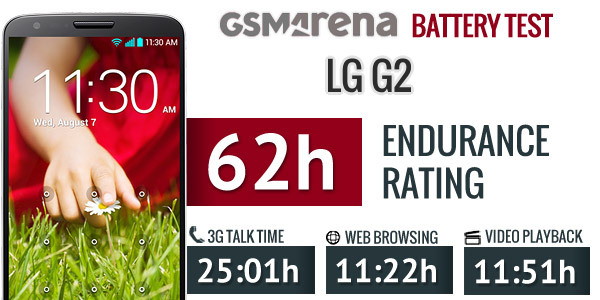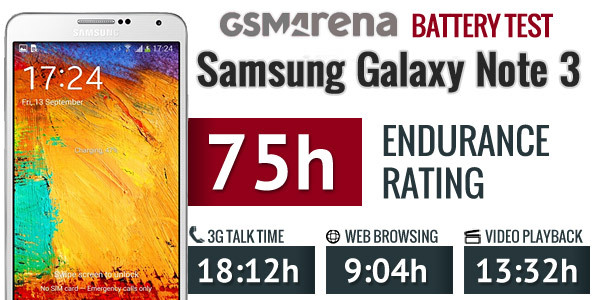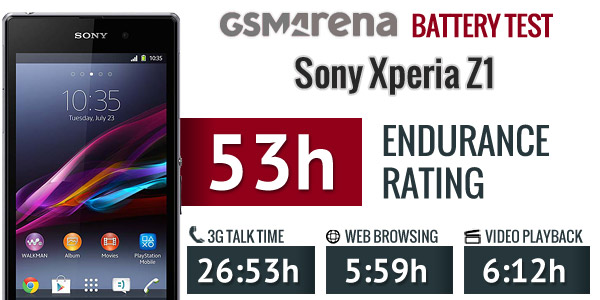 Winner: Samsung Galaxy Note 3. Not only is this the one to score the highest rating, but also the only one to feature a replaceable battery.
Runner-up: LG G2. The LG G2 was actually a much closer second than its score suggests. Its stand-by performance let it down somewhat, but it did great in the individual tests - something that matters quite a lot to power users.
Third place: Sony Xperia Z1. The Xperia Z1 got a great talk time score but then posted mediocre web browsing and video playback scores. Its overall performance is certainly good, but it's not quite up there with the other two.