Neighbor squabble
Samsung Galaxy S4 vs. LG G2: Neighbor squabble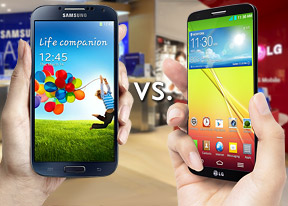 Introduction
The Samsung Galaxy S4 is the Android flagship to beat based on sheer sales, but the LG G2 one ups it in just about every way possible. Two South Korean neighbors and bitter rivals are once again standing in each other's way, and for us, users, choosing a side seems to have never been harder.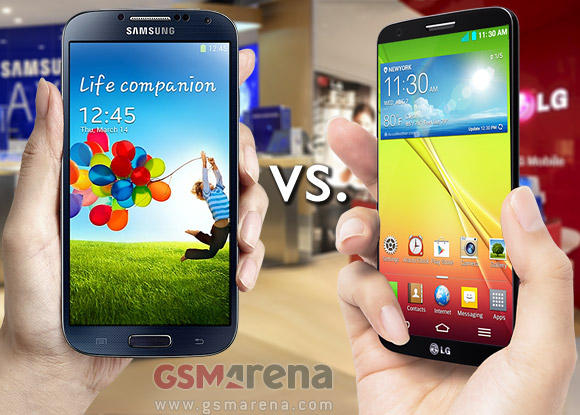 The two smartphones have very similar design, build and features so you can pick either one and be on your merry way. However, there are differences - enough to make you want one of them more. The LG G2 has the advantage of using the latest tech available, while the S4 has already built up a user base in the tens of millions.
Before we compare specs, we should mention that there are a ton of "Galaxy S4" phones, even when you don't count the mini and the Active. So it's worth pointing out that when choosing the G2 opponent in this heavy-weight battle, we picked the I9500 (Exynos 5 Octa chipset) and the I9505 (Snapdragon 600 chipset). With this in mind, here are the aspects where each phone has it better than its rival.
LG G2 over Galaxy S4
Bigger (5.2" over 5"), brighter screen
Compact design, almost the same size as S4
More powerful chipset - Snapdragon 800 over Snapdragon 600 / Exynos 5 Octa
Optical image stabilization
1080p video recording @ 60fps (vs. 1080p @ 30fps)
Bigger battery - 3,000mAh over 2,600mAh
Samsung Galaxy S4 over LG G2
Amoled screen has better contrast and viewing angles than LCD
Thinner (7.9mm vs. 8.9mm) and lighter (130g vs. 143g)
Expandable storage via a microSD slot
Removable battery
Split-screen multitasking vs. floating mini apps
The highly sensitive touchscreen can detect a hovering finger and works with gloves
Dual-SIM version
We're quite impressed with the LG G2 squeezing a 5.2" screen with wafer thin bezels in a body that's virtually the same size as the 5" Samsung Galaxy S4 (or the 4.7" HTC One for that matter). It's thicker but that extra millimeter buys you optical image stabilization and more battery capacity. Also, the late release has allowed LG to use the brand new Snapdragon 800 chipset and spend more time equipping the camera with new tricks such as the 1080p @ 60fps video recording.




LG G2 and Samsung Galaxy S4 squaring off against each other
The Galaxy S4 is by no means fat - it used to be our benchmark for a compact 5" phone. Despite being half a year older, the Samsung flagship isn't any cheaper than the G2 either. Still, the Galaxy S4 has its own set of tricks like the Super AMOLED screen that can detect your finger from an inch away and a repair-friendly design (the back cover and battery can be swapped out in a second).
It's going to be a close fight and we'll have to carefully weigh the pros and cons of each phone. You can do it with us, starting with the hardware on the next page.
r
LG 2 z much better than S4
F
LG G2 is much better than S4.cpu processor and camera rock on g2. S4 is not so good. LG is much bettet brand than Samsung.
?
I do not owe S4 so I'll just comment on G2. Phone is nice. Speed and battery the best. Accessories like headset and charger still in good condition unlike some that won't last a few months. However,after 1 yr and 3 mos,my phone starts to flicker. I h...