Neighbor squabble
Samsung Galaxy S4 vs. LG G2: Neighbor squabble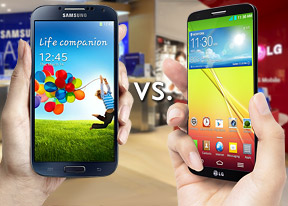 App packages
Both the LG G2 and the Samsung Galaxy S4 come with an extensive app package out of the box. Some of those apps are pretty useful, so they're worth checking out.
The file browser is one of the most helpful and both phones have pretty capable apps. However, the LG G2 has the edge since its file browser supports ZIP files and has Dropbox integration. LG has another very useful app - LG Backup. It can be used to back up everything from settings to downloaded apps and their data. It's great for people who don't want/know how to root their phone, but need an on-device backup solution.
Both phones have only an Office doc viewer from Polaris and get points deducted - a flagship should really come with an Office editor.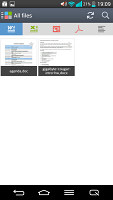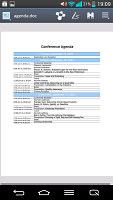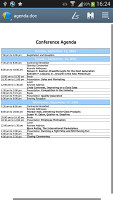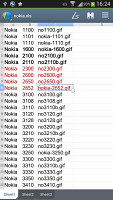 Neither phone has an Office editor
While both phones have capable music players, the LG G2 wins some points for playing 24-bit FLAC out of the box (the Galaxy S4 plays only 16-bit FLACs) and having an FM Radio.
The Galaxy S4 does earn back points for Adapt Sound, which tunes the equalizer based on your specific set of headphones. We'll look at the audio output quality of both smartphones in a separate test later on.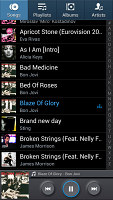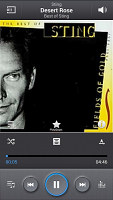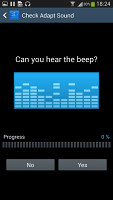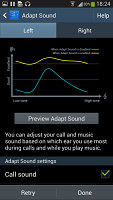 Samsung Galaxy S4 music player and Adapt Sound
One of the most interesting apps on the two phones is the remote control app. They can control TVs, set top boxes, projectors, DVD players, AV receivers.
LG goes even further and adds air conditioning units but more importantly the option to learn commands from the devices existing IR remote - you can build your own remote, with a custom layout to control any device in the house that has an IR remote, which is great for home theater setups.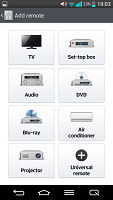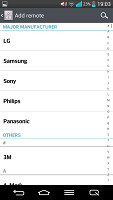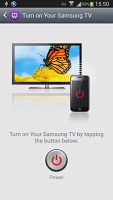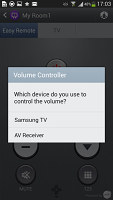 IR remote control apps on the LG G2 • and on the Galaxy S4
Both phones have voice assistants - Q Voice for the LG G2 and S Voice for the Samsung Galaxy S4. They can make a call for you, transcribe a text you dictate, set alarms, check the weather and so on. Both have just about the same set of functions.
The Samsung Galaxy S4 utilizes its wide set of sensors (air pressure, humidity and temperature) for the S Health app, which can also pair with external sensors and with your input (of what you eat), it's supposed to help you stay in shape and track your progress towards your fitness goals. We've never really had smartphones as a big part of our health lifestyle but obviously it's a big market niche since Apple has even made a special co-procesor to allow their latest iPhone 5s to serve as a low-power all day activity tracker.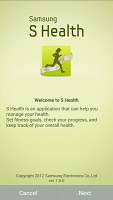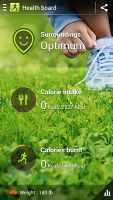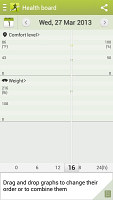 S Health will keep you in shape
Section winner: Tie!
Having a backup app out of the box is very valuable, the IR remote is better, plus the small things like Dropbox integration in the file browser and FM radio are also pretty cool.
The Samsung Galaxy S4 lacks a few things, but the Adapt Sound option is cool and the S Health app is one of the best exercise apps we've seen. You can get apps to fill in some of the gaps, though you can't get a proper backup app (without rooting or using a PC) and there's no software fix for a missing FM radio.