Introduction
The LG G2 is a living legend for its razor thin bezels but it's time to pass on the torch. The compactness spell worked once again and the LG G3 fits a massive 5.5" QHD screen in a body that's barely bigger than that of its competitors. Who need phablets when you can have a phone like the G3?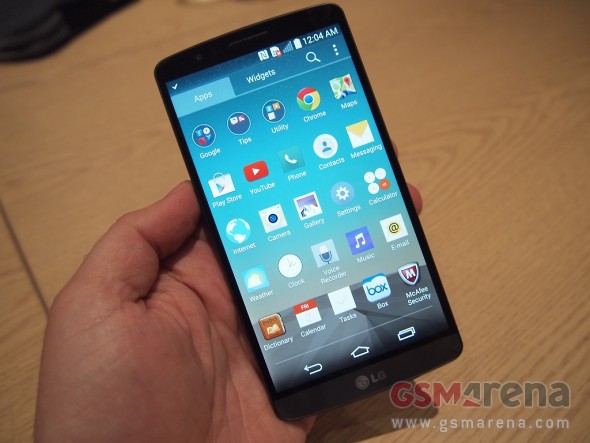 The LG G3 is finally officially announced
Another trick LG is repeating from last year is to launch later than its chief competitors, so it can have a technological advantage. If the QHD screen (1,440 x 2,560px) isn't enough, the 13MP OIS camera with a LG's proprietary new laser auto focus should tingle your "future tech" sensory organs.
LG G3 at a glance
Dimensions: 146.3 x 74.6 x 8.9mm
Screen: 5.5" True HD-IPS+ screen with 1,440 x 2,560 resolution, 538ppi; Gorilla Glass 3
Chipset: Snapdragon 801, quad-core Krait 400 at 2.5GHz, Adreno 330, 2/3GB RAM (depending on internal storage)
OS: Android 4.4.2; Optimus UI
Camera: 13MP with Optical Image Stabilization, laser autofocus; 2.1MP front-facing camera
Video camera: 2160p recording
Battery: 3,000mAh
Storage: 16GB/32GB built-in; expandable via microSD card slot
Connectivity: Cat. 4 LTE (150Mbps down, 50Mbps up), Wi-Fi a/b/g/n/ac, Bluetooth 4.0
Misc: 1W speaker on the back (1.5W with boost) with a redesigned amplifier, wireless charging, Knock code
The LG G3 is the first smartphone (or phablet from that matter) from the established makers that hits the QHD screen resolution mark. The sharpness may sound over the top, but LG claims this is what it takes to achieve print-like quality.
The LG G3 possesses a spectacular screen-to-body-size-ratio. Keep in mind the Sony Xperia Z2 measures 146.8 x 73.3 x 8.2mm, while the HTC One (M8) is 146.4 x 70.6 x 9.4 mm. And those two have only 5.2" and 5" screens respectively. It's the total size that distinguishes the phablet from a regular smartphone, not the screen size. And in this respect the LG G3 is still on regular smartphone territory even though it has a screen that's as big as the one in the LG G Pro and the Samsung Galaxy Note II phablets.
Sony and Samsung went with big camera sensors, but neither managed to implement OIS. Even HTC dropped it from its new flagship camera, leaving the LG G3 to contend with only the Nokia Lumia 930. The new Korean super star has a 13MP shooter with 2160p video capture and a one-of-a-kind laser focus. It accurately measures distances even in the dark so you'll get fast, accurate focus even for low-light shots.
The camera magic extends to the front-facing shooter too - designed for the selfie generation it has a 77° lens and a 2MP sensor with larger pixels and brighter lens than the main camera. It will also light the screen a carefully chosen color to make sure your face is well lit.
While LG didn't reuse the self-healing plastic from the G Flex, the LG G3 body is molded from a brand new material with metallic looks that is both scratch and fingerprint resistant.
D
I want an honest opinion. Plz someone inform me how good is the front facing camera? I knew about the all the others thing about the phone but confused about front facing camera but it's a important issue for me so someone plz help me here. Thnx in a...
D
those how are saying the QHD isn't wow they should play demo clips on the device gallery & they will be amazed. but why can't nocice it in some media, apps or els because it doesn't support QHD yet. I'm a samsung s4 user & its battry last abo...
t
I just buy two supposed to be original, but they are not the same white color and the camera is not same resolution. One is a copy right? How do i know if it is a copy?