Synthetic benchmarks and performance
LG G3 is running on a Qualcomm Snapdragon 801 MSM8974AC chipset, which brings the Krait 400 CPU clock to 2.5GHz and boosts the GPU speed to 578MHz. That's the same chipset that powers the Samsung Galaxy S5 and Oppo Find 7 (the other upcoming QHD smartphone).
We managed to put the configuration to a test, running several of our favorite benchmarks. Once again we have to remind you though, that the hardware and software of our unit are far from finalized, so the scores we are getting are likely far lower than what the finalized units will achieve.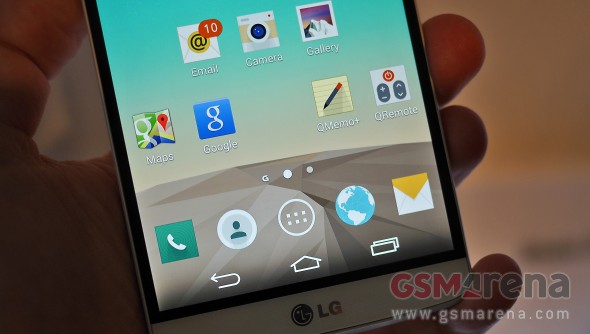 The LG G3 screen is super sharp and the new UI is eye-pleasing
GeekBench 3 is a multi-thread CPU benchmark, where the G3 did quite well, achieving one of the best scores we've seen so far. It didn't quite manage to match the Galaxy S5 score, but that's likely due to the non-finalized score.
Geekbench 3
Higher is better
Oppo Find 7a
3093
Samsung Galaxy S5
3011
Sony Xperia Z1 Compact
2968
Samsung Galaxy Note 3
2937
Sony Xperia Z2
2856
Sony Xperia Z Ultra
2670
LG G3
2649
Sony Xperia Z1
2638
LG G Pro 2
2585
Apple iPhone 5s
2561
LG Nexus 5
2453
HTC One (M8)
2367
LG G Flex
2254
LG G2
2243
Samsung Galaxy Note 3 Neo
2172
HTC One
1972
Samsung Galaxy S4 (S600)
1869
Oppo N1
1207
The first compound benchmark we ran was AnTuTu 4 and the LG G3 posted a score very similar to that of the S800 smartphones such as the Galaxy Note 3 and LG G2. Obviously, the GPU is made to work far harder on the QHD screen, which has 78% more pixels than a 1080p unit but the faster GPU of the Snapdragon 801 chipset has managed to make up for that.
AnTuTu 4
Higher is better
HTC One (M8)
37009
Samsung Galaxy S5
36018
LG G Flex
35831
LG G2
35444
Sony Xperia Z1 Compact
34527
LG G3
34105
Oppo Find 7a
33344
Sony Xperia Z2
33182
Samsung Galaxy Note 3 Neo
32162
Samsung Galaxy Note 3
31109
Sony Xperia Z1
30850
LG G Pro 2
29603
Sony Xperia Z Ultra
29185
Samsung Galaxy S4
27613
Oppo N1
26598
HTC One
26389
LG Nexus 5
25097
Basemark OS II is another benchmark to tests just about every facet of a phone's performance. Impressively enough, the LG G3 manage to outperform the Galaxy Note 3 even in this early stage of its development.
Basemark OS II
Higher is better
LG G Pro 2
1140
Nokia Lumia 1520 (WP8.1 Preview)
1116
Samsung Galaxy S5
1082
Sony Xperia Z2
1080
Apple iPhone 5s
1059
Oppo Find 7a
1057
LG G3
1031
Samsung Galaxy Note 3 (KitKat)
1021
LG G2 (KitKat)
862
Web browsing is an integral part to any smartphone experience, so we also subjected the LG G3 to the Kraken JavaScript test. The LG G3 managed to place third here, only trailing the Samsung Galaxy S5 and the Apple iPhone 5s.
Kraken 1.1
Lower is better
Samsung Galaxy S5
6043
Apple iPhone 5s
6135
LG G3
6419
LG G Pro 2
6578
Oppo Find 7a
6660
Sony Xperia Z2
7041
LG Nexus 5
7148
Samsung Galaxy Note 3 (KitKat)
7148
Conclusion
Good or bad, the LG G3 is going to be one of the flagships to reckon with in the next half an year or so ahead. We have already started working on our review, so next week, you should be able to read all about it on our homepage.