Final words
The LG G3 has been a long time coming. Whether it's a genuine attempt by LG to take the extra time to make a great device, or if they simply wanted to be the first of the big boys to take the extra step in display tech (a difficult task that most other manufacturers saved for later this year), the G3 took its time getting here.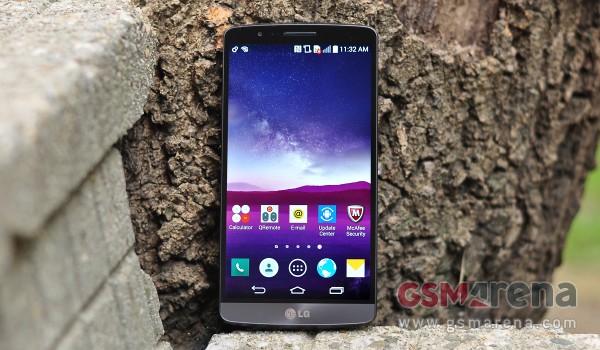 If you look at everything that LG did right with the G3 - the sharp display, the great camera to go with it that can also create 2160p content for that display, and a boatload of software extras - then the G3 may have been released at just the right time. After all, if you want to future proof your device by getting a next gen screen, where else could you look?
But LG's crosstown rival Samsung has been the top smartphone manufacturer for years. With the unprecedented success of their Galaxy series, every other Android manufacturers need to have competing devices with every new Samsung flagship release or risk falling by the wayside. As good as the G3 is, if 11 million buyers already opted for a Galaxy S5 during its first month of sales, you can assume that most of them won't be purchasing another premium smartphone anytime soon.
So, it's safe to assume that LG opted to delay the release of their S5 competitor in favor of winning the QHD arms race. But perhaps those aren't the only sacrifices that were made - the uninspiring benchmark performance saw the G3 fall behind other flagships, despite its robust Snapdragon 801 chipset. Part of this is merely a matter of optimizing the software to take full advantage of the hardware features, but the 1440p display also takes its toll.
Here's a list of our other key test findings for the LG G3:
The display is very crisp and with ultra-wide viewing angles, but not too great when it comes to contrast or sunlight legibility
The battery life is great, especially considering the high-res display
The audio output is spectacularly clean
The benchmark performance is below other top flagships
The still camera is one of the best around, and HDR makes it even better
The video camera does quite well although the 720p@120fps mode could use some improvement
The speaker loudness is good
Great codec support out of the box
The LG G3 is expected to retail for around €600, which is about €100 more than the Samsung Galaxy S5 currently. Obviously, you get a more robust screen and very capable camera with the G3, and LG's Android KitKat with Optimus overlay is arguably as good as Samsung's TouchWiz on KitKat. Hardware extras do slightly favor the S5, however, and the heart-rate sensor and IP67 could be enough to swing the vote of fitness and activity buffs.
If you want to match up the 1440p screen, your only real alternative is the Oppo Find 7. The phone also comes in at 5.5 inches, although at a significantly larger vertical of 152mm, and is also about 22 grams heavier. There is no IR-blaster or KitKat there, but otherwise the Find 7 matches the G3 across the board, and is slated to be released at around the same time.
The Xperia Z2 from Sony really impressed us at its debut at MWC this year, offering a very capable camera and top-notch performance from its Snapdragon 801 chipset. With the Z2 you'll obviously be giving up in the display department, but the device matches up in most areas (besides the IR-port), and even has a longer-lasting battery to boot. There's also IP58 dust and water resistance, but that comes at the price of the removable battery.
HTC's recent One M8 flagship offering is also in the 5-inch 1080p range, but comes in slightly heavier due to its aluminum unibody construction and it's just as tall as the G3. You'll be settling for a far inferior camera with the M8, too, although you will be getting stereo front-facing speakers. Picking between those two also depends on where you stand on HTC's KitKat build with Sense 6 overlay.
The LG G3 gives you plenty to get excited about. The 1440p screen resolution may not see much use at this time as there's simply not enough content out there yet, and could even be overkill on a display this small, but that's what people were saying about 1080p displays when they first debuted on the HTC Butterfly, and we all know how that turned out.
In an ideal outcome for the Korean company, the G3 will become the smartphone of choice for users looking to future-proof their next smartphone selection, and by throwing in a capable camera and an ample amount of software extras, it may turn out to be just that. But, as their Taiwanese counterparts HTC would be quick to point out, timing is half the battle when it comes to flagship releases, and we can only hope that the G3 isn't too late (or too early) to the party.
Either way, the LG G3 enters with a bang. And another important aspect of timing is not to be underplayed either. It was about time LG got over a fixation on matching and beating Samsung at any rate. That's to say, if they had to choose between a fingerprint scanner in a waterproof body and a QHD screen - they made the right decision we think. A welcome emancipation, matched by beautiful design and advanced technology. Stuff flagships are made of.