Display
The display of the LG G3 is by far its most notable feature. It is of the True HD-IPS+ LCD variety, with a resolution of 1440 x 2560 pixels and a 5.5-inch diagonal. This results in a pixel density of around 534ppi.
It's the same type of panel as found on the LG G2, and has the same great colors and good viewing angles.
The level of detail is obviously much better than that found on 1080p displays, but you probably won't notice it if you are simply browsing the UI. It's more apparent in the gallery and while watching videos than throughout the interface.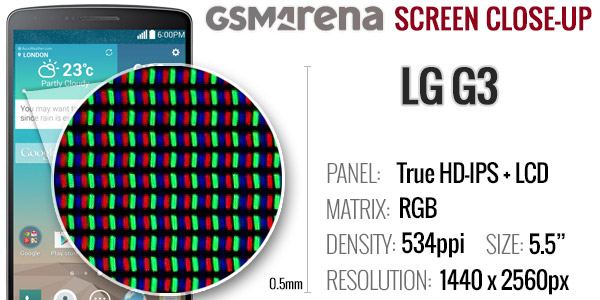 Contrast is another story, however, as the G3 is markedly worse than its predecessor both at 50% and 100% brightness. At 100% brightness the black luminance is among the highest we've seen, while the whites are markedly dimmer than on the G2. Here's how it stacks up to other top flagships:
Display test
50% brightness
100% brightness
Black, cd/m2
White, cd/m2
Contrast ratio
Black, cd/m2
White, cd/m2
Contrast ratio
LG G3
0.14
109
763
0.72
570
789
Sony Xperia Z2
-
-
-
0.41
488
1195
Sony Xperia Z1
-
-
-
0.38
580
1513
Sony Xperia Z
-
-
-
0.70
492
705
Oppo Find 7a
0.33
280
842
0.68
580
852
Samsung Galaxy S5
0
274
∞
0
529
∞
Samsung Galaxy S4
0
201
∞
0
404
∞
HTC One (M8)
0.20
245
1219
0.46
577
1256
LG G2
0.10
149
1522
0.45
667
1495
HTC Butterfly S
0.15
165
1117
0.43
451
1044
Apple iPhone 5
0.13
200
1490
0.48
640
1320
The LG G3 has a very reflective screen, and the resulting sunlight contrast ratio suffers. Nevertheless, the 1440p display is readable in strong sunlight, even if doing so isn't the greatest experience.
Sunlight contrast ratio
Nokia 808 PureView
4.698
Apple iPhone 5
3.997
Samsung Galaxy Note 3
3.997
Samsung Galaxy S5
3.549
Samsung I9300 Galaxy S III
3.419
Nokia Lumia 925
3.402
Samsung I9505 Galaxy S4
3.352
Samsung Omnia W
3.301
Samsung Galaxy S
3.155
Samsung Galaxy S4 mini
3.127
Samsung Galaxy S4 zoom
3.118
Nokia N9
3.069
Samsung Galaxy Note
2.970
Sony Xperia Z1
2.950
HTC One S
2.901
BlackBerry Q10
2.856
Samsung Galaxy S II
2.832
Samsung Galaxy S II Plus
2.801
BlackBerry Z30
2.790
Huawei Ascend P1
2.655
Sony Xperia ZR
2.672
Nokia Lumia 900
2.562
HTC One Max
2.537
Nokia Lumia 720
2.512
HTC One
2.504
Sony Xperia Z
2.462
Samsung Galaxy S III mini
2.422
HTC One (M8)
2.371
Motorola RAZR i
2.366
Samsung Galaxy Note II
2.307
Oppo Find 7a
2.279
Apple iPhone 4S
2.269
HTC Desire 600 dual sim
2.262
LG Nexus 5
2.228
HTC One X
2.158
Nokia N8
2.144
Oppo Find 5
2.088
BlackBerry Z10
2.051
Apple iPhone 4
2.016
HTC One mini
2.003
LG G2
1.976
Sony Ericsson Xperia ray
1.955
Sony Xperia Z2
1.944
Samsung Galaxy Camera
1.938
LG G Pro 2
1.922
HTC Butterfly
1.873
Huawei Ascend P6
1.865
LG G3
1.820
Sony Xperia V
1.792
Sony Xperia U
1.758
Meizu MX3
1.754
Sony Xperia T2 Ultra
1.740
LG Optimus 4X HD
1.691
HTC One V
1.685
BlackBerry Q5
1.682
LG Optimus Vu
1.680
LG Optimus GJ
1.666
HTC Desire V
1.646
Samsung Galaxy Ace 3
1.622
Sony Xperia Z Ultra
1.578
Samsung Galaxy Core
1.563
LG Optimus G Pro
1.552
LG Optimus 3D
1.542
Samsung Galaxy Core LTE
1.542
Nokia Asha 302
1.537
Sony Xperia M
1.473
Nokia Lumia 610
1.432
Samsung Galaxy Grand Neo
1.393
Gigabyte GSmart G1355
1.361
Samsung Galaxy Grand
1.321
HTC Desire C
1.300
Nokia Asha 501
1.270
LG Optimus L7
1.269
LG Optimus L9
1.227
Meizu MX
1.221
Sony Xperia E dual
1.203
Samsung Galaxy Pocket
1.180
Sony Xperia tipo
1.166
Samsung Galaxy mini 2
1.114
Battery life
The LG G3 is powered by a robust 3,000mAh battery, which in most cases would be ample, but in this case is almost mandatory considering the amount of pixels the device has to push out. We noticed that during periods of high exertion the device will adjust to lower maximum brightness levels, either to conserve battery or lower heat dissipation.
The G3 performed very well when it came to 3G talk time and standby, making up for the somewhat low numbers achieved when the display is on - ie. videos and web browsing.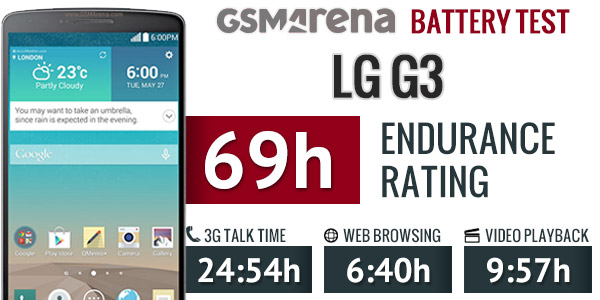 Update: we retested the battery life after the LG G3 was updated to Android 5.0 Lollipop. We wrote a blog post on how Lollipop affected its battery life and that of some other flagships.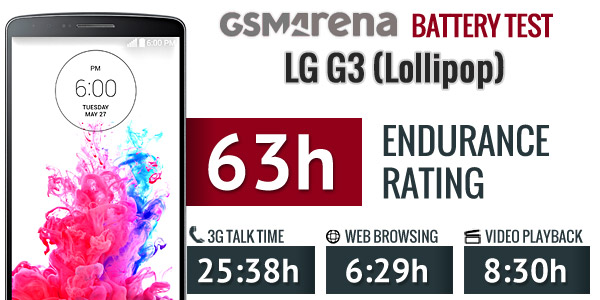 Connectivity
The LG G3 has quad-band 2G/EDGE support, quad-band 3G with HSPA+ (up to 42Mbps downlink) for the international version and tri-band LTE support too, depending on the model (the CDMA version also comes with LTE connectivity).
Local connectivity includes dual-band Wi-Fi a/b/g/n/ac (that's both 2.4GHz and 5Ghz), Wi-Fi Direct and DLNA. There is also stereo Bluetooth 4.0 and GPS with A-GPS and GLONASS.
The handset has a standard 3.5mm audio jack and an Slimport-enabled microUSB port, meaning you can use it to output content to an external screen with an appropriate adapter. The microUSB port can also be used in a USB host mode letting you connect various USB peripherals, but again you'll need a separately-sold adapter.
NFC connectivity lets you transfer files between other NFC-enabled Android devices via Android Beam, and you can also read NFC tags. Oddly, an NFC Tag manager is not included as part of the standard app package, so you'll have to download one from the Play Store if you want that functionality.
Otherwise, there's also support for Miracast streaming for compatible televisions, while SmartShare Beam lets you send and receive files to other LG devices over Wi-Fi.
Finally, the IR-port on the top of the device lets you control a wide variety of electronics and appliances via the QRemote app. QRemote has seen a wide range of improvements over its initial iteration on the G2, and now features a much larger database of TV sets, set-top boxes, and audio receivers than before. Even better, it gives you the ability to create a universal remote, complete with button mapping.