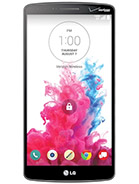 D
gabrial, 29 Dec 2014Why their is no lollipop update for this model? :( There is!
?
personally as I am a cricket customer and did have straight talk, it's far better to go with cricket than straight talk as you get more high speed data for the same money, and have at&t's full coverage since they own cricket now. As long as you don't need more than one phone on your account, you can get the advanced plan with 20gig of high speed data per month for 55.00 a month on auto pay. you can bring your own phone or buy one of theirs on website, and yes you don't have to have a store in your area to sign up. In fact it's cheaper through the website as you don't have to pay the 25.00 activation fee by doing it online. As far as the phone goes, I am wondering about the dual band phone and if it would be a good idea or not to get as it's not needed as long as you get a gsm unlocked or it can be locked to at&t to use with cricket, a locked at&t phone will work with them. The D850 (ATT) or the D855 (t-mobile and unlocked of course will work well, that I am sure of.
Y
The Verizon one is factory unlock to work with att sim even the straight talk att sim just insert it and fix apn settings that's it the sim would show a question mark on it but it still works
Y
AnonD-361070, 07 Feb 2015Is the lg g3 with verizon gsm or cdma and can I swithch the service to straighttalk? Can someo... moreJust get the att straight talk sim in insert it that's it but of course you got to set up the apn settings
D
Is the lg g3 with verizon gsm or cdma and can I swithch the service to straighttalk? Can someone please help me???? I am not a phone guru
a
Eissa, 02 Oct 2014Hi :) Anybody knows if this CDMA vision can be unlocked ! ThnxYes you can unlock it for gsm. I currently use a Verizon lgg3 for metro pcs that is sister to T-Mobile. Just select gsm mode in settings.
a
LG User, 01 Jan 2015Can you use a sim card on a unlocked cdma lg g3 phone?Yes...I have one that's coma and use it for metro pcs. Just select gsm mode.
L
No software update on 5.0 wastage of my money :( this is worst. too many Bolt apps which consume battery for nothing
Total of 114 user reviews and opinions for LG G3 (CDMA).