The LG G3 isn't even for sale across the globe yet, but apparently its maker is already working on a beefed up version of the smartphone.
The LG F460S has been certified by the Bluetooth SIG today. This could in fact be one of the G3 Prime models headed to LG's native land of South Korea.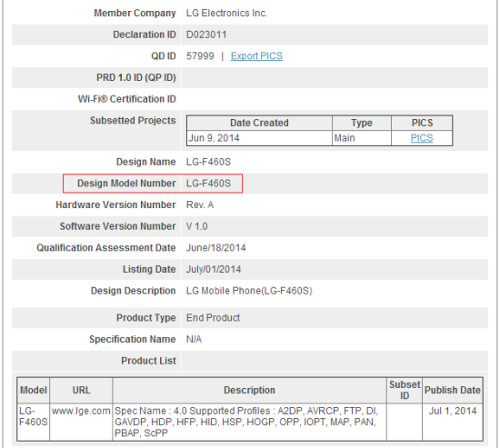 The upgraded G3 (which may or may not end up being called G3 Prime) will sport a Qualcomm Snapdragon 805 chipset, compared to a Snapdragon 801 in the original. That is, if a report from last month is to be believed.
An LG F460L has been leaked before. That could be the same device as the F460S, but headed to a different Korean carrier. "L" usually stands for LG U+, while "S" is used to depict phones sold by SK Telecom.
So it's quite likely that the LG G3 Prime will only be launched in South Korea, at least at first. That would be similar to what happened with the Samsung Galaxy S5 LTE-A - it too sports a Snapdragon 805 SoC, and it's Korea-only for now.
If this pans out, there will obviously be some who will be disappointed that the G3 Prime won't get a global release. But how much sense would it really make for LG to already come out with a better version of a handset that isn't even shipping in most places yet?
T
I'm from Central Europe and I believe that LG G3 (Prime or Tiger) will be officially released also for our region. This is simple math. Samsung last year introduced its model Galaxy S4 LTE-A in June, and in November was officially released (distrib...
D
Looks like I'm gonna have to put my LG G3 up on Gumtree for £100 less that what it's retailing for.
D
Take it easy people, Samsung and LG does this because of 2 things. 1) They can't release the Korean version to the world because they are so advanced they have to put much more processing power etc. to take advantage of their LTE-A and live tv and ...