LG's G3 S is already also known by another name - G3 Beat. But do prepare to add a new moniker to the list pretty soon, as Sprint is reportedly going to sell the exact same device as the G3 Vigor.
The first page of Sprint's Getting Started guide for the new handset has been leaked alongside details about its specs.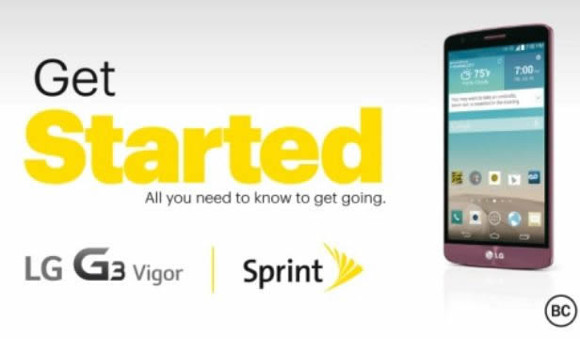 Though as this is basically just a G3 S / G3 Beat by another name, don't expect to see anything different between the three versions.
Like the others, the G3 Vigor is going to come with a 5-inch 720p touchscreen, 1GB of RAM, 8GB of built-in storage (expandable via microSD), and a 2540 mAh battery. At the back will be an 8 MP camera, while on the front we'll get a 1.3 MP snapper.
It will be powered by a Qualcomm Snapdragon 400 chipset with a 1.2 GHz quad-core Cortex-A7 CPU, and the software employed is Android 4.4.2 KitKat with LG's latest UX on top (as seen on the G3).
There's no word yet on when exactly the G3 Vigor will land at Sprint, nor how much it will cost. But apparently it should be released before the end of this month, so the exact details are bound to arrive pretty soon.
?
Oh but the iphone can come out with a new devise every month, get over yourselves
D
Stupid LG. They are copying their countryman's failed marketing strategy.
?
please stop bombarding the market with unnecessary new model every week.. stop becoming another samsung..