Displays
The LG G3 brings the first QHD screen from a big name maker. QHD or Quad HD has four times the number of pixels of a 720p screen, 1,440 x 2,560 to be exact. This means that even at 5.5", the screen still offers the whopping 534ppi pixel density.





5" 1080p screen vs. a 5.5" QHD monster
That may not sound like too much over the 441ppi of the HTC One (M8) and its 5" 1080p screen but there's a tangible difference in perception. Talking about sharpness here is probably meaningless - both screens are very sharp and individual pixels are impossible to distinguish.
That said, the LG G3 screen seems more vivid, it's hard to describe but you can spot the difference in person. Not that the HTC One (M8) screen looks bad, in fact there's a lot more to screen image quality than just pixel count.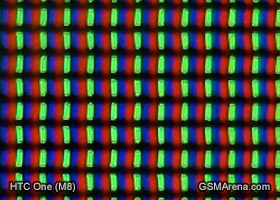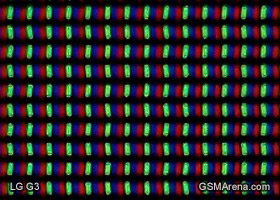 Both screens manage around 570 nits of brightness at full blast, a very solid figure. The black levels on the LG G3 are higher than average for a flagship screen (0.40-0.50 nits), which drops the contrast ratio to less than 800:1.
The Super LCD3 on the HTC One (M8) on the other hand stays within the norm for blacks on an LCD and offers great 1256:1 contrast. The LG G2 was a king in this category with nearly 1500:1, thanks to good black levels and 670 nit white levels.
Display test
50% brightness
100% brightness
Black, cd/m2
White, cd/m2
Contrast ratio
Black, cd/m2
White, cd/m2
Contrast ratio
LG G3
0.14
109
763
0.72
570
789
Samsung Galaxy S5
0
274
∞
0
529
∞
Sony Xperia Z2
-
-
-
0.41
488
1195
Sony Xperia Z1
-
-
-
0.38
580
1513
Sony Xperia Z
-
-
-
0.70
492
705
Oppo Find 7a
0.33
280
842
0.68
580
852
Samsung Galaxy S4
0
201
∞
0
404
∞
HTC One (M8)
0.20
245
1219
0.46
577
1256
LG G2
0.10
149
1522
0.45
667
1495
HTC Butterfly S
0.15
165
1117
0.43
451
1044
Apple iPhone 5
0.13
200
1490
0.48
640
1320
Also, notice that the brightness slider is heavily skewed - at 50%, the display put out less than a fifth of its maximum brightness. The HTC One (M8) was at a little less than half.
Another area where the LG flagship suffered a setback is sunlight legibility. Granted, the reduction is fairly small, but there shouldn't have been any at all - this was a bit of a weak spot of the LG G2, one we were hoping the successor would do something about.
The HTC One (M8) is no champ here either, but it does beat the LG G2, G3 and Sony Xperia Z2. Strangely, it regressed slightly from its predecessor too (as did the Xperia Z2, what's going on with those new screens?).
Sunlight contrast ratio
Nokia 808 PureView
4.698
Apple iPhone 5
3.997
Samsung Galaxy Note 3
3.997
Samsung Galaxy S5
3.549
Samsung I9300 Galaxy S III
3.419
Nokia Lumia 925
3.402
Samsung I9505 Galaxy S4
3.352
Samsung Omnia W
3.301
Samsung Galaxy S
3.155
Samsung Galaxy S4 mini
3.127
Samsung Galaxy S4 zoom
3.118
Nokia N9
3.069
Samsung Galaxy Note
2.970
Sony Xperia Z1
2.950
HTC One S
2.901
BlackBerry Q10
2.856
Samsung Galaxy S II
2.832
Samsung Galaxy S II Plus
2.801
BlackBerry Z30
2.790
Huawei Ascend P1
2.655
Sony Xperia ZR
2.672
Nokia Lumia 900
2.562
HTC One Max
2.537
Nokia Lumia 720
2.512
HTC One
2.504
Sony Xperia Z
2.462
Samsung Galaxy S III mini
2.422
HTC One (M8)
2.371
Motorola RAZR i
2.366
Samsung Galaxy Note II
2.307
Oppo Find 7a
2.279
Apple iPhone 4S
2.269
HTC Desire 600 dual sim
2.262
LG Nexus 5
2.228
HTC One X
2.158
Nokia N8
2.144
Oppo Find 5
2.088
BlackBerry Z10
2.051
Apple iPhone 4
2.016
HTC One mini
2.003
LG G2
1.976
Sony Ericsson Xperia ray
1.955
Sony Xperia Z2
1.944
Samsung Galaxy Camera
1.938
LG G Pro 2
1.922
HTC Butterfly
1.873
Huawei Ascend P6
1.865
LG G3
1.820
Sony Xperia V
1.792
Sony Xperia U
1.758
Meizu MX3
1.754
Sony Xperia T2 Ultra
1.740
LG Optimus 4X HD
1.691
HTC One V
1.685
BlackBerry Q5
1.682
LG Optimus Vu
1.680
LG Optimus GJ
1.666
HTC Desire V
1.646
Samsung Galaxy Ace 3
1.622
Sony Xperia Z Ultra
1.578
Samsung Galaxy Core
1.563
LG Optimus G Pro
1.552
LG Optimus 3D
1.542
Samsung Galaxy Core LTE
1.542
Nokia Asha 302
1.537
Sony Xperia M
1.473
Nokia Lumia 610
1.432
Samsung Galaxy Grand Neo
1.393
Gigabyte GSmart G1355
1.361
Samsung Galaxy Grand
1.321
HTC Desire C
1.300
Nokia Asha 501
1.270
LG Optimus L7
1.269
LG Optimus L9
1.227
Meizu MX
1.221
Sony Xperia E dual
1.203
Samsung Galaxy Pocket
1.180
Sony Xperia tipo
1.166
Samsung Galaxy mini 2
1.114
Different viewing angles have virtually no effect on the image on both screens, but colors on the HTC One (M8) are slightly punchier than those on the LG G3.
The two screens are very different in terms of size too. The 5.5" screen of the LG G3 has 20% more surface area than the 5" screen of the HTC One (M8). This means you can fit more content and that difference grows even further if you zoom out a little (the extra pixels make tiny text more legible).
Winner: LG G3. We were disappointed by some of the characteristics of the display, the regression in contrast especially, plus, sunlight legibility should have improved rather than worsened. That said, it's hard to argue with the sheer amount of content you can fit on the humongous QHD screen.
The HTC One (M8) felt like the underdog coming in, certainly 5" 1080p are 2013 specs not 2014. Still, with good image quality thanks to the high contrast it's performance is more than good. The One (M8) might have even won this category if it was better in bright light.
Connectivity
In terms of connectivity, the two phones are very equal, mostly because they have just about every option under the sun.
That includes the standard 2G/3G connectivity in either GSM or CDMA flavor, plus 4G LTE on both. It's Cat. 4 LTE for up to 150Mbps downlink and 50Mbps uplink.
Local connectivity is even faster with dual-band Wi-Fi going up to 802.11ac, the latest current tech. There's also Bluetooth 4.0 for low-power connectivity to accessories and NFC for quick pairing and tags. Note that neither phone has an NFC manager app out of the box. The HTC One (M8) does not even have NFC in some regions to begin with.
The two have IR blasters on top to control home equipment and their respective apps both have the option to learn new control signals if you have hardware not available on the long lists of supported devices.
HTC's Remote control app has a cool feature that wakes the phone up as soon as you pick it up, so you don't have to unlock the phone each time you want to change the channel.
LG's QRemote, however, has a richer database of devices and can control air conditioners too. It has an option to automatically pop up on your lockscreen and in your notification area when you are at home.
The two flagship smartphones can also be the ones playing the video, not just controlling other players. Here the two differ - LG uses SlimPort, while HTC uses MHL. Both can be converted to regular HDMI with the proper converter or just a microUSB-to-HDMI cable if your TV supports the standard.
Note that if you are to get an adapter, SlimPort doesn't require plugging a power source into the adapter itself, unlike MHL.
DLNA and Miracast are available for wireless streaming of multimedia too.
Going back to the microUSB ports for a second, they are both the predominant USB 2.0 kind, no USB 3.0 here.
For positioning, the two support GPS and GLONASS but the HTC One (M8) also has a barometer, which will help to speed up the first position lock.
Winner: Tie. Unless you demand SlimPort or think the faster lock times with a barometer are vital, there's really nothing to separate the LG G3 and HTC One (M8) in this section.