Multimedia
HTC's custom Gallery app sorts photos in a Timeline or by Albums or Location. Albums are groups of photos and videos that are created automatically (i.e. camera roll) or manually. Each Album has a Highlight video, an animated slideshow of its contents), that you can edit and add music to.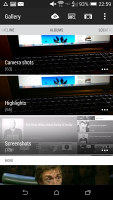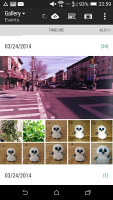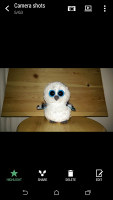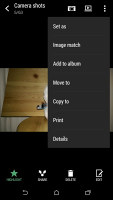 Capable gallery with a cool Albums feature
The Zoe app (which isn't ready yet) will let your friends collaborate and add their own photos to the mix to create an even better Highlights video.
The LG gallery is fairly basic, it's essentially a skinned Android gallery. It features Cloud album integration, Dropbox and Box support, plus LG Cloud and Home Cloud. Both galleries support DLNA but there's no cloud integration in the One (M8) app.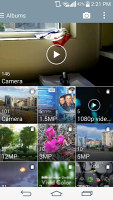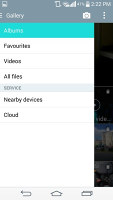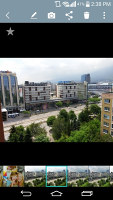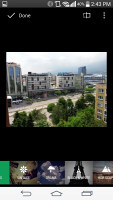 A more barebones gallery but with cloud integration
The video player on the LG G3 hasn't got a dedicated spot in the UI but can be launched from both the Gallery and the file browser. It plays UHD videos with ease and it offers excellent codec support - AVI (DivX, XviD) and MKV (H.264) were no problem at all.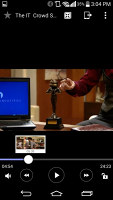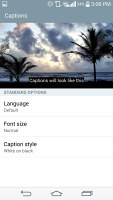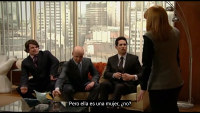 The LG G3 video player is excellent and fully featured
The usual enemy of mobile video players - sound - was a nonissue here. The LG G3 readily played AC3-encoded audio that stymies most phones, even flagships like the Samsung Galaxy S5 and HTC One (M8).
It also supports subtitles with an option to load them manually and control their look - size, color and background. Better still, it supports multiple languages, non-English subtitles are often problematic on mobile video players.
The HTC One (M8) video player similarly lacks a dedicated app and is more limited in its functions as well. It does support AVI and MKV files, but AC3 sound is out of the question. Subtitles are not available.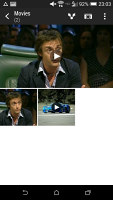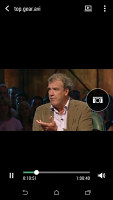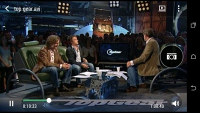 Simple video player on the HTC One (M8)
The LG G3 music player features the traditional track sorting options and also supports DLNA devices. Like the gallery it supports cloud storage options too so you can easily sync your library across devices.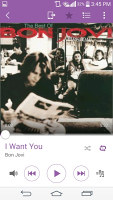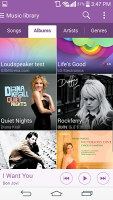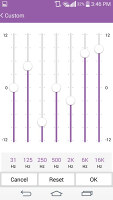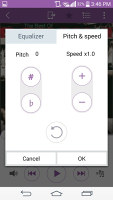 LG G3 music player with a 7-band equalizer
The player features a number of preset music effects including QuadBeat, Bass/Treble/Vocal boosters and a custom 7-band equalizer. It has two rare settings - pitch and playback speed adjustments - but we don't think anyone will actually find that useful.
The HTC One (M8) does not have an equalizer, you can only turn BoomSound on or off (and that works only for the headphones). The player supports DLNA and offers some cool visualizations and ways to display lyrics.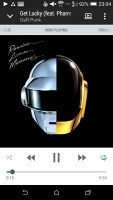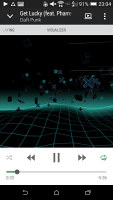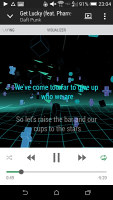 The One (M8) music player has cool visualizations and lyrics but no equalizer
The One (M8) also comes with an FM radio built in, in case you want to listen to a live broadcast (note that the Verizon version doesn't have it). The LG G3 also has FM radio on the international version (but not the South Korean one).
Winner: LG G3. The gallery app is pretty bare bones but the music player was better and the video player was much better.
Zoe earns the HTC One (M8) points and apps from the Play Store can correct any insufficiencies of the native players.
Loudspeaker
HTC has turned front-facing speakers into its calling card, even though Sony is trying to muscle in on its territory. Certainly not everyone uses their phone as boombox, but owning a One (M8) will change you - the quality of the sound is similar to what comes out of a laptop so it will take over some music playback duties from it.
LG has an orthodox setup - one speaker, on the back. The company seems to have decided to go with power over quantity and the speaker can produce 1W of audio normally, 1.5W with its boost feature.
The LG G3 wins in terms of raw sound volume, which is great for notifications and ringers. The stereo speakers on the HTC One (M8) are more conductive to listening to music, but since they are on the front they are less likely to get muffled too.
Check out more about our tests and our loudness test in particular.
| | | | | |
| --- | --- | --- | --- | --- |
| Speakerphone test | Voice, dB | Pink noise/ Music, dB | Ringing phone, dB | Overall score |
| LG G2 | 65.7 | 62.2 | 66.2 | Below Average |
| Sony Xperia Z2 | 66.7 | 64.6 | 75.7 | Average |
| Apple iPhone 5s | 68.7 | 66.3 | 69.2 | Average |
| HTC One (M8) | 65.8 | 64.7 | 75.7 | Average |
| Nokia Lumia 1020 | 69.8 | 66.6 | 72.5 | Good |
| Samsung Galaxy S5 | 66.9 | 66.6 | 75.7 | Good |
| HTC One | 69.3 | 66.6 | 75.9 | Good |
| Samsung Galaxy S4 | 70.6 | 66.2 | 77.3 | Good |
| Samsung Galaxy Note 3 | 70.5 | 66.6 | 78.0 | Good |
| LG G3 | 70.2 | 66.6 | 80.2 | Good |
| Oppo Find 7a | 71.3 | 72.5 | 75.7 | Very Good |
| LG Optimus G | 74.6 | 71.3 | 82.7 | Excellent |
Winner: HTC One (M8). Again, not everyone listens to music through their phone's speakers but if you do the One (M8) is the phone to do it. The speakers also handle notification duties as well.
The LG G3 speaker is louder, but if you put the phone on a table some of that loudness is lost to muffling. Unlike the G2, there's no notification LED on the back so you can't just plop the phone face down and be sure you'll get all audio and visual alerts.
Audio quality
This was certainly a game at the highest level. The LG G3 and the HTC One (M8) are among the finest performers as far as audio quality is concerned. The G3 is delivers arguably the cleanest output we have seen to date, while the One (M8) comes a close second in that department, but is unmatched in terms of loudness.
| | | | | | | |
| --- | --- | --- | --- | --- | --- | --- |
| Test | Frequency response | Noise level | Dynamic range | THD | IMD + Noise | Stereo crosstalk |
| LG G3 | +0.02, -0.08 | -99.4 | 98.9 | 0.0016 | 0.035 | -100.0 |
| LG G3 (headphones attached) | +0.02, -0.09 | -93.7 | 93.3 | 0.0060 | 0.032 | -78.5 |
| HTC One (M8) | +0.04, -0.10 | -95.4 | 93.4 | 0.0012 | 0.010 | -93.2 |
| HTC One (M8) (headphones attached) | +0.04, -0.08 | -94.9 | 93.9 | 0.0014 | 0.018 | -79.7 |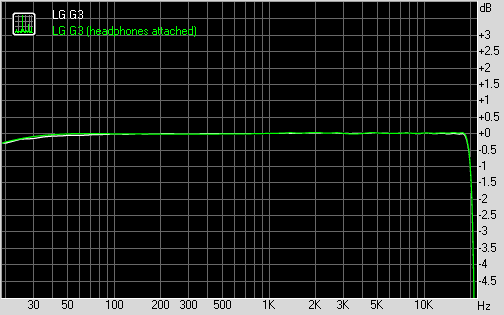 LG G3 frequency response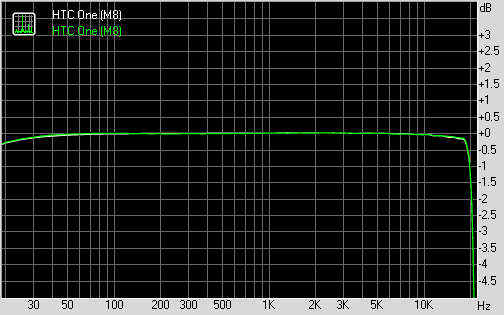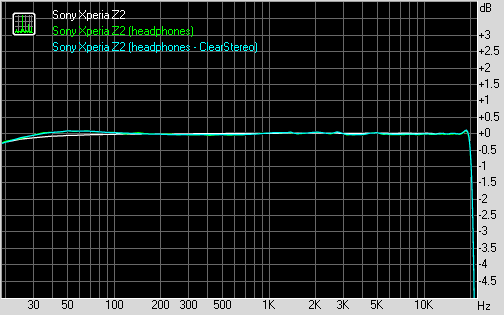 HTC One (M8) frequency response
You can learn more about the tested parameters and the whole testing process here.
Winner: HTC One (M8). The G3 has a tiny advantage when it comes to clarity, but that's undetectable outside of the lab. The LG smartphone does have below average volume levels, though, while the One (M8) is a clear leader in that department, which sealed this round.