Other apps
We won't go into detail about the phone and messaging apps, but the flagships offers some features that deserve a mention.
The Samsung Galaxy S5 offers in-call voice modes - including support for the cool Adapt sound feature from the music player. The LG G3 goes a bit farther by including HD voice settings, as well as the ability to reduce background noise and even enhance voice clarity in noisy environments.
The smartphone is also pretty concerned with who calls you. Blocking mode disables notifications for calls and messages (even alarms and timers) during select periods. Only priority contacts can get through.
The phone will also help you fight off spam by blocking certain numbers from calling or sending messages. Other message features include delayed send, which waits 3 to 30 seconds before actually sending the message (you know how you spot a typo only after you've hit Send?).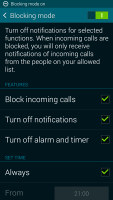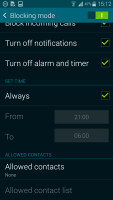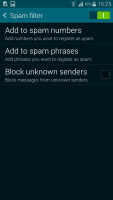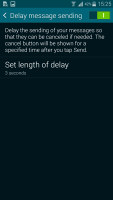 Blocking mode • blocking spam messages
Both companies worked on their own keyboards. They have the basics like predictive input, swipe typing, and even floating layouts. LG has added a lot of nifty tricks that let the keyboard learn from your habits, including not only commonly used/misspelled words, but also the ability to register key-presses differently so you make fewer mistakes while typing.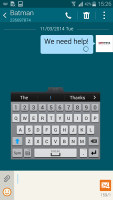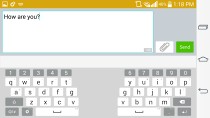 Floating mini keyboard on TouchWiz • Split keyboard on LG's Optimus UI
The Samsung Galaxy S5 lets you download Polaris Office 5 for free but you'll need to sign up for Samsung Apps. The LG G3, on the other hand, uses the ThinkFree Viewer for office applications, which doesn't allow for editing of files.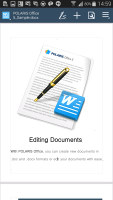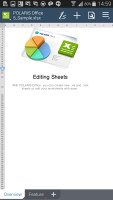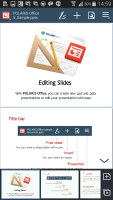 Polaris Office 5 on the Galaxy S5
When it comes to health and fitness tracking, Samsung is the premier smartphone manufacturer, thanks to their heart-rate sensor and robust S Health app. It tracks your calorie intake and exercises in detailed logs, and the heart rate monitor allows it to get a more accurate reading on how many calories you've burned.
The accelerometer-based step counter always works in the background, so you get credit for walking during the day too. S Health can connect wirelessly to external accessories - both over Bluetooth 4.0 and ANT+, and both Samsung-made and third-party accessories.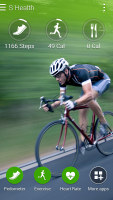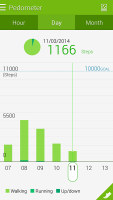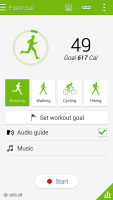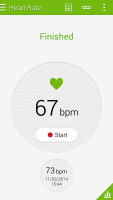 S Health counts your steps and measures your heart rate
LG's own Health app also performs basic fitness tracking functions, but feels more tacked on as a feature thrown in to compete with Samsung's offering in name only. It tracks basic activities including walking, running, and cycling, and you can create a LG account to compete with other LG Health users as well.
Winner: Samsung Galaxy S5. Blocking mode, S Health and a full-fledged office viewer are simply too much for the LG G3 to compete with.