Displays
Going into this shootout, you'd expect that it's pretty clear which of the two devices will have a distinct advantage when it comes to display fidelity. But before we go declaring the winner outright, let's keep in mind that there's more to a screen than the number of pixels it has. Contrast, colors, and sunlight legibility all factor into how good a particular display is, and we'll be taking everything into account before we give a final verdict.
Both phones represent each company's screen-making expertise. Samsung put their Super AMOLED display on the Galaxy S5, while the LG G3 sports a True HD-IPS + LCD.
The Galaxy S5 has a 5.1" screen of 1080p resolution and 432ppi. The G3's panel is of 1440 x 2560px resolution, which at 5.5" comes out to a pixel density of about 534ppi. Looking at them both under our microscope under the same magnification, you can clearly see which one is which.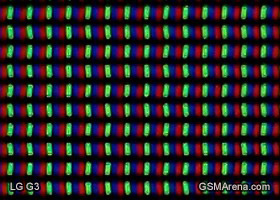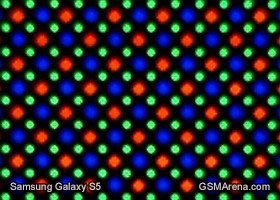 Samsung took several years to perfect Super AMOLED for it to finally offer the most accurate colors in the market. Using the display mode settings you can tweak that to a more saturated look if you prefer. It has excellent viewing angles and practically infinite contrast too.
The G3 is another story, however, as it's markedly worse both at 50% and 100% brightness. At 100% brightness the black luminance is among the highest we've seen, while the whites are markedly dimmer than on the G2. Here's how it stacks up to other top flagships:
Display test
50% brightness
100% brightness
Black, cd/m2
White, cd/m2
Contrast ratio
Black, cd/m2
White, cd/m2
Contrast ratio
LG G3
0.14
109
763
0.72
570
789
Samsung Galaxy S5
0
274
∞
0
529
∞
Sony Xperia Z2
-
-
-
0.41
488
1195
Sony Xperia Z1
-
-
-
0.38
580
1513
Sony Xperia Z
-
-
-
0.70
492
705
Oppo Find 7a
0.33
280
842
0.68
580
852
Samsung Galaxy S4
0
201
∞
0
404
∞
HTC One (M8)
0.20
245
1219
0.46
577
1256
LG G2
0.10
149
1522
0.45
667
1495
HTC Butterfly S
0.15
165
1117
0.43
451
1044
Apple iPhone 5
0.13
200
1490
0.48
640
1320
The two screens differ wildly in sunlight legibility as well. The S5 is among the best we've seen in the current batch of flagships, while the LG G3's highly reflective display will make it a challenge to make out in bright environments.
Sunlight contrast ratio
Nokia 808 PureView
4.698
Apple iPhone 5
3.997
Samsung Galaxy Note 3
3.997
Samsung Galaxy S5
3.549
Samsung I9300 Galaxy S III
3.419
Nokia Lumia 925
3.402
Samsung I9505 Galaxy S4
3.352
Samsung Omnia W
3.301
Samsung Galaxy S
3.155
Samsung Galaxy S4 mini
3.127
Samsung Galaxy S4 zoom
3.118
Nokia N9
3.069
Samsung Galaxy Note
2.970
Sony Xperia Z1
2.950
HTC One S
2.901
BlackBerry Q10
2.856
Samsung Galaxy S II
2.832
Samsung Galaxy S II Plus
2.801
BlackBerry Z30
2.790
Huawei Ascend P1
2.655
Sony Xperia ZR
2.672
Nokia Lumia 900
2.562
HTC One Max
2.537
Nokia Lumia 720
2.512
HTC One
2.504
Sony Xperia Z
2.462
Samsung Galaxy S III mini
2.422
HTC One (M8)
2.371
Motorola RAZR i
2.366
Samsung Galaxy Note II
2.307
Oppo Find 7a
2.279
Apple iPhone 4S
2.269
HTC Desire 600 dual sim
2.262
LG Nexus 5
2.228
HTC One X
2.158
Nokia N8
2.144
Oppo Find 5
2.088
BlackBerry Z10
2.051
Apple iPhone 4
2.016
HTC One mini
2.003
LG G2
1.976
Sony Ericsson Xperia ray
1.955
Sony Xperia Z2
1.944
Samsung Galaxy Camera
1.938
LG G Pro 2
1.922
HTC Butterfly
1.873
Huawei Ascend P6
1.865
LG G3
1.820
Sony Xperia V
1.792
Sony Xperia U
1.758
Meizu MX3
1.754
Sony Xperia T2 Ultra
1.740
LG Optimus 4X HD
1.691
HTC One V
1.685
BlackBerry Q5
1.682
LG Optimus Vu
1.680
LG Optimus GJ
1.666
HTC Desire V
1.646
Samsung Galaxy Ace 3
1.622
Sony Xperia Z Ultra
1.578
Samsung Galaxy Core
1.563
LG Optimus G Pro
1.552
LG Optimus 3D
1.542
Samsung Galaxy Core LTE
1.542
Nokia Asha 302
1.537
Sony Xperia M
1.473
Nokia Lumia 610
1.432
Samsung Galaxy Grand Neo
1.393
Gigabyte GSmart G1355
1.361
Samsung Galaxy Grand
1.321
HTC Desire C
1.300
Nokia Asha 501
1.270
LG Optimus L7
1.269
LG Optimus L9
1.227
Meizu MX
1.221
Sony Xperia E dual
1.203
Samsung Galaxy Pocket
1.180
Sony Xperia tipo
1.166
Samsung Galaxy mini 2
1.114
We've also seen Samsung's Air View, which detects your finger at about an inch distance thanks to its highly sensitive digitizer. It triggers special previews of image folders, messages and calendar events.
Winner: LG G3. Despite its inferior color, contrast, and sunlight legibility, the bigger screen diagonal and the higher resolution still has its say at the end of the day. The QHD resolution may not be readily apparent when it comes to browsing the interface, but it does make a difference when you see the ultra-crisp text in webpages, and especially in watching QHD videos or playing games. As more QHD content becomes available, the advantage of having the G3 display will become even more pronounced.
Connectivity
Both phones are powered by Qualcomm chipsets and enjoy all the connectivity benefits that come with it. The Galaxy S5 beats out the G3 in the number of supported bands, especially when it comes to LTE, though both should have you well covered for whatever region you buy the device in. The two flagships also enjoy the fastest mobile data around with Cat. 4 LTE (up to 150Mbps down and 50Mbps up), but even without an LTE network where you are, they'll still go quite fast at 42.2Mbps down and 5.76 up courtesy of HSPA.
Local connections are blazing fast as well thanks to dual-band Wi-Fi 802.11ac (a/b/g/n are supported too). Bluetooth 4.0 is available for connecting accessories, although the S5 has the advantage of EDR in this regard. Both phones also support the ANT+ standard, which is popular with sports accessories.
Wired connectivity is where the two flagships start to diverge. The Samsung Galaxy S5 has a microUSB 3.0 port, which will provide faster data transfers between the phone and a computer with a USB 3.0 port. It also integrates MHL 2.1, which means it can, with the right adapter, output 1080p video.
Both phones sport USB On-the-go as well, which means you'll be able to plug in expandable storage drives, although again you need the correct adapter.



microUSB 2.0 on the LG G3 • microUSB 3.0 on the Galaxy S5
Both phones feature NFC for use with tags and easy pairing with most devices. They also both have IR blasters to control electronic equipment at home, including TVs, disc players and even air conditioners. LG's QRemote app seems slightly more robust in this regard, but a software update or app store download could even things out in that regard.



Both devices have an IR blaster up top
Winner: Tie. The key features - 150Mbps LTE, Wi-Fi 802.11ac, Bluetooth 4.0 and NFC - are evenly split.
The Galaxy S5 has USB 3.0, which offers faster transfer rates for those who still use cables.