User interfaces
When it comes to the user interface on Android, different manufacturers take the time to add a fair dose of visual flair and functionality. As far as LG and Samsung are concerned, the two companies provide very similar user experiences - both sticking to the conventions put forth by Google while giving you an extensive array of extra features. The two rivals also vie to match each other in extras, so you'll find a lot of similarities as well.
To give you an idea we have short videos showing both in action.
Samsung is into biometric sensors this generation and the fingerprint sensor on the Home key is a highlight. This enables a secure lockscreen that isn't based on passwords or patterns, instead you swipe a finger down the key. In case it fails (it happens when your fingers are wet, for example), then it falls back to a passcode so there's no danger of getting locked out.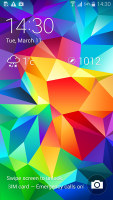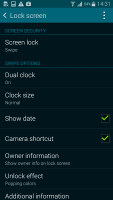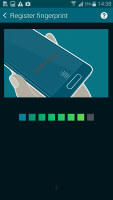 The TouchWiz lockscreen is enhanced by the fingerprint scanner
LG doesn't have any fancy sensors to unlock with, but it does feature the company's proprietary Knock Code feature, that lets you get straight into the lockscreen via a series of taps on certain places on the screen - even when the screen is off. Otherwise, the other standard unlock methods as well as lockscreen widgets and shortcuts are available across both devices.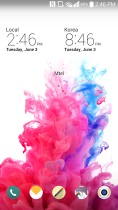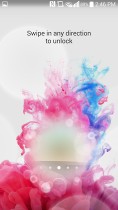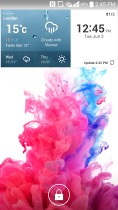 The G3 lockscreen is fairly standard
Samsung's homescreen looks fairly standard except the My Magazine feature replaces one of the homescreen panes. It's a news reader that will pull news and content from multiple sources in several categories and your social networking accounts.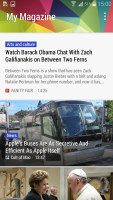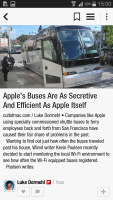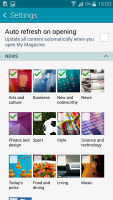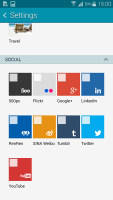 My Magazine melds social networking with news reading
The leftmost homescreen pane of the LG G3 is reserved for the so-called Smart Bulletin, which is a special space similar Samsung's My Magazine (except not as robust). Smart Bulletin posts at-a-glance info from LG's Health app and Smart tips that highlight aspects of the phone's technology and usage, but nothing else beyond that.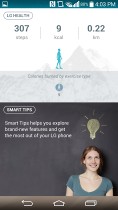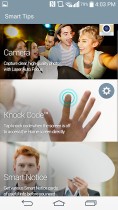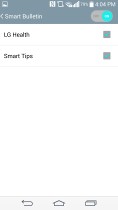 LG's Smart Bulletin is very limited
In contrast with the minimalist lockscreen, Samsung stuffed the notification area with features. Some of them we like - the quick toggles and brightness slider are used often enough to warrant a place here. The S Finder and Quick Connect buttons are debatable.
Another thing we like is Recommended apps. It's a response to certain events, e.g. plugging in a pair of headphones brings out shortcuts for multimedia apps.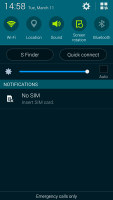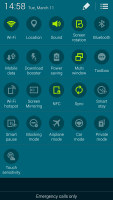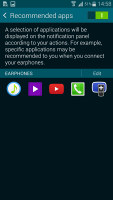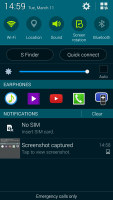 A somewhat cluttered TouchWiz notification area • Recommended apps
LG's notification area is more customizable. You can remove the brightness and volume sliders, or any of the toggles in the topmost row.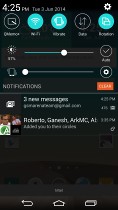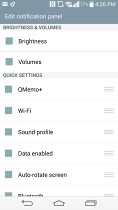 LG's notification area with Quick Settings
The fingerprint sensor on the Samsung Galaxy S5 isn't limited to the lockscreen - in the co-called Private mode, it secures files (photos, videos, documents) in an encrypted part of the phone's storage. They are only visible when Private mode is on, which takes a finger swipe.
The sensor can also secure payments with PayPal. You can set up to three fingers to be recognized, so you can share the phone with someone and let them access Private mode and PayPal payments or keep those to yourself.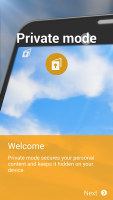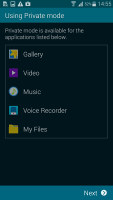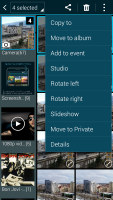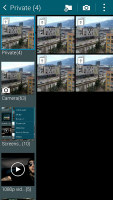 Activating private mode on the S5 • moving photos to the secure storage
LG provides an equivalent feature to Private mode called Guest mode, which is virtually the same thing. It lets you pick which apps the guest has access to, including a custom Guest gallery of photos and videos, while restricting access to the settings or multitasking features of the G3.
For multitasking, Samsung pushes its Multi Window feature that puts two apps side by side. You can copy and paste text between them or snap a screenshot in one and use it in the other. Apps that go well together can be grouped into a single shortcut for added convenience.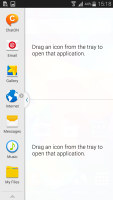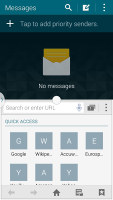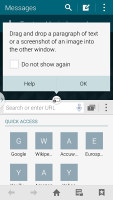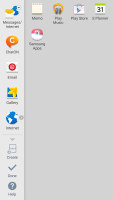 Multi Window runs two apps side by side
LG can also run split screen apps with their own Dual window feature, which offers identical capabilities to Samsung's offering.
Winner: Samsung Galaxy S5. Although LG's is one of the closest software offerings compared to Samsung's wealth of features, matching many of its extras, Samsung is still a step ahead in this latest iteration of TouchWiz. This is in large part thanks to the inclusion of the fingerprint scanner and heart-rate monitor, which give an extra bit of usability.