Other apps
We won't go into detail about the phone and messaging apps, but the flagships offers some features that deserve a mention.
The Sony Xperia Z2 has an unusual Slow Talk option that will slow down the speech of the other caller. We guess this could be useful for bilingual calls where you need more time to process what was said. The phone app even has an equalizer with Normal, Bright and Smooth presets.
The LG G3 goes has HD voice settings, as well as the ability to reduce background noise and even enhance voice clarity in noisy environments.
Both companies worked on their own keyboards. They have the basics like predictive input and swipe typing, but LG has added a floating keyboard option, which takes up less space and can be moved around (good for Dual Window use). LG has added a lot of nifty tricks that let the keyboard learn from your habits, including not only commonly used/misspelled words, but also the ability to register key-presses differently so you make fewer mistakes while typing. Sony's keyboard is skinnable - the way it looks and the choice of available buttons are customizable with a quick setup wizard.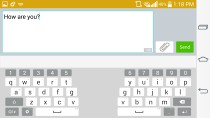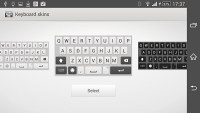 Split keyboard on LG's Optimus UI • skinnable keyboard on Xperia Z2
Both phones come with Office suites that allows only for viewing documents, while editing requires a purchase. The LG G3, uses the ThinkFree Viewer for office applications, while the Sony Xperia Z2 on the other hand comes with the Office Suite 7 Viewer preloaded.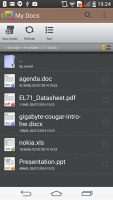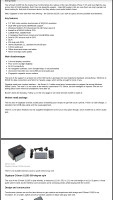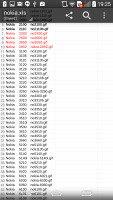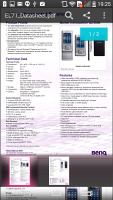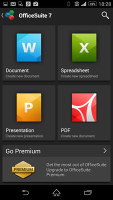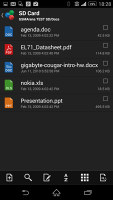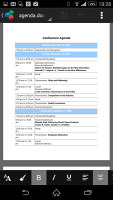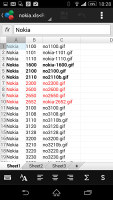 LG G3's ThinkFree Viewer • Sony Xperia Z2's Office Suite 7 Viewer
LG's Health app performs basic fitness tracking functions - it tracks basic activities including walking, running, and cycling, and you can create a LG account to compete with other LG Health users as well.
Sony has a health accessory too, the Smart Band. It works as a step counter, but it will also monitor your sleep and pick the best time to wake you. It comes with a Lifelog app that is part exercise tracker, part life logger. This app doesn't work well without the band though and the exercise tracking isn't nearly as advanced as what LG Health offers.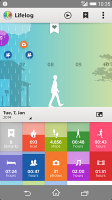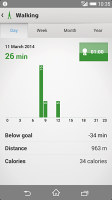 Sony's Lifelog tries to track your exercise as well as your life story
Sony Xperia Z2 comes with the PlayStation app that connects to your PS4 console and lets you view news, your profile, chat with PSN friends and display game alerts. The Xperia Z2 is also compatible with DualShock 3 controllers so you can play games with proper joystick and buttons.
Sony bundles the Smart Connect app on its phones with which you can automate certain tasks. It can mute the phone during the night or start the music player when you plug in the headphones. The company has yet to add NFC support though.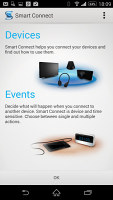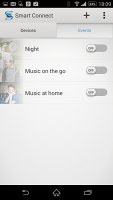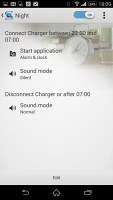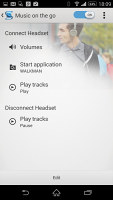 Smart Connect lacks NFC options
Finally, the IR-port on the top of the LG G3 lets you control a wide variety of electronics and appliances via the QRemote app. QRemote has seen a wide range of improvements over its initial iteration on the G2, and now features a much larger database of TV sets, set-top boxes, and audio receivers than before. Even better, it gives you the ability to create a universal remote, complete with button mapping.
Winner: Tie. Depending on which features you need the most, you should consider your own winner here. Sony offers nice integration with its PlayStation consoles and services, while LG bets on the QRemote control, better keyboard and better Health app.