Lollipop goes dual-app, dual-user
The latest G-series flagship has a tradition of bringing a new version of the LG UX, and we are up to v4.0 with the G4. It's built on top of Android 5.1 Lollipop and it brings new features as well as a new coat of paint to get closer to Material Design aesthetics.
You can double tap a locked LG G4 to wake it up if you don't fancy reaching for the Power key on the back. A double tap on the homescreen locks the phone. Knock Code adds a layer of security by letting you use a custom tap pattern. Knock Code bypasses the lockscreen completely and drops you onto the homescreen.
If you just want a peek at what's going on then Glance view will show you the time, notifications and weather info with just a simple swipe. The screen's capacitive sensor is always on so that this feature works even when the screen is off.
The lockscreen itself shows notifications and can have up to five shortcuts if you want. Smart Lock can disable more secure watches (Knock Code and others) when you're in a trusted place, a trusted device is connected or while the device is on your person.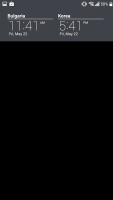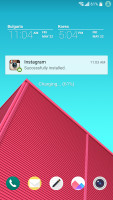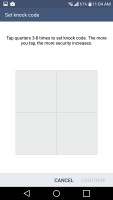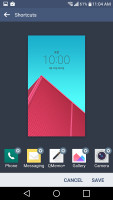 Glance view • the lockscreen • Knock Code • picking shortcuts
The interface is fairly customizable, but themes are gone. One proprietary customization feature lets you add extra on-screen buttons - one to launch Dual window, QMemo+, QSlide or open the notification area (if you don't fancy reaching for the top edge).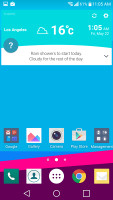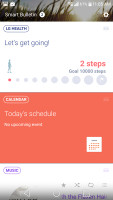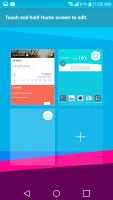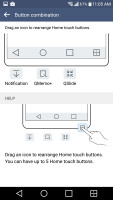 The Homescreen and navigation buttons customization
There's more to LG UX 4.0 than that. The leftmost homescreen pane of the LG G4 is reserved for a Smart Bulletin, which is different than HTC's BlinkFeed as it shows info about you and your phone instead of news. If offers at a glance info from LG Health (more on that later), upcoming calendar events, music controls, IR remotes and Smart settings.
Don't worry if you don't immediately get the hang of those, Smart tips is a built-in help tool. Smart Notice is also a homescreen widget. It shows weather info and cycles between Smart tips but you can hit the question mark icon and type in a query for additional help.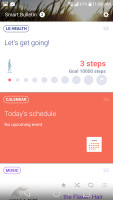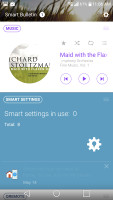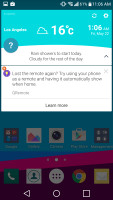 Smart Bulletin on the homescreen and as a widget
The notification area has been skinned, in fact custom features take up a good deal of the screen. The top row shows quick toggles (scrollable horizontally), then the brightness and volume sliders and only then the notifications.
Holding a finger down on a toggle in the upper row will take you to the relevant option in the settings, where you can also edit which toggles and sliders are shown.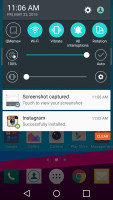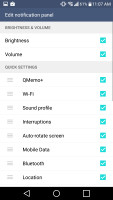 Notification area • editing quick Settings
The app drawer is quite standard and a pleasant surprise was that there's really only one screen of apps pre-installed, most of which are basic phone apps and Google services.
The app switcher is Lollipop's 3D card setup. LG's contribution is the Dual window shortcut - it opens a list of supported apps you can launch side by side. Alternatively, you can look for the Dual window shortcut in the top right corner on supported apps.
If you opt for the list of supported apps, the first option is called Recent, which just launches the last pair of apps you used.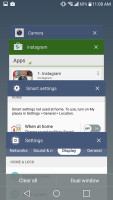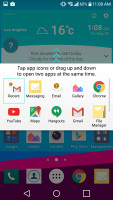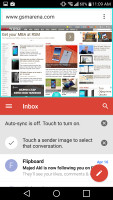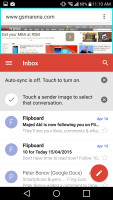 Task switcher • LG's Dual Window feature
The LG G4 also supports the other flavor of multitasking - floating apps. QSlide applications can either be accessed from the notification area (where they take up even more space), or from within supported apps themselves by clicking the special shortcut icon. QSlide is more practical on tablet-sized displays than it is here, but it's still a neat trick to have.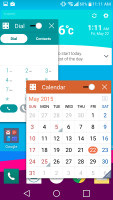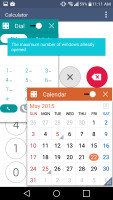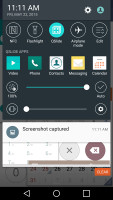 QSlide windows are another way to multitask
In addition to multiple apps, the new LG UX can also handle two users. The guest account (you get only one) is set up differently, including a separate Google Play account and homescreen. You still need to be careful though, the two accounts aren't isolated so it won't protect you from malicious users. It's nice for a personal/work setup or if you want to share your phone with your kid though.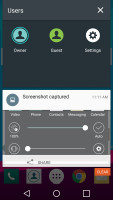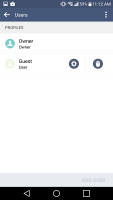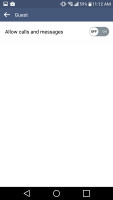 Multi-user support • two users are supported • the guest account can be barred from calling and texting
There's a somewhat hidden alternate homescreen mode called EasyHome, which provides a vastly simplified version of the homescreen interface. The dialer and contact/app shortcuts are all part of the main homescreen, while another secondary homescreen can contain more shortcuts. This is great for the elderly, children, or the not-so tech savvy, but it greatly reduces the number of available features.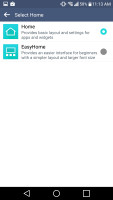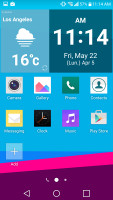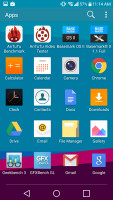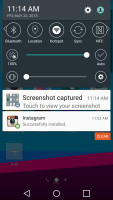 Switching to Easy Home • it simplifies the UI and makes everything bigger
Finally, LG offers single-handed mode to aid in the daily interactions with the phone - it allows you move the keyboard, the dialer and the navigation bar to the left or right side of the phone.