Phonebook and dialer combined
Tapping the dedicated Phone and Dialer shortcuts merely take you to different tabs of the Phone app. Selecting a contact displays the basic details: name and photo, numbers, emails and such. The dialer has smart dial, which searches for both digits and letters.
You have the option of reorganizing tabs and removing the Favorites and Groups tabs. This is great for simplifying what is oftentimes a crowded interface.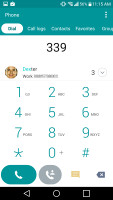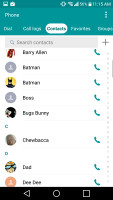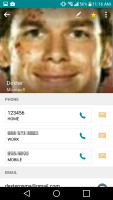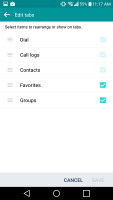 Phonebook and dialer interface • editing tabs
From the call settings you can enable Noise suppression (for your voice), Voice clarity (for the other person's voice) and VoLTE quality (Clean or Soft).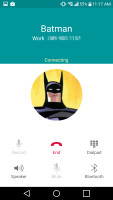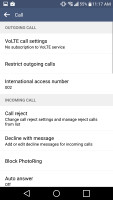 In-call screen • call settings
The smartphone packs a neat set of call-related tricks such as automatically silencing the ring of an incoming call just by putting the phone face down or automatically answering an incoming call by raising it to your ear. You can also set the phone to automatically block calls from certain callers.
The quality of the loudspeaker is good and the slight curve of the phone keeps it from getting muffled. Still, sound is pointed away from you. Anyway, the speaker performs very well for music and ringtones, though it's a bit weak when it comes to human voices, which earns it a Good score.
| | | | | |
| --- | --- | --- | --- | --- |
| Speakerphone test | Voice, dB | Pink noise/ Music, dB | Ringing phone, dB | Overall score |
| Apple iPhone 6 Plus | 67.3 | 65.7 | 66.5 | Below Average |
| Sony Xperia Z3 | 69.7 | 66.6 | 67.2 | Average |
| HTC One M9 | 65.2 | 64.6 | 76.1 | Average |
| Samsung Galaxy S6 | 68.1 | 66.3 | 73.7 | Good |
| LG G4 | 66.9 | 71.8 | 74.7 | Good |
| LG G3 | 70.2 | 66.6 | 80.2 | Good |
| Samsung Galaxy Note Edge | 72.7 | 75.7 | 70.8 | Very Good |
| OnePlus One | 74.8 | 73.5 | 80.2 | Excellent |
Ringtone ID can compose a unique ringtone for any of your contacts by turning the digits of their phone number to notes. The results are quite pleasing and diverse. You can preview each contact's Ringtone ID from their phonebook entry.
Messaging, email and text input
SMS and MMS messages are handled by Material Designed app with some customizations. They are displayed in threads and LG lets you customize the look of the messaging app by assigning custom backgrounds and message bubbles.
A built-in spam manager lets you block pushy SMS ads.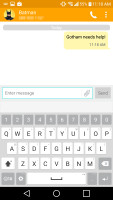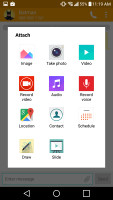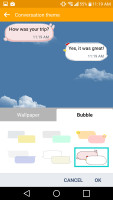 Messaging • customizing themes and bubbles
The LG G4 comes with two email apps - the traditional Gmail app and the LG Email app. Since Gmail handles third-party mail hosts we've gravitated to it, but the Email app has a lovely Material look and handles multiple accounts (with a Combined inbox).
LG offers a wide array of typing methods, voice recognition, handwriting recognition, and Path input (LG's take on Swype). Split keyboard, a narrower landscape keyboard and a one-handed keyboard give you ample opportunity to find the typing setup that works best for you.
Even in portrait mode, the keys are amply-spaced on the 5.5-inch screen. You can resize the keyboard to make the keys bigger or to leave more room for the app. There's a dedicated number row too.
The keyboard offers a boatload of customization options, including adding/removing dot and symbol keys, White and Black themes, pens and colors for the handwriting recognition (this is more for looks than functionality).