Introduction
The LG G4 is finally and officially here. Now that we got the full scoop, it seems that LG's next flagship smartphone is all about three things - design, display and camera. The LG G4 body is slightly curved and comes with an optional leather back for some extra flair; there's a new IPS Quantum display for improved color accuracy and the camera has a new lens with improved OIS, wider aperture, a new Color Spectrum Sensor for more accurate white balance and a new manual mode.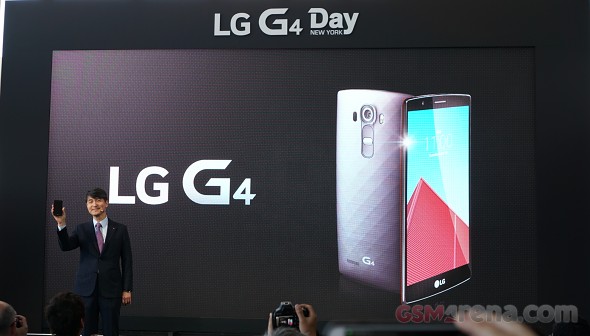 The new LG G4 is closely related to the LG G Flex2 - to the extent we're not quite sure which one is the flagship. We see again a curved body design, though the curvature is much more subtle. The screen size is the same, but the G4 comes with a much higher resolution.
The camera on the G4 is better too, but then the Snapdragon 808 chipset is a step down. This leaves it a bit unclear as to which device is the flagship, though the LG G4 certainly has the more recognizable brand name thanks to the success of its predecessor.
LG G4 at a glance
Dimensions: 148.9 x 76.1 x 6.3 - 9.8 mm, 155g
Screen: 5.5" Quantum dot IPS screen with 1,440 x 2,560 resolution, 538ppi; Gorilla Glass 3
Chipset: Snapdragon 808, dual-core Cortex-A57 plus quad-core Cortex-A53, Adreno 418 GPU, 3GB RAM
OS: Android 5.1 Lollipop; Optimus UX 4.0
Camera: 16MP with OIS 2.0, f/1.8 aperture, 1/2.6 sensor size, laser autofocus; manual controls and RAW mode; 8MP front-facing camera, f/2.0
Video camera: 2160p recording
Battery: 3,000mAh
Storage: 32GB built-in; expandable via microSD card slot
Connectivity: Cat. 6 LTE (300Mbps down, 50Mbps up), Wi-Fi a/b/g/n/ac, Bluetooth 4.1, NFC
Misc: Optional leather back, Knock code, optional wireless charging
The LG G4 will come with a plastic back cover with a "hammered pattern," but the eye-catching optional leather backs are LG's big design play. They are made of vegetable tanned genuine leather and feature decorative stitching uses Gütterman thread, a high-end product from Germany used in leather clothes and shoes.
The second focus was the display - LG kept the size and resolution the same as on the G3 - 5.5" QHD - but switched to a quantum dot LCD matrix, promising accurate colors with 98% coverage of the RGB spectrum.
The third pillar of the LG G4 is its camera. It has a new 16MP sensor and improved lens with wider aperture and 3-axis image stabilization instead of 2-axis like on the G3 (they even call it OIS 2.0). The selfie camera got an even bigger resolution bump to 8MP. The camera comes with a new interface with manual controls, a histogram and RAW mode.





The LG G3 (left) vs. G4 (center) vs. G Pro 2 (right)
The one point where LG got defensive was the chipset. The company claims it worked with Qualcomm to customize the Snapdragon 808 specifically for the G4 and LG claims it's faster than the Exynos 7420. It didn't back that up with benchmarks though and we doubt any amount of customizations can make up for the two missing Cortex-A57 cores.
D
Have anyone owned LG G4 model 815? had any issues since the day you bought it? need to know ASAP. considering to buy one :)
D
Can our eyes see this much ppi?
?
Riiiiight. On yeah..... You're just trying to bait. IPhone never has and never will be anywhere close to the top. Plain and simple.