The LG G4 has appeared in the GFX Benchmark database, revealing the key specs. They are pretty close to what has been rumored so far, though the chipset is a surprise. The chipset reported features a hexa-core processor with Cortex-A57 cores plus an Adreno 418 GPU.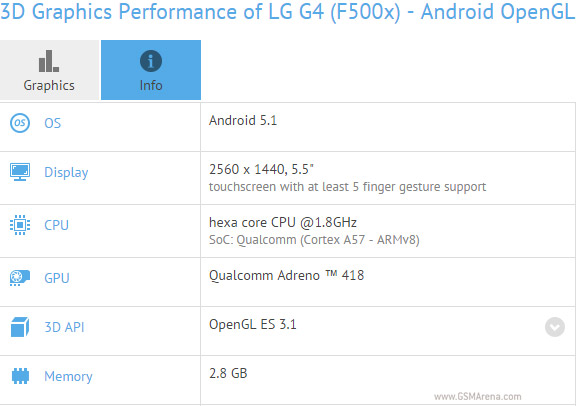 That's certainly not the Snapdragon 810 found in the LG G Flex2. Instead it's the the Snapdragon 808 announced in April last year alongside the 810. The phone will come with Android 5.1 Lollipop, 3GB of RAM and 32GB of storage (23GB user available).
The LG G4 will have a 5.5" QHD screen, same as the current model, but will upgrade the camera to 16MP with 2160p video. The selfie camera has been bumped up to 8MP with nearly 2160p video (the numbers reported by the benchmark don't seem to match a standard resolution).
Looking at the benchmark scores, the new GPU beats last year's Adreno 330 in the LG G3. Qualcomm said it should be 30% faster than the 330, but didn't compare it to the 420. Again, going by the benchmark scores, the Adreno 418 seems to be in the middle between those two GPUs.
GFX 3.0 Manhattan (1080p offscreen)
Higher is better
LG G Flex2
22
LG G4 (rumored)
14.9
LG G3
11
GFX 3.0 Manhattan (onscreen)
Higher is better
LG G Flex2 (1080p screen)
22
LG G4 (rumored, 2160p screen))
9.4
LG G3 (2160p screen)
7.7
So it remains to be seen if two A57s and four A53s can beat for Krait 400 cores. At least they'll produce less heat than the Snapdragon 810 chipset.
The LG G4 is rumored to arrive in April and we've already had a good look at its new, slightly curved design. There was some talk it will be demoted from its flagship position and going by the chipset this seems true, at least compared to the LG G Flex2.
?
First off the SoC is a LOT better. Not just a little better. LG's LCD be better than Samsung's latest Amoled? LOL!!!! Better camera is highly doubtful. LG never did that before. The F1.8 seems promising though. And the S6 is beating the S5 in a...
d
Sure, Samsung may win the processor battle, but LG could trump with a bigger, better screen, better camera and better interface. I for one see the Samsung processor as its only real advantage tbh over its rivals.
?
2.5k. 2k is a hair over 1080p.
ADVERTISEMENTS