Some 5 months after the release of the LG G4 and hot on the heels of rumors of the G5's sensor, DxO Labs has published its review of the smartphone's camera.
Putting image quality within the confines of numbers is bound to be a flawed procedure, but when done consistently makes for some straight-forward comparisons. The LG G4 takes the podium, second to the Samsung Galaxy S6 edge (and, by extension, the identically equipped S6, S6 edge+ and Note5), with the same 83 points as the Galaxy Note 4 and Motorola Moto X Style. Oddly the Moto X Style's 83 points are not as good as the others' - its bar is shorter by a few pixels.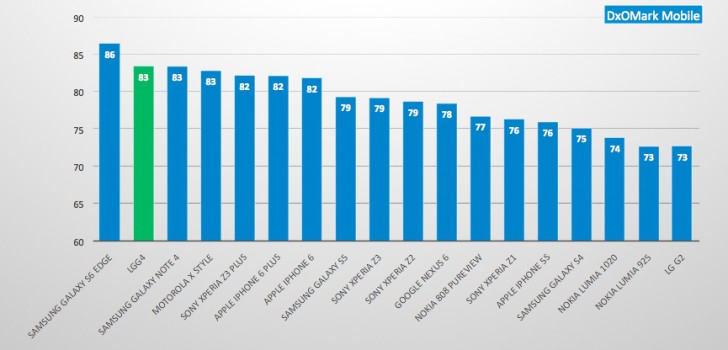 That's the overall image quality score, and in still images the G4 posts an even higher rating of 86 (still second). The best results the phone scores in the autofocus category, where it gets praise for being "fast, accurate and consistent". Detail and exposure also get especially high marks, as well as the noise reduction algorithms.
Video shooting is not as exciting, where the 79 mark places the G4 in third, behind the S6 edge and the iPhone 6. While exposure and colors are rated high, the stabilization shows imperfections manifested by "jello effect along with visible juddering and residual motion". In all fairness, it's still better than the S6 edge and the iPhone 6 in this test.
D
G4 has a six month advantage over Note 4, so the camera should be better because of new technology. Unfair comparison, basically means the Note 4 camera is actually better because even when it was released it still can match a 2015 flagship. Not...
A
Guys Samsung pips LG due to display of images and videos on it's amoled screen. Transfer the images to a laptop and see the difference. LD bearts Samsung on all grounds.
A
I'm happy LG and Iphone is not as good as Samsung. They always come second. The only phone that keep fighting to get second place. Pathetic. Go Samsung!