Multimedia package
Gallery
You can say that LG's Gallery app is heavily influenced by the iOS app. It shows all photos on a timeline and you can use pinch zoom to get closer - from a yearly view down to the day by day. One great feature here is that cloud services are supported out of the box - Drive, Dropbox, OneDrive and Box can be used to store your photos and videos. DLNA is also available from the menu.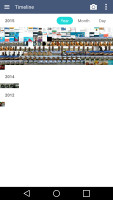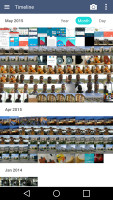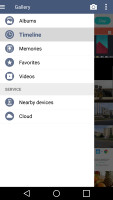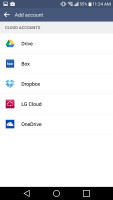 LG gallery with great cloud storage integration
Samsung's Gallery app borrows from HTC instead and creates Video highlights, automatically generated slideshows from your photos. It can also organize photos by Time or by Event (time + location). Only Picasa is supported from the cloud services, DLNA works too.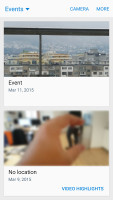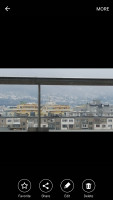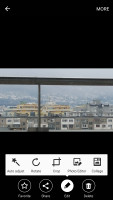 Samsung gallery with Video highlights
Music player
Samsung had one of the best music players around, the version on the Galaxy S6 has all the same functionality but with a simplified UI to make it easier to use. It features SoundAlive tuning with two dials - bass/treble and instrument/vocal. You can use the manual 7-band equalizer instead or let the Adapt Sound feature adjust it automatically with some help from you.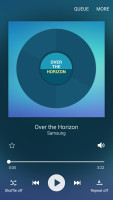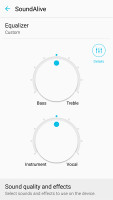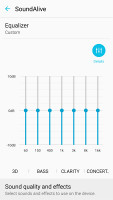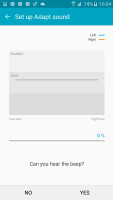 TouchWiz music player with extensive audio options
The best feature on the LG G4 music player is the same as on the gallery - cloud integration. You can sync your music library with your computer and other devices, without signing up for a service like Google Play Music (not available in some countries) or Amazon Music. There's a 7-band equalizer and audio presets too.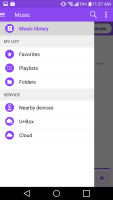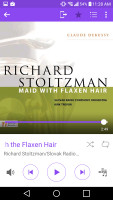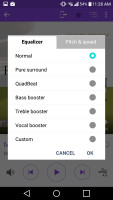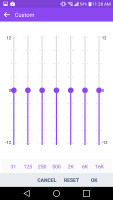 LG G4's music player also features cloud integration
Both the LG G4 and Galaxy S6 support FLAC audio out of the box, but lossless albums will eat into your storage pretty quick so the microSD card slot is a great advantage.
The LG G4 also has an FM radio, though the Galaxy S6 does not.
Video player
The LG G4 video player is quite capable. It handled every popular video format and codec all the way to 2160p, which it can output over a cable thanks to SlimPort 4K. Even the multichannel AC-3 audio format worked, though not DTS. Subtitles are supported with customizable looks.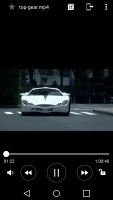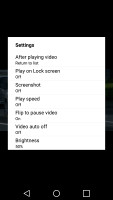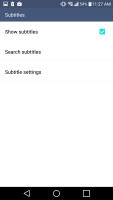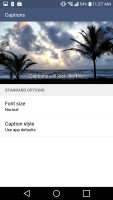 Capable video player with subtitles and great codec support
The Samsung Galaxy S6 video player also works with 2160p videos, both phones support the new H.265/HEVC codec, which is slowly gaining popularity (the G4 works with it too). It won't play multi-channel audio though (you'll need a third-party app for that) and you can't use wired TV out, leaving you only DLNA. Subtitles work flawlessly though.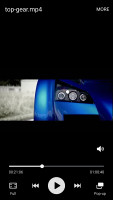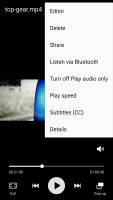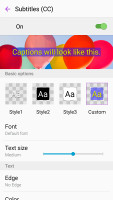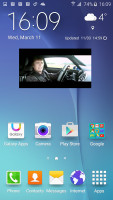 Galaxy S6 video player with great subtitle support and floating app version
Both players can move the video to a small floating window so you can continue working while watching, say, a music video.
Winner: LG G4. We loved the prevalent cloud services integration and the video player works slightly better with audio.
The Samsung Galaxy S6 music player is better-suited for audiophiles and its multimedia apps are quite good.
Audio quality
When connected to an active external amplifier, the clarity of the output of the two smartphones is on par, but the LG G4 taking an advantage due to its notably louder output.
Plug in a pair of headphones however and things change dramatically in favor of the Samsung Galaxy S6. The glass-clad flagship continues to produces excellently clear output, while its leather-back rival experiences quite a bit of deterioration. Worse still for the G4, its volume levels drop to below those of the Galaxy S6 and it's this scenario when loudness matters more.
Anyway, here go the results so you can do your comparisons.
| | | | | | | |
| --- | --- | --- | --- | --- | --- | --- |
| Test | Frequency response | Noise level | Dynamic range | THD | IMD + Noise | Stereo crosstalk |
| LG G4 | +0.04, -0.07 | -93.4 | 93.3 | 0.0021 | 0.050 | -92.6 |
| LG G4 (headphones) | +0.93, -0.13 | -91.4 | 91.9 | 0.013 | 0.244 | -50.4 |
| Samsung Galaxy S6 | +0.01, -0.04 | -95.6 | 92.8 | 0.0024 | 0.0094 | -94.5 |
| Samsung Galaxy S6 (headphones) | +0.02, -0.05 | -92.6 | 91.9 | 0.0025 | 0.042 | -83.4 |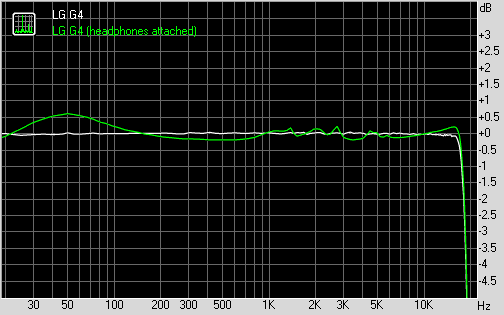 LG G4 frequency response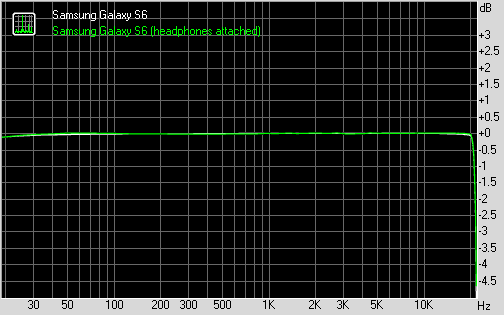 Samsung Galaxy S6 response
You can learn more about the tested parameters and the whole testing process here.
Winner: Samsung Galaxy S6. The LG G4 took an early lead, but its headphones performance is sub-par for a 2015 flagship, costing it the victory here.
Loudspeaker
Both phones score a Good mark and they perform quite evenly. The LG G4 speaker is better optimized for playing music, while the Galaxy S6 does better with human voice (for hands-free calls). Both are even on a generic ringtone.
| | | | | |
| --- | --- | --- | --- | --- |
| Speakerphone test | Voice, dB | Pink noise/ Music, dB | Ringing phone, dB | Overall score |
| Samsung Galaxy S6 | 68.1 | 66.3 | 73.7 | Good |
| LG G4 | 66.9 | 71.8 | 74.7 | Good |
The LG G4 has an interesting feature called Ringtone ID, which can compose a unique ringtone for each of your contacts. It works by transforming the phone number digits into notes and the results are surprisingly pleasing for an auto-generated piece.
Winner: LG G4. We might have called it even, but the Ringtone ID shows some innovation. Also, we prefer using the loudspeaker for music (you won't use the hands-free option in a noisy environment, so loudness is not a priority).