User interface
The latest G-series flagship has a tradition of bringing a new version of the LG UX, and we are up to v5.0 with the G5. It's built on top of Android 6.0.1 Marshmallow, and brings new features as well as a cleaner look to get closer to the Material Design aesthetics.
The lockscreen supports notifications and shortcuts, as usual. To unlock the phone, you can use double tap or LG's more secure Knock Code. For those unfamiliar, it is essentially a secret knock pattern shared between you and your phone. We doubt that you would need to resort to knocking (or rather tapping) when you have a fingerprint reader at your disposal.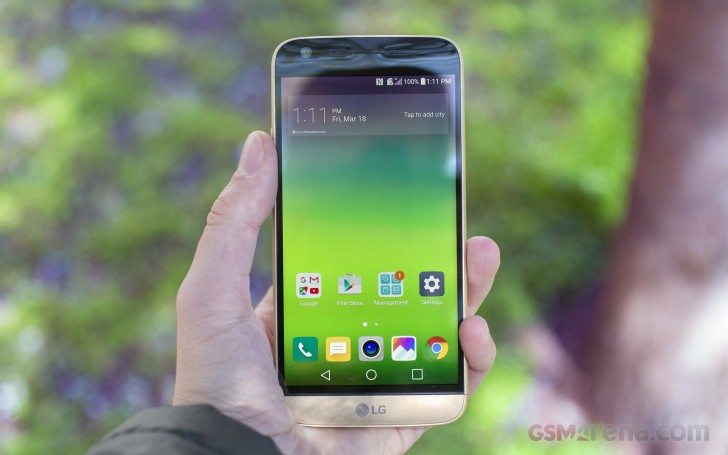 The fingerprint reader is the most secure option. Since it's on the Power key, all you have to do is tap on it - the sensor is always on, and it works lightning fast. Your index finger (on either hand) naturally rests on the Power button, making this solution comfortably ambidextrous.
LG G5 offers an Always-on screen as has become trendy recently. When the phone's screen is off, a portion of it still remains lit-up to display the time and notifications. Having to rely on an LCD panel where you can't simply light up only a portion of the screen, LG has come up with a rather unorthodox solution.
Apparently, the main 5.3-inch display has a second controller included, that only has power over a limited number of pixels on the screen. They are intended to stay lit up with a date and time, as well as notifications. You can also swap the clock for a lot less useful signature if that is your desire (you still get the notification row). Of course, the whole thing is intended to be power efficient and LG claims that the small secondary screen mode eats through 0.8% of battery per hour.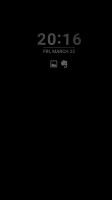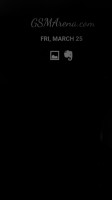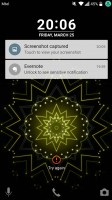 Always-on screen • Always-on screen with signature • The lockscreen
The Always On display visualisations are fairly customizable and it support themes. The G5 has only the default LG theme, but you can get more from LG's SmartWorld Store. One proprietary customization feature lets you add extra on-screen buttons (up to 5) - one to launch Capture+, QSlide, or open the notification area (if you don't fancy reaching for the top edge).
The homescreens are the usual affair - they support shortcuts and widgets, you can change wallpapers and effects, and you can opt for the Smart Bulletin homescreen. The latter offers at a glance info from LG Health, upcoming calendar events, music controls, IR remotes, and Smart settings.
There is no app drawer this time around - everything is put on the homescreens. You can organize your apps in folders, you can even hide some of them if you don't want them to be visible all the time. You can opt for a different Home Mode though - Home with App Drawer, which will bring back the app drawer. Easy Mode is available, too.
The notification area has got better as well - it has one row to show the time and edit options, the next one the quick toggles, then optionally a row of brightness slider, another optional row with volume scrubbers, and the final optional row has Screen Sharing and File Sharing shortcuts. Two of those are active by default, but luckily, you can hide all that.
The app switcher uses the familiar 3D card setup and supports app pinning. There is no Dual Window option. But you can use the Qslide option - a selection of floating, resizable apps that float above the main app.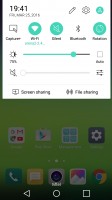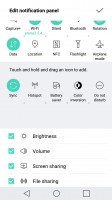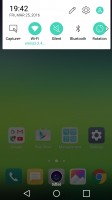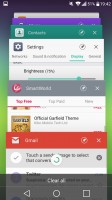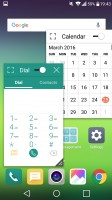 Notifications • Editing notifications • Notifications • Multitasking rolodex • QSlide apps
LG offers lots of useful management apps for storage, memory cleanup, battery saving, backup. Multi-user support is available, too. There is a Recently Uninstalled Apps app, which keeps track of all apps you've removed recently for a limited time (24 hours), in case you (or your kid) has deleted any by accident.
Speaking of kids, the option for multi-user access has been carried over from previous devices and you can easily create a more limited account for your children or friends or siblings who perhaps borrow your phone from time to time.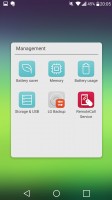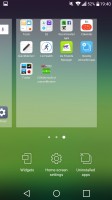 Some of LG's advanced apps • The recently uninstalled apps can be accessed from the homescreen settings, too
We like the new Optimus 5.0, as it is organized better, got rid of some functionality, but kept its most important services. The result is an interface closer to its Android roots, yet recognizable and powerful.