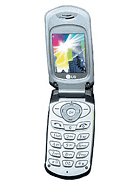 r
it is said to have MMS but does it also support EMS? and what about the G5450? is it only available in russia?
F
It is a great phone, this is my second LG phone. First one was a W7000, this has much better graphics and is more user friendly.
j
i also bought this phone by this january. i m very happy with the looks, sound, and some of the features. but i feel so disappointed that it so easy to hang...
M
It hangs easily?
Oh, I'm having second thoughts about buying this phone....
But it looks pretty cool....
What about the other pple who has bought this phone?
Does it hang easily?

r
Thos is a great phone n hav lots of functions, but the onli thing is that it hangs easily....

c
Dear LG Producers,
I bought three LG GSM phone the manual was written in another language than english since then is useless to me and my family so at least do me a favour by sending it to my box thatis the manual in english and label major and vital part in the handset so that it can help us operate on it the make is LG G5400,G5310 and G7500.I hope that my humble request will be fulfil I be happy if you do so.
Thanks
Your Costumer
Chuka
d
i notice that most LG phones are available in Russia. hmm i wonder why? i also like this phone but can find it in hk.
Total of 74 user reviews and opinions for LG G5400.
ADVERTISEMENTS