LG has come up with a very nice G5 reviewer's kit and we just got ours. It's a big colorful box with fancy hinges and a retro fastener. Within the promising looking package we found the retail LG G5, the LG 360 Cam, the LG Cam Plus module, and the LG Hi-Fi Plus with B&O Play.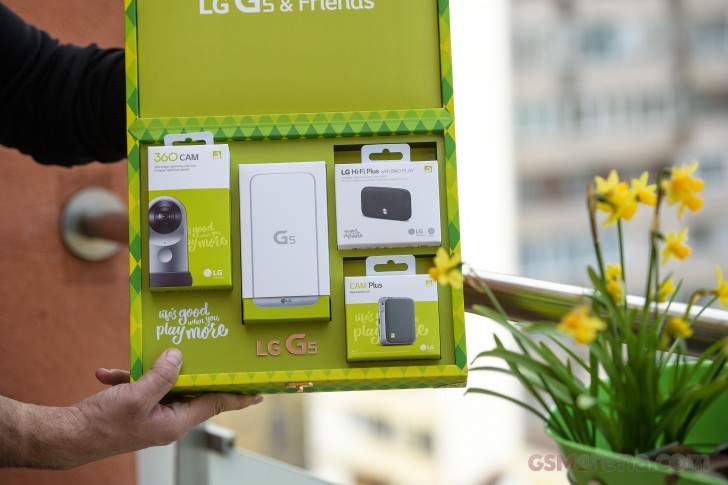 We already had a very pleasant encounter with the LG G5, but it's just now that we see its retail box and contents. We'll be updating our review with the new test scores early next week.
First up among the LG Friends we received, is the LG 360 Cam. It's a standalone camera, which can snap 360 photos and videos. Since it doesn't have a viewfinder of its own, you can watch the result on any phone - Android or iPhone. You can even view them through a VR setup if you have one of those. You can also snap 360-degree selfies by leaving the camera perched somewhere on its own and controlling it remotely with your phone.
The LG Cam Plus module adds a proper camera grip, hardware shutter for stills and video, a zoom dial, and an extra 1,200 mAh worth of battery juice.
Finally, the LG Hi-Fi Plus with B&O PLAY is an external DAC and mobile audio amp, which allows you to playback 32-bit 384kHz Hi-Fi audio or up-sample lower quality music. It has a 3.5mm audio jack, and you can use it not only as an insert for the LG G5 but also as an external USB DAC for any computer or mobile device by attaching it via the supplied short USB cable.
You bet we'll get down to business with all of those goodies right away. You can expect our hands-on impressions next week.
M
wow ..lots of offerings. They will soon offer a Toyota Corola with every LG phone you buy.
C
I just don't understand it either. All the phones have their pros and cons, yet people get waaay too hostile when someone uses their personal preference. I've have a lot of contact with Sony, HTC, Nexus, Samsung, and now LG. So far, LG G4 has made me...
D
Putting the debate about the usefulness aside, it seems LG won't be selling the Hi-Fi module in the US for now. They haven't managed to get it through the FCC yet and it won't work with the US G5 models until then. It's a software limitation so suppo...