A rebel and a stunner
LG G5 vs Samsung Galaxy S7: A rebel and a stunner
Display
QHD resolution is standard now, but screen size varies. Samsung settled on 5.1" for the third year in a row while LG went from 5.5" down to 5.3". When you take the on-screen buttons into account, the two will have just about the same screen real estate available to the user most of the time.
Both screens are secured by Gorilla Glass 4 so you can expect similar durability. They differ in how the 2.5D glass is shaped, but that's more of a cosmetic difference than anything else.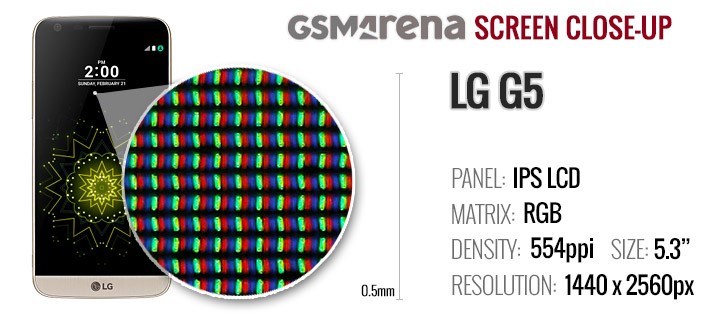 Both makers simultaneously launched Always On features for the screen. LG did have a preview with the LG V10, but that was a special case with a dedicated strip at the top. To be fair, Motorola did it a while ago and Nokia feature phones and Symbians had it much earlier.
The Galaxy S family is known for Super AMOLED displays and the S7 has the latest and greatest incarnation. It's very bright (especially in Auto mode) and flawless even under direct sunlight. The minimum brightness is an impressive 2.1 nits, so checking the phone in the middle of the night is no longer painful.
Color rendering is at a pro level with average deltaE of 1.7 (max is 2.3) for Basic mode. The punchier, more saturated Adaptive mode has an Avg DeltaE of 7.1.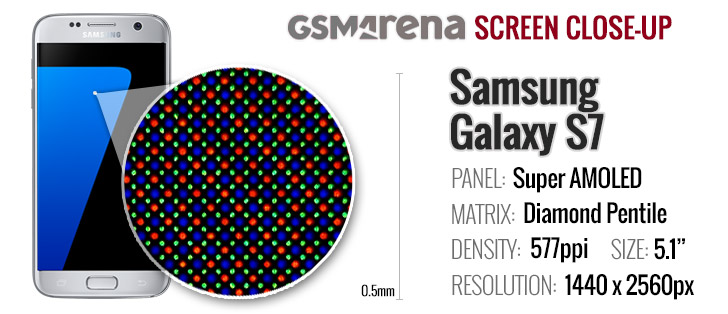 LG has its brand of displays called Quantum (similar sounding to Sony's Quantum Dot, but not the same thing). It's an IPS LCD and it shows great improvements over LCDs of a couple of years back. It's not that bright, but contrast is incredible. It helps that black levels are nothing short of amazing at 0.17-0.2 nits.
Sunlight legibility is better than most LCDs. LG's Assertive Display adjusts pixel colors in real time to improve readability in direct sunlight (it selectively brightens dark areas of the image). In the opposite scenario - pitch black - the screen can go as low as 3.6 nits.
Color accuracy is good (average deltaE of 5.3) though not as good as a calibrated display. There are no screen modes to adjust the image settings like on the Galaxy.
Display test
100% brightness
Black, cd/m2
White, cd/m2
Contrast ratio
LG G5
0.17
306
1855
LG G5 max auto
0.20
378
1881
Samsung Galaxy S7
0.00
391
∞
Samsung Galaxy S7 max auto
0.00
563
∞
Sunlight contrast ratio
Samsung Galaxy S6 edge+
4.615
Samsung Galaxy S7 edge
4.439
Samsung Galaxy S7
4.376
HTC One A9
4.274
Samsung Galaxy A3
4.241
Samsung Galaxy S6 edge
4.124
Samsung Galaxy Note5
4.09
Huawei Nexus 6P
4.019
OnePlus X
3.983
Oppo R7s
3.964
Samsung Galaxy A7 (2016)
3.918
Samsung Galaxy A5
3.895
Samsung Galaxy J7 outdoor
3.879
Samsung Galaxy J2 outdoor
3.873
Samsung Galaxy A8
3.859
Apple iPhone 6
3.838
Microsoft Lumia 950XL
3.837
Samsung Galaxy A9 (2016)
3.817
Motorola Moto X (2014)
3.816
Samsung Galaxy A5 (2016)
3.789
Apple iPhone 6s
3.783
Meizu Pro 5
3.781
Microsoft Lumia 650
3.772
Oppo F1 Plus
3.709
Vivo X5Pro
3.706
Apple iPhone SE
3.681
Samsung Galaxy A7
3.679
BlackBerry Priv
3.645
Apple iPhone 6s Plus
3.53
Acer Jade Primo
3.521
Microsoft Lumia 950
3.512
Oppo R7 Plus
3.499
Samsung Galaxy J7
3.422
Meizu MX5
3.416
Oppo R7
3.32
Samsung Galaxy J2
3.235
Motorola Moto X Play
3.222
Huawei P9
3.195
Lenovo Vibe Shot
3.113
LG Nexus 5X
3.092
Huawei Mate S
3.073
Microsoft Lumia 640 XL
3.065
Apple iPhone 6 Plus
3.023
Samsung Galaxy Note
2.97
Huawei Mate 8
2.949
LG G5
2.905
HTC One S
2.901
Sony Xperia Z5
2.876
Microsoft Lumia 550
2.851
Sony Xperia Z5 compact
2.784
LG V10
2.744
Xiaomi Redmi 3
2.735
Sony Xperia M5
2.69
Xiaomi Mi 4i
2.641
Xiaomi Mi 4c
2.574
Microsoft Lumia 640
2.563
Oppo F1
2.528
Sony Xperia Z5 Premium
2.525
HTC One
2.504
Sony Xperia M4 Aqua
2.503
Motorola Moto G
2.477
Lenovo Vibe K5 Plus
2.473
Huawei G8
2.471
Sony Xperia Z
2.462
Huawei Honor 7
2.406
ZUK Z1 by Lenovo
2.382
HTC One E9+
2.305
Alcatel One Touch Hero
2.272
Lenovo Vibe K4 Note
2.254
Sony Xperia C5 Ultra
2.253
Xiaomi Redmi Note 3 (MediaTek)
2.249
Sony Xperia C4 Dual
2.235
Motorola Moto G (2014)
2.233
LG Nexus 5
2.228
Huawei P8
2.196
Xiaomi Redmi Note 2
2.166
OnePlus Two
2.165
HTC One X
2.158
LG Aka
2.145
Archos 50 Diamond
2.134
Xiaomi Redmi Note
2.119
Huawei P8lite
2.078
Moto G 3rd gen max manual
2.026
Sony Xperia E4g
1.972
OnePlus One
1.961
BlackBerry Leap
1.892
Meizu m2 note
1.892
HTC Butterfly
1.873
ZTE Nubia Z9 mini
1.759
Sony Xperia U
1.758
Asus Zenfone Selfie
1.68
Motorola Moto E (2nd Gen)
1.675
ZTE Nubia Z9
1.659
Motorola Moto E
1.545
Sony Xperia M
1.473
Xiaomi Redmi 2
1.311
Sony Xperia C
1.283
Meizu MX
1.221
With smartwatches taking over a lot of the passive notification duties (discretely vibrating and letting you peek at a notification), Always On displays are what's needed to keep smartphones in the game.
Both displays show a dim clock and date, plus notifications. LG is more flexible as it also allows app notifications while the Samsung shows only missed calls and texts (so no Facebook/WhatsApp/Viber). That limits the convenience of the feature quite a bit. Another important note is that Samsung's Always On screen is brighter and more legible than LG's which is ghostly faint.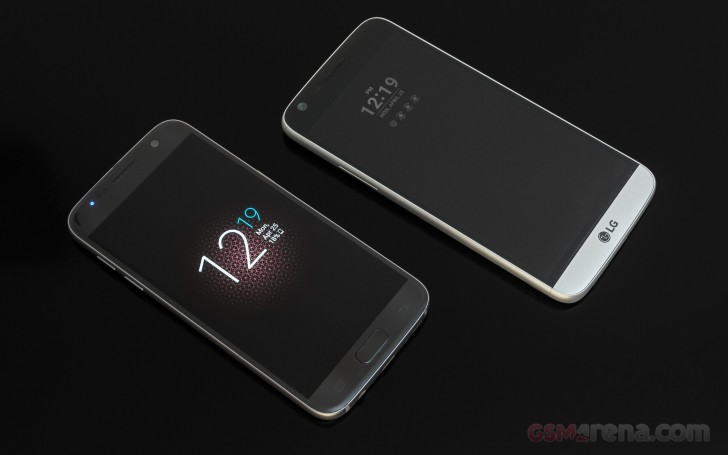 The big issue with Always On is power draw - LG claims 0.8% battery charge per hour, the Samsung uses more at 1%/h (and that's 1% of a bigger battery too). Enabling Always On puts both phones at about 50 hours of Endurance, with the Galaxy taking the bigger hit (but it's also got the brigher display).
Innovation: We predict that in a few years most phones will have a version of an Always On screen. It could be wishful thinking, but it was always a case of battery drain (the Moto X had it bad) and we're almost there. Samsung's version is brighter, more legible, but LG's shows more.
Refinement: Cudos to both makers. Super AMOLED is hands-down better than LCD in practically every way. That said, Quantum Display is among the best LCDs we've seen yet.
Winner: Samsung Galaxy S7. The screen is brighter, has more accurate colors and better sunlight legibility, a decisive win. The brighter Always On screen makes a difference too, but we wish Samsung issued an update to allow third-party notifications to show.
Battery
When designers take over product development, we get thin, lovely phones but, honestly, most of the time we just want solid battery life so we're okay with a chunkier phone if it means better battery life.
Surprisingly, Samsung seems to have heard consumers and the Galaxy S7 is thicker than the S6 (7.8mm vs. 6.8mm) and offers more battery capacity - 3,000mAh vs. 2.550mAh. There's the added bonus of leveling off the back (be gone, camera bump!).
LG went the other way and made the phone thinner (7.7mm, down from G4's thickest point at 9.8mm), but reduced battery capacity - from 3,000mAh to 2,800mAh. We guess the modular system ate up some of the internal volume, but still the G5 is both taller and wider than the S7.
Note that we ran the battery life test on the Exynos 8890 version of the Galaxy S7, but there's also a Snapdragon 820 version (same chipset that powers the LG G5).
The Galaxy S7 beats its opponent in essentially all tests. You get 5 hours more of calls, 2h extra for web browsing or 4 and a half hours of watching videos (or some combination of those three). The Endurance rating comes out an impressive 80 hours, but that's slashed to just 49 hours with Always On.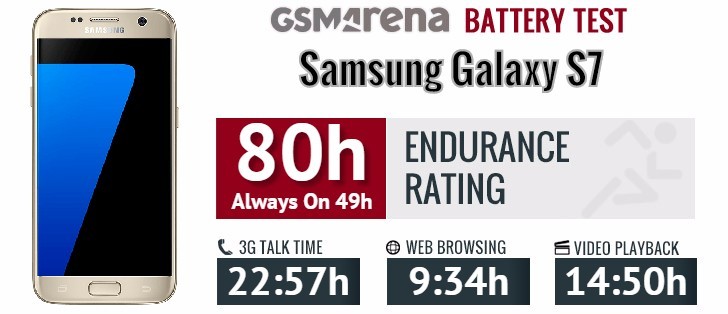 The LG G5 does pretty well on average, it's the 7 hours 30 minutes of web browsing that are a letdown. You may be thinking "that's plenty" (and it is), but it is below average. The Endurance rating is also average - 60 hours - but the good news is that the Always On screen drops that by just 10 hours (so it actually edges out the Galaxy by an hour).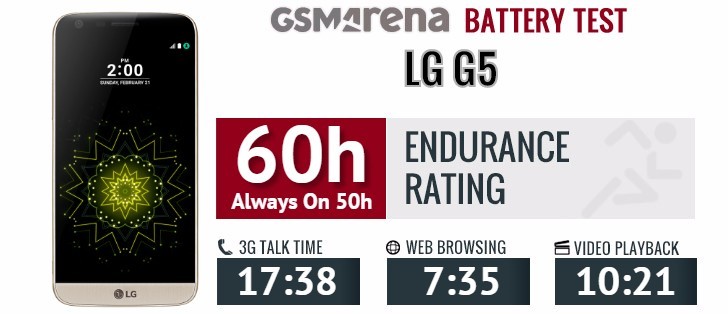 Both phones ship with quick chargers. The LG G5 has version 3.0 and that puts a whopping 83% of charge (starting at 0%) in the battery in just half an hour. Samsung still uses v2.0 and that's good for 60% in 30 minutes (to be fair, it has a slightly bigger battery to fill).
Samsung is pushing for advanced wireless charging and the Galaxy S7 comes equipped with a fast version of it. Samsung hasn't disclosed the exact numbers but says it's 40% faster than first-gen wireless charging. It also supports both Qi and PMA standards (most venues offer just one standard, but supporting two makes it more likely your S7 will work).
Innovation: Fast wireless charging is a great way to go forward. Samsung, in particular, doesn't think wired connections are long for this world, as evidenced by the cut-down microUSB 2.0. LG pioneered shaped batteries that fill every nook and cranny of a phone's interior, but there's none of that in the G5.
Refinement: "More" is a good enough refinement, if you ask us. We're glad Samsung put its practical hat back on after wearing the creative beret last year.
Winner: Samsung Galaxy S7. While going by Endurance rating, both phones last the same with Always On screens on, heavier users will get more life out of the S7 (since less time will be spent in standby). Without Always On, it's a clear victory for the Galaxy.