A rebel and a stunner
LG G5 vs Samsung Galaxy S7: A rebel and a stunner
Video camera
Both phones can record 2160p and 1080p videos at 30fps, but the Samsung Galaxy S7 gives you more flexibility with a 1080p @ 60fps mode as well as a 720p @ 240fps slow-motion mode. The LG G5 never goes over 30fps. It can record 2160p videos with its wide camera, though.
Looking at just the main camera, both phones record at 48Mbps with stereo sound. The Samsung allocates higher bitrate to audio, 256Kbps, compared to LG's 156Kbps. Both cameras have the same FoV.
The LG G5 videos come out richer in detail and with much more accurate colors. The Galaxy S7 videos are softer but offer better dynamic range (with a tendency to over-expose).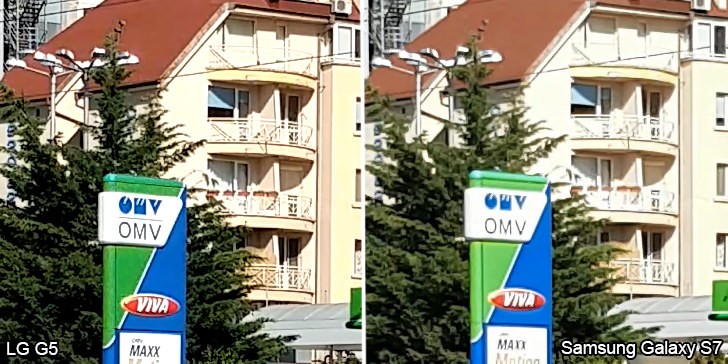 FullHD, aka 1080p, videos are recorded at 17Mbps, the field of view and audio bitrate remain the same.
Samsung Galaxy S7's dynamic range advantage is extended and the colors become more accurate. Still not as good as LG G5's, though.
Interestingly, it's now the LG that leans on sharpening and contrast boost to bring out more detail. The captured detail is essentially identical, though G5 videos look overprocessed.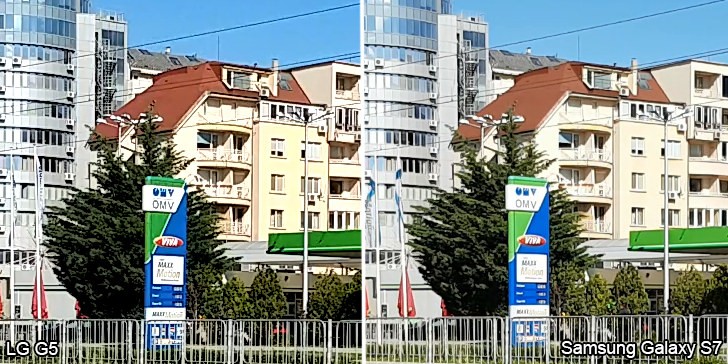 The Wide camera on the LG G5 can also shoot 2160p videos. We wouldn't recommend it for its image quality, but the advantage of the wide GoPro-like field of view is a definite advantage.
Still, the wide camera is not as good as the main shooter. For one, there's no OIS, but also resolved detail and dynamic range are noticeably worse.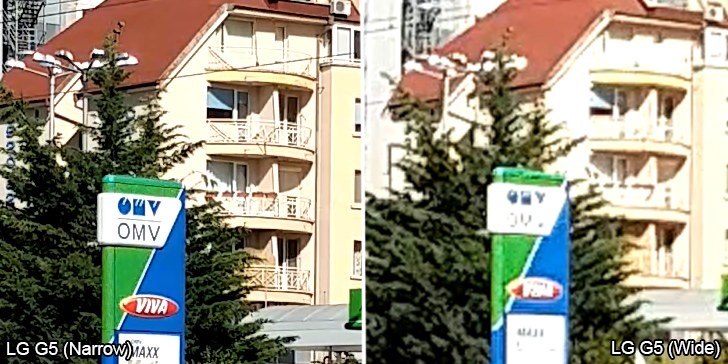 The Samsung Galaxy S7 offers 1080p @ 60fps for a sporty mode. Fast motion looks much smoother and the image quality does not suffer significantly. The bitrate goes up to 28Mbps so you're using up more storage, but you're not losing quality (which happens with many phones at 60fps).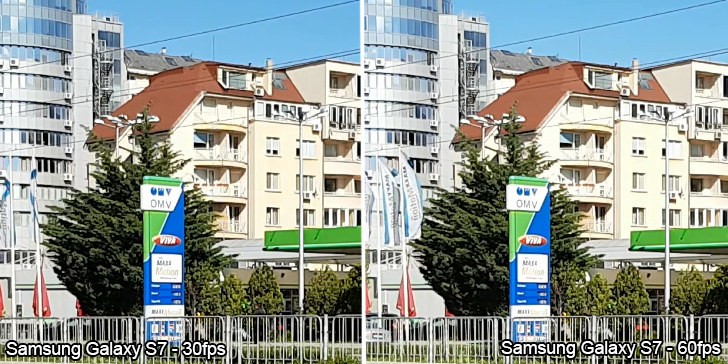 A few words on audio quality - while the Galaxy S7 uses a higher bitrate, the LG G5 captures better sound with its mics and the end result is audibly better.
We put both phones on a rig and shot video at 1080p with both OIS and digital stabilization. Then we placed the two videos side by side to make the comparison easier. Both do a pretty good job of soaking up the shake from the footsteps, but the Galaxy S7 footage appears slightly smoother.
Innovation: The wide-angle camera on the LG G5 gives videos that "action cam" look. If only there was a 60fps mode to go with it
Refinement: Samsung did a great job of maintaining image quality when moving from 1080p @ 30fps to 60fps.
Winner: LG G5. The videos are more detailed and with more natural colors (the S7 video camera has noticeably worse colors than the S7 still camera). We preferred the LG G5 audio quality.
The Samsung Galaxy S7 has Dual Pixel AF to quickly bring new objects into focus and its 60fps videos look silky smooth with the same image quality as the 30fps videos.