Low-light shooting
LG G5 vs Samsung Galaxy S7 edge: Low-light shooting
Introduction
The Samsung Galaxy S7 edge and the LG G5 both come outfitted with some great cameras, which should potentially bring low-light photography with a smartphone on the next level. We set out on foot on the streets of New York to put these two to the ultimate camera test - their image quality when it comes to shooting in the dark.
The Galaxy S7 edge makes use of large 1.4µm pixels with a really bright aperture of f/1.7 on top of the already excellent OIS which should help in low-light conditions.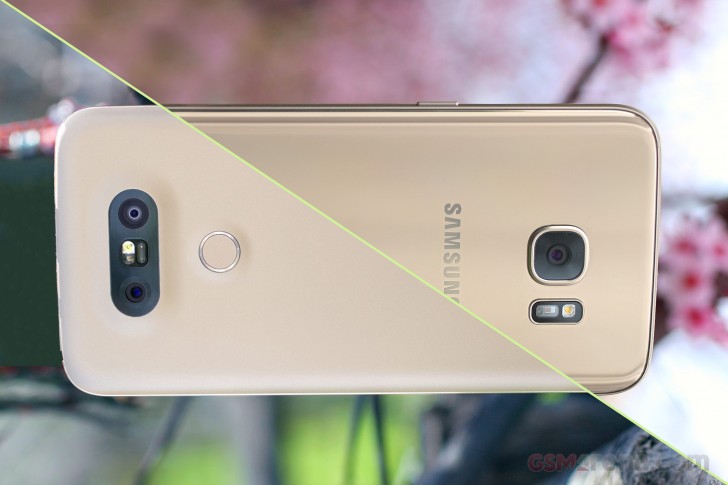 The LG G5 has two camera sensors on the back, but for this particular comparison, we are not going to use the 8MP wide-angle camera on the G5. The LG G5's main camera is a 16MP sensor, which has a similarly wide f/1.8 aperture and OIS. LG also makes use of a laser focusing system for close subjects.
On the other side, Samsung's Dual Pixel autofocus is lightning fast. Focusing happens so quickly that you might be able to get the best shot on the first attempt. This could be a leg up over LG's laser focus, but we'll have to check out the results before jumping to conclusions.
You should make note that the performance of the S7 edge in this comparison apply in full for the more compact Galaxy S7 as both models have identical cameras.
The following camera samples were all shot using a final, retail G5 unit. As promised, we've also updated all of our test results, so make sure you revisit our LG G5 review article as well.
Here are our favorite features of each of the two flagships.
LG G5

Samsung Galaxy S7 edge

Seamless all-metal design (no antenna lines)
Add-on modules leave room for future upgrades
Secondary 135° camera

Slightly bigger screen for same body size, 5.5" vs. 5.3"
AMOLED screen with perfect colors, great contrast
Water resistant, IP68
Dual Pixel autofocus, brighter aperture (f/1.7)
Bigger battery, 3,600mAh vs. 2,800mAh
Both phones are already available and even though the LG G5 is more of a match for the smaller Galaxy S7, it's actually priced somewhere in-between the S7 and the S7 edge so either for those two could be considered direct competitors.
C
please don't feed the troll
R
The lgg5 already won blind test with s7edge iphone 6s and htc 10
O
You wouldn't want to go to a restaurant or cafe bringing your real camera just to snap your ordered food and then post it to Instagram or any other social media and updating your status. Face the fact that both samsung and LG are Asian manufacturer a...