Cutting corners... Like a pro
LG G6 review: Cutting corners... Like a pro
2x13MP cameras, utra wide-angle gets equal treatment (almost)
The LG G6 is equipped with a couple of 13MP cameras on its back. Compare and contrast to the previously used setup on both the G5 and V20, where the primary one was a 16MP unit, while the wide-angle only got half as many pixels.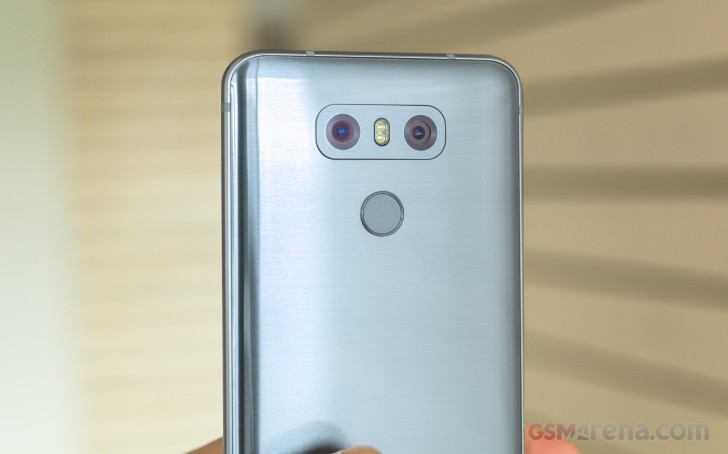 On the G6 both cameras actually use the same exact sensor - the Sony IMX258. There's nothing striking about it - it's a Type 1/3.06" imager with 1.12µm pixels and phase detection autofocus. In fact, it's typically used in midrangers from Chinese makers. That said, we've seen it perform admirably on the Xiaomi Mi 4c, for instance, so we avoided jumping to conclusions. That sensor is in a native 4:3 ratio - a principal difference from the older setups with 16:9 aspects.
That's resulted in some changes in coverage too. The normal camera now sees a 71° field of view, as opposed to 75° before, while the ultra-wide angle's FOV has been reduced from 135° to 125° - still very much ultra wide.
The lens on the normal cam still has an f/1.8 aperture and is stabilized, while the f/2.4 lens of the wide-angle cam isn't. The wide camera is fixed focus only, unlike the normal one that does actually use the phase detection agents on the IMX258. Laser autofocus is gone this time around.
The camera app of the G6 has seen some changes as well, to make better use of the tall display. Or, rather, wide display, when you hold it in landscape. The extra screen estate on the side is used as a film strip, showing you recently taken shots. You still get a shortcut to the gallery next to the shutter release button, too. A most welcome addition in the LG camera app is the exposure compensation slider that shows up on the right when you tap somewhere to focus - a handy tool that's been missing so far.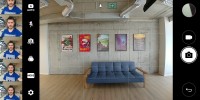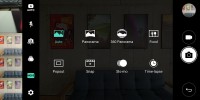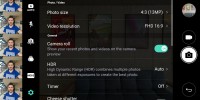 Viewfinder • Shooting modes • Settings
It's still the same shared viewfinder for stills and video, which means you can't know your video framing before hitting the record button. On a more positive note, the G6 has gotten the manual mode from the V20 (minus the directional audio, for lack of mics). It's better laid out than on the G5 and allows for tweaking white balance by color temperature, exposure compensation, ISO and shutter speed. One thing that's missing on the G5 is focus peaking in manual focus, but the G6 adds that too.
From the mode selector, other than Auto, Manual photo, and Manual video, you now haw a Square option. Also available as a separate app icon on the homescreen (Square Camera), it's LG trying to come up with use cases for the 2:1 display.
Square Camera has modes of its own, the usefulness ranges from... Well, we don't find them particularly practical. Snapshot leaves half the screen as a viewfinder (for taking square photos, obviously) while the other half gives you a preview (technically, post-view) of the shot as soon as you take it. A convenient shortcut to Instagram pops up too, If you were wondering where that 1:1 photo was meant for.
Grid shot is like a camera booth - it creates a 2x2 photo collage. Again, half the screen is the viewfinder, while the other half is the collage in the making. After you're done capturing the shots, you can choose to re-take one or more if it turns out you made the wrong face.
Match shot is the oddest of the modes, we think. The idea is you take two square shots of objects that have little in common, and align them so that one flows into the other. Well, great, but why? It's also super difficult to get the second shot to line up with the first, and while you do get to pinch-zoom and move the second image around, you can't re-take it, so you need to start over from the first shot.
The fourth mode is Guide shot, which displays an overlay of a template image over the viewfinder so you can recreate the same framing. You can fine tune the opacity of the overlay. We can imagine this mode might actually be useful for something. Not exactly sure what, but something.
Image quality
First up, check out some shots we took with the G6 while still in mid-MWC. Tourist photography and some low-light shots to get us going, with the same scenes captured with both cameras for you to get a sense of the differences in coverage.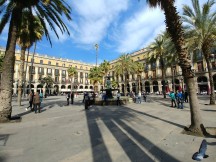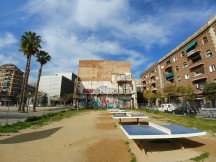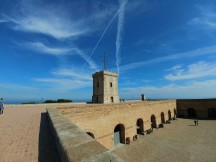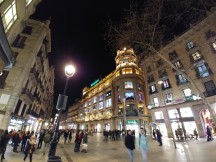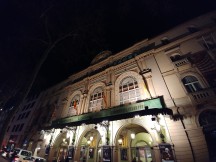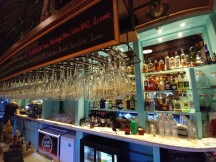 Wide-angle camera samples, pt. 1
Now, we liked the G6 on the spot, so we figured we won't leave Barcelona without it, and took it with us to headquarters instead. The standardized set of samples will follow, of course, again in both 71° and 125° field of view.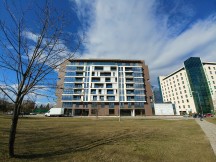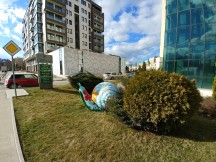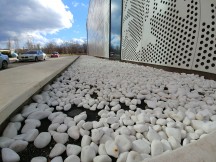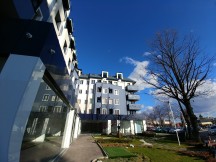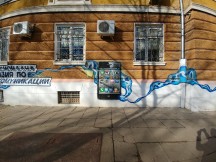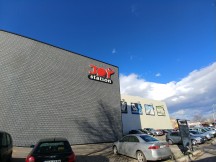 Wide-angle camera samples, pt. 2
As you can tell from both sets of samples, the newest in the G-series still takes great photos, despite a move to a smaller sensor which we ourselves almost called midrange a few paragraphs earlier. It resolves a lot of detail, but does have a rather heavy-handed approach to sharpening. Sure, you can see each and every tile and brick's outline, but it's a touch too much.
There's more than the average amount of noise that we're used to seeing - perhaps that's one area where the small-ish sensor can only do so much. It's no worse than Sony's own Xperias in this respect, not even close, but it's a little more telling where the sensor comes from than other phones.
Colors are vibrant, without being as warm as the G5's - a better struck balance between reality and consumer appeal, if you ask us. If you don't deliberately push it beyond its limits, dynamic range is quite good too, actually.
HDR
Inevitably, you run into high-contrast scenarios where only HDR mode would help. You can leave it to the phone to determine whether HDR is needed and set it to Auto, or you can engage it yourself. Our example below is, indeed, rather extreme, and no HDR mode can capture the entire dynamic range of the scene, but it is a good test.
And the G6 does a good job too. Midtones get a nice boost and a significant portion of the otherwise blown highlights gets salvaged. The effect isn't over the top, but the HDR shot is a little more dramatic. Combine that with a 125° lens and now you have proper drama. With both cameras, however, we're seeing a drop of fine detail in the HDR shots.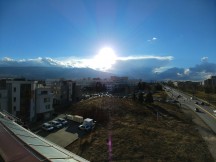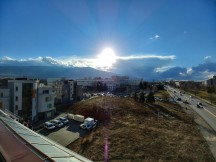 Wide-angle camera HDR: Off • On
Panorama
The G6 is capable of shooting good, high-res panoramas - it's using the entire sensor height minus whatever pixels it needs to cancel out because your sweep wasn't perfectly level, so you're looking at images around 4,000px tall. Now they're not as sharp as that resolution might suggest, but there's a lot of detail. Stitching isn't flawless though - look at the building behind the red post in the rightmost quarter of the frame.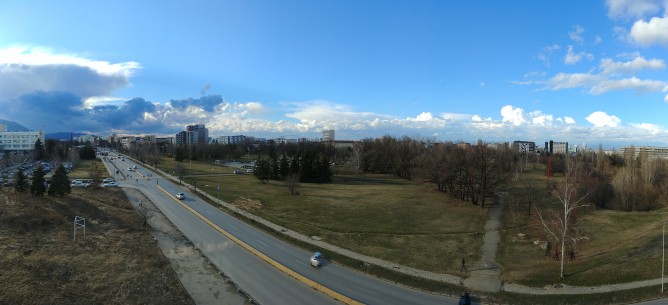 Panorama sample shot in portrait
Photo compare tool
Our Photo compare is the go-to place for comparing resolution, fine detail rendering and color reproduction in a standardized environment. We've pre-selected the G5 and the Samsung Galaxy S7 edge, but you can choose your own set of phones to pit against the G6.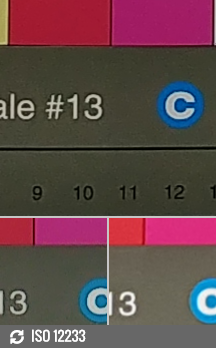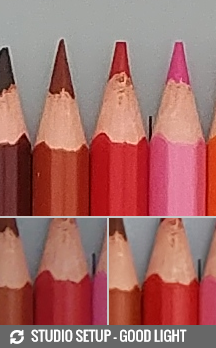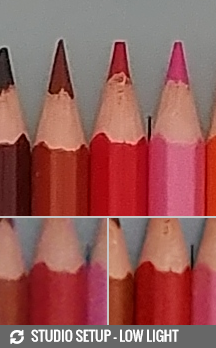 LG G6 against the LG G5 and the Samsung Galaxy S7 edge in our Photo compare tool
Selfies
The G6's selfie shooter is listed as 5MP, but that's half the story. Just like the rear cameras, it can shoot in both wide-angle (100°) and normal mode (unspecified coverage). Only it's the one sensor that it's got to do this.
We figure it's a higher-res sensor behind a wide-angle lens, and a center crop of it gives you the 'normal' view, while the wide-angle view uses the full coverage of the lens, but downsamples the higher-res image to 5MP. Although, looking at the photos, it could be a 5MP sensor to begin with, center portion cropped and upsampled for the 'normal' mode.
All of this is to say that selfies aren't spectacular, but are alright. They contain enough detail for their 5MP, and do a fine job of rendering colors.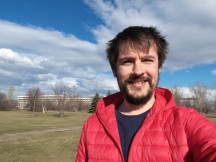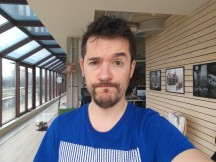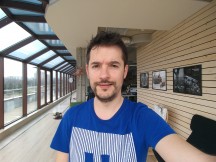 Selfie samples: Normal • Normal (bum's gotten a haircut) • Wide
Video quality
The G6 records videos up to 4K resolution with both of its rear cams. There's also 1080p recording in both 30fps and 60fps, the regular 16:9 kind. However, you also get 1080p in 18:9 ratio - 2,160x1,080px resolution, just what you wanted for that 18:9 TV you have at home. Not.
Anyway, the 4K videos are encoded with a 47Mbps bit rate, 1080p/30fps gets 17Mbps (in either aspect), and 1080p/60fps is treated to 24Mbps. Audio is recorded in stereo at 156Kbps in all video modes.
The video quality in 4K is superb. The captured detail is still among the best on the market (still, it can't top the G5) and there's very little noise. Colors are pleasing too - not over the top, but not dull either, and the G6 also handles changes in exposure well (thanks, weather).
1080p/30fps footage is less exciting, it's not class-leading in resolved detail, but it's also not looking like an afterthought, which seems to be the case with some phones. 1080p/60fps captures smoother action at the expense of fine detail - the output is noticeably softer.
Most of the above applies to the wide-angle camera as well. 4K ultra-wide footage is striking to watch, and this new camera can stand a lot better to pixel-level scrutiny than the old 8MP version in the V20 and G5. Stare from too close and you'll notice it's not as sharp as the primary cam, but you shouldn't stare from that close.
1080p/30fps is fine, though unless you're pressed for space, there's no reason to go that way. 1080p/60fps with a wide-angle lens in an IP68-rated body puts the G6 into action cam territory, and it's okay, but it would certainly benefit from a higher bit rate - the 24Mbps just don't leave it enough room to record all that data.
In 1080p (both 18:9 and 16:9, but not in 60fps) there is also electronic stabilization. It works on both the normal and wide camera too. It is very effective at smoothing out both handshake and the shake induced from walking, and doesn't do blunders while trying to catch up when panning. Naturally, as all such systems, it limits the field of view.
You can, of course, download untouched video samples, the way they came out of the LG G6. We've uploaded a bunch of them up on our server: a set of three from the normal camera (2160p, 1080p/30fps, and 1080p/60fps), and a matching trio from the wide-angle one (2160p, 1080p/30fps, and 1080p/60fps).
Video compare tool
Last, but not least, check out how the LG G6's footage compares to rivals in our Video compare tool. We've picked the G5 and Galaxy S7 edge, but changing those to any of the phones we've tested takes just a couple of clicks.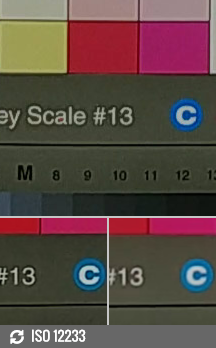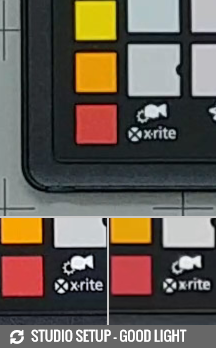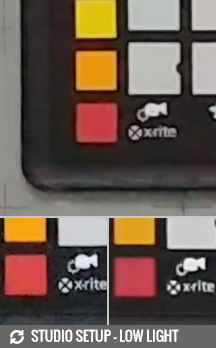 2160p: LG G6 against the LG G5 and the Samsung Galaxy S7 edge in our Video compare tool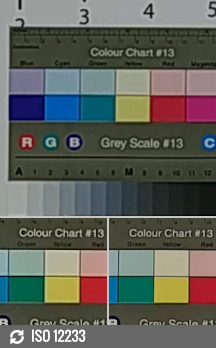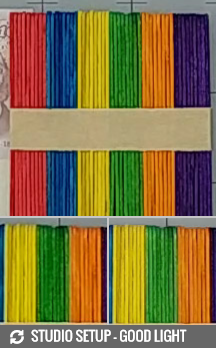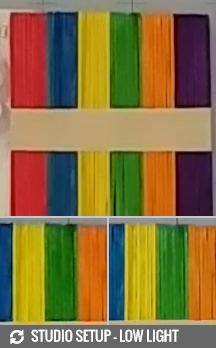 1080p: LG G6 against the LG G5 and the Samsung Galaxy S7 edge in our Video compare tool