LG G6 is official with FullVision 18:9 display, Snapdragon 821 chipset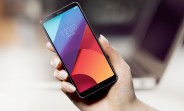 The smartphone star of MWC 2017 has been announced - this is the LG G6. A 'Full-vision' display, water and dust protection plus some careful impact resistant design, cameras aplenty, tried and tested internals - the G6 may no longer be the flagship (the V-series will fly that banner from now on), but it sure sounds like flagships should be wary.
A lot of the G6's novelty stems from its display - a 5.7-inch IPS LCD panel that takes up most of the phone's front - it's why LG calls it FullVision. The screen has an odd 18:9 aspect ratio (or, as math would have it - 2:1) and a resolution of 2,880x1,440px for a pixel density of 565ppi. Consumers want a larger display, yet aren't willing to give up single-hand use - the 2:1 ratio gives the best of both worlds.
The rounded corners aren't just for appearances either - such an LCD panel is more durable to drops. Speaking of durability, the back is made of Gorilla Glass 5, while it's GG3 on top of the display. The frame is made of aluminum and special attention has been paid to the location of plastic inserts to make the whole thing less susceptible to shattering.
Oh, and in a first for a G-series phone, the G6 is water and dust resistant and carries an IP68 rating. That also means that the battery is no longer removable, and as promised there will be no Friends - the G5's modularity experiment didn't exactly catch on.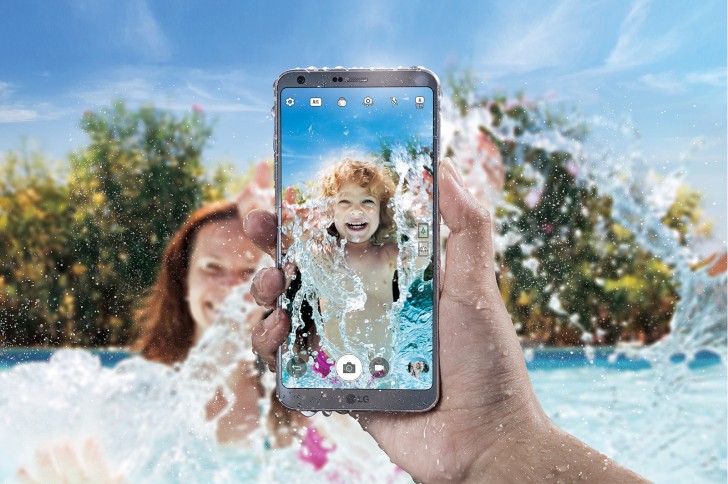 What's proven quite successful, however, is the dual camera concept, first implemented on the V10's selfie shooter, and then promoted to the rear cam on the G5. Here on the G6, LG has gone for a couple of 13MP cameras, one wide-angle (125° FOV), one 'normal' (71° FOV), instead of the 16MP+8MP setup of the G5 and V20. As before, only the 'normal' one has OIS and autofocus. The front-facing camera is a 5MP 100° FOV unit - LG is big on degrees.
The G6 is powered by the Snapdragon 821 chipset - in part because Samsung is keeping early batches of the latest S835 for the Galaxy S8, in part because LG thinks optimization is more important than raw power. An 'Advanced heat pipe' design with a copper plate on top of the chip has been put in place to quickly dissipate heat.
There are 4GB of RAM on board the G6 and storage will be either 32GB or 64GB, depending on region. Regardless of region - a microSD slot will allow for expansion.
The G6 runs on Android 7.0 Nougat and is the first non-Pixel phone to come with with Google Assistant on board. There is, of course, a custom LG skin on top called Full-screen UX. It's designed to make the best use of the 18:9 aspect and relies heavily on squares - after all, there are effectively two 1:1 squares in a 2:1 display, right?
Other key selling points of the handset include a Quad-DAC, only it's going to be available solely in South Korea. On the topic of regional features - the phone will have an FM radio receiver, just not in Korea, Canada and the US, but the US versions of the G6 will come with wireless charging capability - just the US ones, though. QuickCharge 3.0 comes standard, however, and it will fill the 3,300mAh battery in 96 minutes, and flat to 50% will take 32 minutes.
The G6 measures 148.9 x 71.9 x 7.9mm, meaning its footprint is smaller than the Galaxy S7 edge's. The phone will come in three color schemes - Astro Black, Mystic White and Ice Platinum.
Details on pricing and availability remain to be announced. In the meantime, check out our hands-on article to read about our first impressions of the G6.
?
Sexiest android phone to date
?
You completely missed the point of what they said
?
You do realize, that from a technical perspective this makes no sense? After the 1-3GB reserved for actual RAM duty, you may have at best 5GB of total ramdisk space. You cannot put all of your apps/OS on that small of a ramdisk. More importantl...
ADVERTISEMENTS